ABOUT THE SURF CAMP
---
LOCATION AND SURF CONDITIONS
---
Bocas Surf Retreat is located on the main island of the truly stunning Archipelago "Bocas del
Toro" on Panama`s Caribbean Coast. Our base and private dock is located on Avenida Sur on
the main Island "Isla Colón", right on the edge of crystal clear, tropical water. Your
accommodation is within walking distance, only 1 min away from our surf base and hang out
area above the water. While we're on the water, it's a short 2 min walk to the center of town.
This location gives our base a peaceful and laid-back atmosphere while you're just a stone's
throw away from busy Bocas Town with all its supermarkets, Caribbean style restaurants,
unique coffee shops and artsy local markets.
From our base we take you directly by boat to the best surf spots. The spots are only minutes
away from Bocas Town, but you'll feel like you're indulging into a complete new world! The best
month to learn surfing with us is from December until April and July and August. As you're in the
tropics you'll never have to wear a wetsuit and the waves are just perfect for beginners and
intermediate.
---
CAMP CHARACTER
---
At Bocas Surf Retreat we only take small groups to ensure a family-like atmosphere. We believe
that your accommodation should be a place of peace and rest after a long day of surfing and
other activities. But don't worry, if you feel like exploring the Caribbean nightlife (and it's
definitely worth it!), you're still in the perfect spot. It's just a 2-min walk back to the main street
where you'll find the most popular clubs and bars.
The average age of our participants is about 18-30, but we're more than happy to welcome
anyone who feels ready for a new experience! As we're experienced with all ages also families
would have a great time with us.
At Bocas Surf Retreat we speak English, Spanish and German.
---
CAMP OPERATOR
---
Chapo, originally from Venezuela, came to Bocas more than 10 years with his wife. His passion
is teaching surf lessons and he works with all ages, all levels. He really loves working with
beginners and getting them into their first waves.
As the Surf Program Manager, Chapo will be responsible for experience while we surf and train
on land. Health and safety are his number one priority.
Christina, originally from Germany, came to Bocas more than 2 years ago and never really left.
She loves her home in Bocas and loves working with travelers to show them the best that Bocas
has to offer. She's been surfing for the past few years and started with Chapos surfing lessons!
Christina is the Retreat Manager and will be your main point of contact for your entire trip.
Chapo, your local with his experience, skills and knowledge about the area, and Christina, with
a broad experience working in tourism and the passion to offer you a high-quality and authenitic
Surf Retreat in the Caribbean, will ensure that you have the best surf experience possible!
ACCOMMODATION AND CATERING
---
ACCOMMODATION TYPES
---
Located in the heart of Bocas Town and near our boat dock, our lodging partner, Surfari
bed&breakfast, offers comfortable rooms that accommodate between 2 and 4 people and
are equipped with a private bathroom or dorm, hot water, a/c and WiFi. Bed linen and
towels will be provided, but don't forget to bring your electrical adapter (US standard).
While we're located in the heart of town you can still enjoy sea view fom the roof-top
restaurant!
---
CATERING
---
Bocas Surf Retreat offers half pension. Our mornings start with a healthy and hearty meal on
the roof top patio. Vegetarian or allergic to something? Just let us know and we will adapt to
you. For your other meals you can either visit the restaurant on the roof-top terrace or you
explore many of the delicious restaurants on the main street! As there are many supermarkets
around you will never be left hungry and you can find something for every budget. Eating local
or going out to waterfront restaurants – up to you!
SURF COURSE AND ACTIVITIES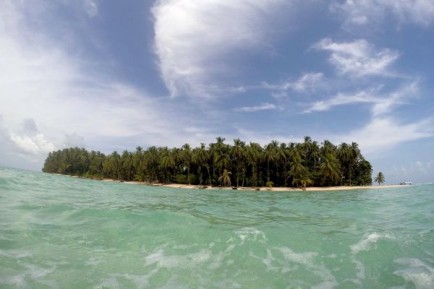 ---
SURF COURSE DETAILS
---
5 times a week you will have a lesson in the morning for in total 2.5 hours. This includes theory
every time. To ensure you get as much attention as needed to progress fast we never take
more than 4 students per instructor. The classes can be hold in either English or Spanish. We
totally adapt to your level of surfing, so wherever you are at the moment, we will improve on that
together and go to appropriate surf spots. If you surf for the very first time you will have a blast
in our waves. Within 1 week you can easily manage to stand up and catch waves on your own,
but your surf instructor will still be right next to you.
Every time we go with our private boat to the surf spot, so you can pack a small bag (for water,
camera, etc.) which can be left on the boat and accessed any time during the lesson.
If you are only interested in surf lessons without accommodation, no problem, just let us know.
---
SURF MATERIALS
---
For a fast learning process, comfort and security we're providing soft top surfboards for
beginner lessons. You can use these as well as our rash guards outside of course hours –
without an additional fee. And we even get you to the surf spot by our boat. If you are more
experienced and would like to progress on epoxy or fiberglass boards, no worries, we can
organize any kind of surfboard for you with our rental partners in town.
As the Caribbean Sea is always warm just bring your swimming suit and a lot of sunscreen!
---
OTHER ACTIVITIES
---
In the Bocas Surf Retreat Package there are up to 4 Yoga classes and 1 land-based exercise
per week included. Both take place in the afternoon and last for an hour. Once a week we also
take all our students on a private adventure tour by boat where we explore Bat caves on Isla
Bastimentos and show you the best snorkel places in the crystal clear water in the area (full day
tour, drinks and fruit included).
You still have some time and energy left and really feel like absorbing the Latin culture? Speak
to us and we organize Salsa classes, Caribbean cooking classes, Spanish lessons, Beach bike
cruise and beachvolleyball or another full day island hopping tour.
MORE INFO, HOW TO GET THERE & FAQ
---
SURF CONDITIONS
---
Breaks directly at the main spot and at nearby spots
For beginner and intermediate there are both beach and reef breaks in the surroundings that
provide nice and gentle waves. Depending on daily conditions and your experience we choose
the right spot. In any case, it's just a short boat ride from our dock. We can usually choose
between Old Man's, Black Rock, Wizard Beach and Las Cabañas Beach. Never crowded and
there are spots for everyone!
Seasonal conditions
You can surf in the Caribbean Sea in Bocas del Toro between December and April and in July
and August. Another great advantage of Bocas del Toro as a surf destination is that surf doesn't
depend on the tide, so you can really go surfing any time of the day. Many times we have
perfect conditions in the morning which provides clean and consistent waves. The water
temperature will be so warm that your board shorts or bathing suit is more than enough (28-
29°C in average)! ;) Also with very warm air temperature all year round it's really hard to be cold
here. So even during occasional rain which happens from time to time in the tropics, the ocean
is the best place to be then!
Crowd factor and local people
If we go to our beginner and intermediate places the surf spots won't be crowded and are way
less competitive than other surf spots in Bocas del Toro. We always make sure you have
enough space to practice on your skills. It's no problem to share waves and we teach you the
most important rules about that. So generally spoken our spots are more quiet than other places
and every surf you will make new friends right on the wave.
---
SURROUNDINGS / REGION
---
Characterization of surroundings/region
Bocas del Toro is a truly stunning archipelago on Panama's north east Caribbean coast. From
the main island and our base, Isla Colón, most of the other islands are within sight of the port.
You can easily visit the other islands by short water taxi rides (which are already fun on their
own). As Panama is a Spanish speaking country of course it helps to speak Spanish, but you
get along with English very well as there are a lot of expats and tourists. The locals are nice and
welcoming and Bocas Town is a very safe place during day and night. The currency in Panama
is the US $ and we recommend to have a travel insurance. There are no special vaccinations
needed, but please reassure with your local health institutions if you have any doubts.
Activities and facilities
Bocas del Toro offers anything you can imagine: Bars, discotheques, shopping facilities,
supermarkets, a cinema, gym, a bustling nightlife, a brewery, beach, snorkel, diving, horseback
riding, daily events, great restaurants, jungle tours, Spanish schools, Salsa lessons, cooking
lessons, coffee shops over the water, great food, tropical islands, coral reef, SURF and much
more! Time will just fly by. Additional activities can be arranged upon arrival.
---
JOURNEY
---
Ways to get to the camp
To easiest way to get to the camp is to take an international flight to Panama City and from
there either a night bus (+ water taxi from Almirante – Bocas) or a domestic flight to Bocas del
Toro.
You can also fly to San José (Costa Rica), and from there you take the bus (+ water taxi from
Almirante) or another flight to Bocas del Toro.
Once you arrive at the airport we come and pick you up. Both the airport and the water taxi
stations are in the middle of Bocas Town, nothing here is far away from anything!
Important details
As a tourist you don't need a special visa as long as you don't stay for more than 180 days.
For prices of domestic flights from Panama City please check www.airpanama.com and from
San José www.natureair.com. The transfer from Panama City to Bocas will be about $38
(comfortable night bus + water taxi) and from San José to Bocas about $70. If you need more
detailed advice we happily help you out. Let us know your international flight details and we let
you know about the best ways to get here.
PACKAGES & PRICES
---
PACKAGE A - "95" rate per night (665/7)
---
This package includes:

Private room – 5x surf lessons (each 2.5 hours incl. theory) – full week surfboard rental – rash
guard – boat transfers to surf spots outside of class hours – 1x land-based exercise – 4x yoga
lessons – private room with bathroom – a/c – WiFi – hot water – breakfast buffet on rooftop
terrace – bed linen & towel - customizing your schedule and arranging additional activities to
your needs & budget – local insights and travel advice before coming to Panama – Snorkel &
Bat Cave day tour (incl. drinks & fruit) – airport pickup
---
PACKAGE B - "88" rate per night (616/7)
---
This package includes:

Dorm bed (4-bed) with ensuite bathroom - 5x surf lessons (2,5 hours incl. theory) – full week
surfboard rental – rash guard – boat transfers to surf spots outside of class hours – 1x land-
based exercise – 4x yoga lessons –– a/c – WiFi – hot water – breakfast buffet on rooftop terrace
– bed linen & towel - customizing your schedule and arranging additional activities to your
needs & budget – local insights and travel advice before coming to Panama – Snorkel & Bat
Cave day tour (incl. drinks & fruit) – airport pickup
---
ONLY ACCOMMODATION A - private "45" Rate per night (315/7)
---
This package includes:


Private Room - ensuite bathroom – a/c – WiFi – hot water – breakfast buffet on rooftop terrace 
bed linen & towel
---
ONLY ACCOMMODATION B - 4-bed dorm (price per person) "30" Rate per night

(210/7)
---
This package includes:


Dorm in 4-bed dorm - ensuite bathroom – a/c – WiFi – hot water – breakfast buffet on rooftop
terrace – bed linen & towel
---
ONLY SURF COURSE A - "45" Rate per day (225/5)
---
Private lessons (1-2 people)
5x surf lessons (each 2.5 hours incl. theory) – rash guard – boat transfer to surf spots 




---
ONLY SURF COURSE B - "40" Rate per day (200/5)
---
Group lessons (3-4 people)
5x surf lessons (each 2.5 hours incl. theory) – rash guard – boat transfer to surf spots