ABOUT THE SURF CAMP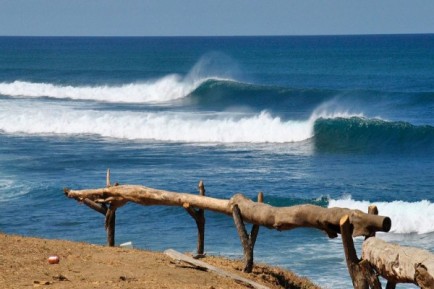 Enjoy our Surfing

Yes, it is true: South-western Nicaragua receives 300+ days of offshore winds per year. The constant South swells, warm and pristine water, and the beautiful untouched surroundings, make our region a true surfers' paradise with countless waves to explore.
Surf all day long and on any tide.
The more well known spots withing walking distance include Playa Santana which is the wedgy beachbreak right in front of our hotel, the lefthand reef of Playa Rosada, classic Playa Popoyo and the infamous Outer Reef.
The mentioned breaks are just the ones within walking distance from Buena Onda Beach Resort. Our area is very wave rich and once you hop in a car or in a boat, there are many more options. There are waves here for every taste, make sure you talk to us about your needs, we will do our best to help you find what you are looking for.

Check out our Boat Charters section for information on customized surfing by boat. If you would like to add some incredible pictures to your remember your trip (like the ones on our website) contact us to set up a day of shooting with resident professional surf photographer Donald Stone.
ACCOMMODATION AND CATERING
Something for Everyone
Buena Onda Beach Resort offers accommodation for every budget. From dorm beds to luxurious hilltop mansions with private pools, we cover it all. And the best part of it is, all of it comes with guaranteed Buena Onda (Good Vibrations)! Take your pick of accommodation and come enjoy our little piece of paradise!
---
ACCOMMODATION TYPES
---
Beach Standard Rooms
Our cozy, family-style main-house features five "Standard" rooms. All rooms have access to a shared, bright and spacious covered patio area.
Here you'll find countless hammocks, tables and chairs for lounging and making friends and a wide-open view of the pool and restaurant with the ocean in the background. The design and orientation of the hotel structure was developed with the natural environment in mind. The rooms are well protected from direct sunlight by a super-structure roof, dramatically reducing radiant heat from the tropical sun. The famous Nicaraguan off-shore breezes provide refreshing ventilation, which passes through each room, creating a comfortable temperature day and night and greatly reducing the need for artificial cooling. All of our Standard rooms have ceiling fans for additional comfort.
Beach Deluxe Rooms
If you like all the comforts of home away from home, this is your best bet! In separate, more private buildings yet still close to all amenities we offer six "Deluxe" rooms.
These rooms have A/C throughout, two completely private porches (one in the front and one in the back), satellite TV with international programs, coffee maker, a safe to keep your belongings, fridge and loads of room to breathe and store your gear. The bathrooms are really spacious and stylish with rain showers with hot, pressurized water. Pure Buena Onda Luxury!
Beach Villas
Looking to get away in style? The two Buena Onda Villas are the ultimate in luxurious, tropical-modern beachfront accommodation. The beautiful two story structures each sit on their own large 600 square meter lot. They offer a unique mix of privacy paired with easy access to all amenities of the Buena Onda Beach Resort.
Two large, private bedrooms. Each bedroom has a queen and a twin bed and a stylish bathroom. The villa sleeps up to six guests.
Fully equipped kitchen / living room area with large fridge, stove, oven, microwave and all necessary kitchen equipment. Here you can find your indoor dining area with a dining table, a couch to relax and satellite television with all the major international programs.
For your convenience, there is a third bathroom on the first floor. A huge glass sliding door leads you outside to your private, exceptionally large ocean view terrace with built-in concrete sofa and an additional dining table. Grab a cool drink, enjoy the tropical breeze and catch the wonderful views of sun, surf and local wildlife.
Please note that a minimum rental of 3 nights applies for this houses.
CONVENIENCES:
- A/C throughout
- Pressurized solar hot water system
- Sheets and bathroom towels are provided, please bring your own beach towels.
- Beautiful, locally made fine wood furniture and doors
- Carefully selected decoration and local art
- Wireless internet
- 24/7 Security
- Maid Service
Hilltop Villas
This is a new and different Buena Onda Experience! These Villas are all unique, different and privately owned. The Buena Onda Beach Resort team built and equipped these villas to the highest standards. The owners decided to share their paradisiacal homes with Buena Onda Beach Resort Guests.
All Hill Villas are on a small hill behind Buena Onda Beach Resort, approximately 1.5km distance. To get the most out of renting one of those homes we recommend renting a vehicle. Even though the houses are only 700m from the waterline the walk down (and especially up) can be hard in the heat.
We currently operate and service four Hilltop Villas. All of them have their own private pool, lush gardens and sit on a large private estate. The small hilltop community is gated and 24/7 security is ensured. Staying at one of the Hill Villas you have of course access to all amenities of Buena Onda Beach Resort down on the beach at any time. Buena Onda Beach Resort is less than a 5mn drive down the hill. Really want to spoil yourself? A Buena Onda Beach Resort Hill Villa may just be the right thing to book!
SURF COURSE AND ACTIVITIES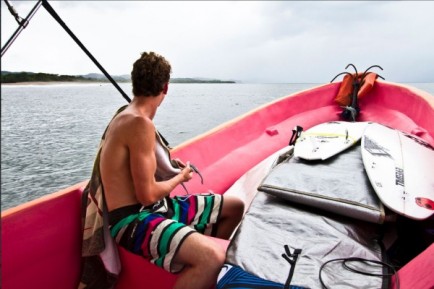 ---
SURF COURSE DETAILS
---
Many waves in our area are not accessible by car. Some of them are of world-class quality and consistency. If you want to escape the ordinary, surf different waves and spend a lovely day on the water, one of our boat trips might be just right for you.
Our panga leaves from the fishing village of El Astillero. From there we run two different packages. Tour "Norte" heads, as the name suggests, North, while "Sur" goes South. Both of the tours access a variety of different waves. Wind, tide and swell patterns and the kind of waves you are looking for help decide where to go.
Our boat trip packages include transportation from Buena Onda Beach Resort to El Astillero and back, snacks and soft-drinks, and guiding.
---
OTHER ACTIVITIES
---
For the sport fisherman (or woman!) the variety of fish along our coastline will be sure to entice you. There's Mahi Mahi, Yellow fin Tuna, Roosterfish, Mackerel, and Sailfish (amongst others!) just a little ways off-shore or you can opt to bottom fish for all sizes of Red Snapper. Talk to us about booking your own customized fishing trip.
Fishing trips include transportation from Buena Onda Beach Resort to El Astillero, rods, tackle, bait, snacks and soft-drinks.
Fishing and Surfing can of course be combined. Shoot us an email or inquire at the resort for receiving a custom quote for your desired boat package aboard the Queen Mary. We would love to take you out!

Many guests enjoy the simple pleasures that revolve around surf, eat, sleep and repeat. Others prefer to explore more. Buena Onda Beach Resort offers an activities center to make sure you can book activities at any moment during your stay with us. Just talk to us, we will make it happen!
PACKAGES & PRICES
---
PACKAGE A -BEACH STANDARD ROOM- DORM BED - from 
$ 
105 per Week / Person
---
This package includes:
- 7 nights accomodation in a Beach Standard Room
---
PACKAGE B  - THE BUENA ONDA SURF PACKAGE - from 
$ 
1250 per Week / Person
---
This package includes:
- 7 nights of private, luxurious villa accommodation at Buena Onda Beach Resort. You have your own Beach Villa during the entire stay
- Three delicious meals per day and lunch packages for boat and 4wd days. And Yes, even local beers and rums!
- Unlimited personalized, guided surfing by 4wd truck or out front. We also employ full-time certified instructors, beginners are more than welcome!
- Two unforgettable days of surfing and fishing from our private panga
- One day of professional surf photography by Donald Stone
- Access to all resort amenities
- Transportation from Managua airport to Buena Onda Beach Resort and back in solid 4wd vehicle with A/C and English speaking driver
- Complimentary cultural excursions to fishing villages, hot springs or lookout spots, seasonal festivities like cock fight, rodeo etc.
Prices: Group of 2 guests: $ 1800
          Group of 3 guests: $ 1400 
          Group of 4 guests: $ 1250