ABOUT THE SURF CAMP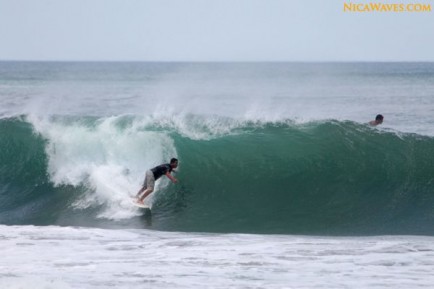 ---
LOCATION AND SURF CONDITIONS
---
The beautiful beach of Popoyo, home to the world famous A-frame break of Popoyo and the Pipeline-style Outer Reef break, is a 10 minute walk or 5 minute bike ride. The peaky, wedgy, hollow beachbreak of Santana is a 10-15 minute bike ride or 25 minute walk. A short walk south of Santana is Playa Rosada, a fast, hollow left pointbreak. A mile north of Popoyo is the beachbreak of Guasacate. The breaks of Colorado, Panga Drops, Manzanillo, and more lie to the south. Astillero, Lance's Left, Chacocente, Playgrounds and more lie to the north.


---
CAMP CHARACTER
---
NicaWaves aims to provide a genuine Nicaraguan surf experience in Popoyo Nicaragua for traveling surfers. Popoyo is a very short walk and other very consistent world-class surf breaks are close by. We can provide you with a cozy room with a comfortable bed and delicious food. Likewise, we can provide all the amenities for an epic adventurous surf trip!
Our guests also enjoy spending time with our several happy mascots. Little Buddy is our friendly beach dog, and Tigre is our playful kitten. Roxi is our other dog who loves to loaf around the property with her 2 puppies Tonkey and Chaco. Little Buddy loves accompanying our guests to the beach and hanging out by your sandals while you surf.


---
CAMP OPERATOR
---
Mike Dennison found a beautiful 2 acre property in Popoyo  in 2005. With the help of a few local friends, the first small house was built on the Popoyo property later that year. Over the next few years, the property was improved and expanded to 7 acres. Hundreds of fruit and ornamental trees were planted amongst the grounds and a few more surf bungalows were completed. In 2009, the public was welcomed onto the grounds. Ever since, the rooms and houses have regularly been running at full capacity. Our guests enjoy the mellow vibe and quiet natural setting within walking distance to several epic waves.


ACCOMMODATION AND CATERING
---
ACCOMMODATION TYPES
---
Our Popoyo house and room rentals boast a premium location on our beautiful, quiet 7 acre property 600 meters to Playa Popoyo. The house and room rentals provide a variety of price points, all of which include 15% hospedaje taxes. We have a restaurant on site open from 6am-8:30pm serving delicious meals with fresh, local ingredients. Laundry service is available for a small fee, and maid service is free upon request. All guests are welcome to our amenities including wifi, hammocks and sitting areas amongst our beautiful gardens, transportation/surf guiding to local beaches, boat trips for surfing/fishing, surf photography, and on site massage, among others. Prices are slightly negotiable for longer stays, please inquire.


---
CATERING
---
Breakfast, lunch, and dinner as well as a variety of snacks, cold beer, and beverages are served in our relaxing garden cafe. Check out our Garden Cafe Menu! We have everything you need to enjoy a simple and relaxing stay at Popoyo!


SURF COURSE AND ACTIVITIES
---
SURF COURSE DETAILS
---
Depending on your arrival time you can immediately hit the surf, or relax in the resort after your flight. We will tailor your daily surf tours to your abilities and desires. You will be guided to spots by boat when the forecast calls. Choose 3 complimentary meals a day from our expansive menu. When you are surfed out, enjoy a complimentary massage or trip to the local hot springs. If you would like to stay longer or have more people in your group, contact us and we will customize your package.


---
SURF MATERIALS
---
Nicawaves rents surfboards to make sure that you never miss a session at Popoyo and other beaches.
Our stock of fishes, shortboards, and funboards are always changing.


---
OTHER ACTIVITIES
---
Las Salinas has excellent hot springs that have been cemented in for swimming. The springs are a little over a mile from our property. If you are leaving Popoyo and heading north to Guasacate, turn right just past the school and police station and the springs will be a quarter mile on your right. These hot springs usually maintain a temperature of 104 to 105 degrees farenheit, perfect to relax and rejuvenate after a day in the surf. This year, the municipality has begun regular maintenence of the grounds and a representative collects $3 from each visitor who would like to bathe in the springs.


MORE INFO, HOW TO GET THERE & FAQ
---
SURROUNDINGS / REGION
---
Characterization of surroundings/region
Popoyo Nicaragua is a quickly emerging surf destination. Warm water reefs, points, and beachbreaks all groomed by consistent swell and offshore winds create an easy travel choice. We are located in Popoyo proper, which means a quick walk to the wave without having to cross the river from Guasacate. More surfing options within walking distance include the area's most consistent beachbreak, Playa Santana, the beautiful pink sand beach and hollow point of Playa Rosada, and a couple other secret spots.
Activities and facilities
We also provide many services you may need: airport transfers, boat trips, board rentals, surf photography, and transportation to the local breaks. On-site massage and horseback riding along nearby deserted beaches are also available


---
JOURNEY
---
Ways to get to the camp
It's a 2 and a half hour trip from Managua to Popoyo in our 4X4 and at least a half hour more in a standard taxi. Make sure the taxi driver knows where he is going. Many drivers will tell you they do, and you will find yourself lost several hours later. If your budget is tight, there is a public bus that leaves Roberto Huembes Terminal in Managua at 2:30 pm and arrives at our corner "La Entrada a Popoyo" around dark at 6pm. It costs around $3.
Important details
There are no ATMs in Popoyo. The nearest ATM is a solid hour away in Rivas. It's best to bring in your cash.  We do accept all major credit cards. Our bank charges us 5.5% of each charge that is made to us, so we do charge this standard rate to our clients. Most everyone accepts US Dollars in smaller bills of 20 and below. The local currency is "cordobas", and the current rate is 25 cordobas to 1 US dollar. WARNING: Do not change your dollars in the airport. Our clients have reported terrible exchange rates, as low as 18 to 1.


PACKAGES & PRICES
---
PACKAGE A - All Inclusive Surf Package - from 900 $ per Week / Person
---
This package includes:

        Roundtrip Airport Transfers
        7 night casita accommodations (AC, hot water, broadband WiFi, Satellite TV)
        3 Meals a day
        1 boat trip
        unlimited 4×4 surf trips with a bilingual surf guide and photographer
        Two sessions with our surf photographer
        Free trip to the local hot springs
        Free 30 minute massage


Prices
1 person – $1100 2-3 people – $950 per person 4 people – $900per person
---
PACKAGE B - Casa Rosa Accommodation - from 350 $ per Week
---
This package includes only accommodation

Casa Rosa is a clean and comfortable small house set amongst our beautiful mature gardens. It's conveniently located near our small restaurant. It can be set up to sleep 1-4 people.  The house features WiFi, cold air-conditioning, ceiling fan, and a clean bathroom with a hot water shower. A television, DVD player, Bose stereo with ipod hookup, and various books are in the room as well. Daily maid service is available upon request.  The balcony is open to the prevailing offshore winds. It provides a magnificent view and features a hammock and rocking chairs. Magpie-jays, kiskadees, parakeets, and multiple species of hummingbirds  visit  the house and the surrounding landscaping daily.

$50 for 1-2 persons, $10 each extra person


---
PACKAGE C - Dorm Accommodation - from 63 $ per Week / Person
---
This package includes only accommodation

NicaWaves dorm room provides a comfortable place to sleep with ceiling fans. Lockers provide safe storage for valuables. This area is located amongst our gardens just a few steps down the path from our restaurant and bar. There is a bathroom inside the dorm with a hot water shower. All guests are welcome to our free high speed WiFi as well. All this represents a solid value as beds are $9 a night. The room can fit up to 10 to 12 people.