ABOUT THE SURF CAMP
---
LOCATION

---
Cabana is located in Krui, a small village in Lampung, Sumatra, Indonesia. Krui is a rare town, situated between a thick forest, meandering coastline, and volcanic mountains. The town saw a small dip in popularity since the '90s but has since steadily gained steam both as a resort town and a popular destination for surfing.
Krui gives you a glimpse of what traditional Indonesia is all about. The landscape is covered with rice fields and cozy villages that offer both classics Indonesia cuisine and unique local architecture. You'll find yourself miles away from hectic traffic and high tempo, which makes this the perfect place for your tropical getaway.
Clinging to Sumatra's southern coast, Krui's palm trees and laid-back beaches offer many opportunities for active and adventurous travelers. Superb snorkeling showcases a diverse and colorful underwater seascape, while above the water, challenging surf breaks draw bold board-riders from around the world. On land, trekking and wildlife watching are all combined in a landscape of rugged peaks and tropical jungles.


---
SURF CONDITIONS

---
Cabana Surf and Stay is directly located at Mandiri Beach Break which is working all year around.
The waves around Krui are perfect for intermediate to advanced Surfers, but we can also find some small waves for beginner.
---
CAMP CHARACTER

---
Cabana Surf and Stay is a quite, family-friendly Camp with a maximum capacity of 18 Guests. Come and be a part of our Cabana Family.
ACCOMMODATION AND CATERING
---
ACCOMMODATION

All Room Types are including:
* Air-conditioning
* Free Wi-Fi
* Hair dryer on request
* Daily room cleaning
* Towels
* Surfboard Racks
* Free toiletries

Premium Hut
The Premium Huts are to be shared with your friend or another surfer with a maximum of two people. Its facilities are twin beds or one double bed, private Western-style bathroom, private terrace with beach view and sunbeds, wardrobe, and air conditioner. If you don't want to share your room, you can book a single Premium Hut just for yourself.
Shared Lodge
The shared Lodges are for up to four people. They are equipped with bunk beds, a lockable wardrobe for each, private Western-style bathroom, and air conditioner.



---
CATERING
---
3 Meals a day + Natural Spring Water included
The chef at Cabana is cooking a mix of Western and Indonesian dishes. You can choose every day between many choices for breakfast, and between two dishes for lunch and dinner. Cabana Surf & Stay cooks fresh, healthy meals without any MSG,  they usually contain meat or fish. If you're vegetarian or vegan, just let us know in advance, so we can prepare some tasty dishes for you.
SURF COURSE AND ACTIVITIES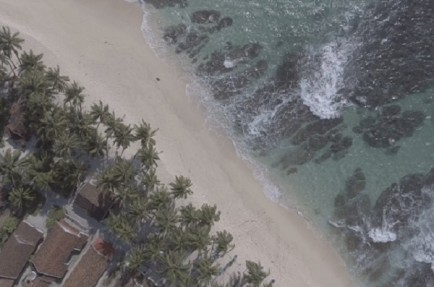 ---
SURF GUIDING AND COURSE DETAILS
---
Daily Surfing with a local Guide and Transport to the best Spots of the day regarding to your level is included in the Price.
We prepare a light Early Morning Breakfast and packed Lunches if you wish.

Surf Lessons are available for Beginner and Intermediate for an additional charge.
---
SURF MATERIALS
---
You can rent different Surfboards and Bodyboards in Krui.

There is a little Surfshop, but we recommend to bring your own favorite Surf Gear (Wax, extra Leash, Zinc etc.) as the product range is very limited.
---
OTHER ACTIVITIES
---
You can rent a scooter and explore Krui and it's beautiful nature by yourself, or just book one of our Tours:

- Waterfall Trip
- Jungle Trekking
- Pulau Pisang Trip (very small neighbour Island with Snorkeling, Fishing and also Surfing)
- Krui Local Village Tour
- Fishing with a local Fisherman


MORE INFO, HOW TO GET THERE & FAQ
---
 SURF CONDITIONS
---
Breaks directly at the main spot and at nearby spots
Cabana is directly located at Mandiri Beach Break, a fast, challenging wave.
Nearby Spots can reached with Scooter or Car

The Peak - 15 minutes
Krui Left & Right, Leftover - 20 minutes
Ujung Bocur & Way Jambu - 30 minutes

more far away but worth it!
Bali Village - 1 hour
Jenny's Left and Right  - 1 hour 15 minutes
Honeysmack - 1 hour 20 minutes
Jimmy's Point - 1 hour 30 minutes

...just to name the famous ones, many other uncrowded Spots are waiting for you!!
Seasonal conditions
You can surf all Year around without Wetsuit, as the water temperature is always around 28 degrees.


High season (April until October/November)
The Waves are usually bigger and the weather is more hot and less rain.

Low season (November until March).
We recommend this time for Beginner, as the Waves are usually smaller and less powerful and less people traveling to Krui. It's the rain season- that means it's usually raining almost every evening, and the temperature is less hot.
Crowd factor and local people
In the High Season the famous Waves (for example Ujung Bocur..) can get busy (20+ surfer)
The Locals are really friendly, and not many of them are surfing.
---
 SURROUNDINGS / REGION
---
Characterization of surroundings/region
Krui is a small village, you have some Minimarkets in town, a Local Market, ATMs, a pharmacy and a doctor.

Living here means living between the Beach and the Jungle, are you ready for an adventure?

You can't really get public Transport or Taxis in here, the best (and most fun) choice of transport is the Scooter.

The people are very friendly- but please respect them and their religion and wear at least a Shirt when you go to the village.


Activities and facilities
For our guests we hold regularly evening Activities such as Game Nights, Bonfire Evenings, BBQ. etc.
We can also provide Tours around the area for an additional charge, for example Jungle Trekking, Snorkeling etc.
---
 JOURNEY
---
Ways to get to the camp
The best way is to fly from Jakarta to Bandar Lampung (Garuda Indonesia is the best airline and Surfboards are for free).
From there it's around 5-6 hour travel by car to Krui. But don't worry, the landscape is totally worth it and our Car is equipped with DVD Player and of course AC.
Important details
From most Countries you can get a free 30-Day-Visa at the Airport.

Please make sure you have a Travel Insurance with Medivac when you travel to Indonesia. We also recommend you to bring a small first aid kit with all necessary medicine for you.

Don't forget to bring your favorite Surfgear.
PACKAGES & PRICES
---
PREMIUM HUT  - from 735 € per 10 Days / Person
---
This package includes:

Accommodation in Premium Hut
Airport Transfer
3 Meals a Day and unlimited drinking water
daily Surfguide and Transport to the Spots


---
SHARED LODGE - from 465 € per 10 Days / Person
---
This package includes:

Accommodation in Shared Lodge
Airport Transfer
3 Meals a Day and unlimited drinking water
daily Surfguide and Transport to the Spots


---
PREMIUM HUT DAILY  - from 80 € per Day / Person
---
 This package includes:

Accommodation in Premium Hut
3 Meals a Day and unlimited drinking water
daily Surfguide and Transport to the Spots


---
SHARED LODGE DAILY  - from 55 € per Day / Person
---
 This package includes:

Accommodation in Shared Lodge
3 Meals a Day and unlimited drinking water
daily Surfguide and Transport to the Spots