ABOUT THE SURF CAMP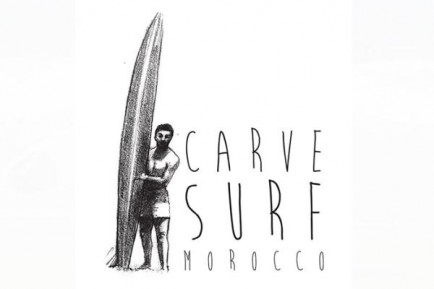 ---
LOCATION AND SURF CONDITIONS
---

Carve Surf Morocco is Tamraght's only surf school to have a separate surf shop premises for all our equipment and office operations. This means we can also provide daily surf lessons and surfboard/wetsuit hire to visitors who aren't staying at our camp - This email address is being protected from spambots. You need JavaScript enabled to view it. for more information and rates.
The school also offers shower and changing room facilities, as well as being a surf shop where you can get essentials from a ding repair kit, to Carve Surf Morocco t-shirts. We're also pretty fond of watching surf movies or jamming on the guitar in store, so feel free to drop by and hang out!
---
CAMP CHARACTER
---
The team at Carve Surf Morocco pride ourselves on being a friendly lot, so we like to think that joining us for a week of surf guiding is just like hanging out with your mates on the ultimate surf mission! Our expert local knowledge means we daily assess conditions for swell, tide and wind, and get you out the back safely at the day's best spots.
---
CAMP OPERATOR
---
Owner operated
ACCOMMODATION AND CATERING
---
ACCOMMODATION TYPES
---
The surf camp 'Auberge Marock & Roll' is ideally situated in the traditional Moroccan town of Tamraght, and just round the corner from the Carve Surf Morocco surf school. It offers bedrooms with sea views, and provides the closest accommodation to the beautiful surfing beaches of Tamraght! There are shops, cafes and resturants close by, and the camp is just a 5 minute walk to the beaches.
Positioned close to busy Tagazout, but quiet enough to escape it all, the surf hostel has a sun terrace to relax on when you're not at the beach, and a comfy TV lounge, pool table to hang out with a drink in the eveningsl... you'll have everything you need here to feel relaxed and energised.
---
CATERING
---
· Daily breakfast & lunch
· 3 course dinner (optional extra)


SURF COURSE AND ACTIVITIES
---
SURF COURSE DETAILS
---
Our qualified instructors are there to teach you about the ocean (remember, it's safety-first folks...), and get you from your first memorable pop-up, to confidently catching and riding unbroken waves.
We have a range of beaches within a short drive from the camp with perfect waves for learning how to surf on.. and with our amazing climate, we're the perfect location to surf any time of year
---
OTHER ACTIVITIES
---
Even being the surf geeks that we are at Carve, we can also guarentee that there's much than just surfing to experience in Morocco. This beautiful country is famous for its magical hidden gems, and Paradise Valley in the Atlas Mountains is one of them. Join us for a scenic 30/40 minute drive, and be transported into this beatuiful Berbere area in the Atlas Mountains (we're stoked to add that some of our team are from this incredible place, and we'd love to show you the secret spots only the locals know about!)


MORE INFO, HOW TO GET THERE & FAQ
---
SURF CONDITIONS
---
Taghazout and Tamraght are Moroccan Berbere Surf villages directly on the coast of South Morocco's strip of surf spots and sandy beaches. Our surf camp is ideally located in the village of Tamraght - not far from the famous surf spots of Anchor Point, Killer Point and Boilers, and just 5 mins away from the hustle and bustle of Taghazout town. Tamraght offers a relaxed atmosphere with beach front cafes and friendly locals, and within a 10 minute walk from the surf camp you can access 3 different beaches with multiple surf spots offering the most consistent swell of the area for all levels of surfer. With glorious sunshine and an endless coastline of surf spots, Morocco offers fantastic waves for beginner to advanced level surfing.
BANANA BEACH:
(includes 2 other spots k11 and k12) right and left waves, very fun spot

  DEVILS ROCK:
Fun sand bar, great atmosphere, right and left waves, cafes and restaurants too.

  CROCODILES:
The shape of the land looks like a giant crocodile, no actual crocodiles here! Left and right waves and camels to ride too!

  PANORAMAS:
A perfect beginner spot, a vast long sandy beach with a point break too, left and right waves

  CAMEL POINT:
Yes there are camels around here; you can take a beach camel ride!

  DESERT POINT:
Great for learning to surf here! Very fun waves when theres small swell.


BOILERS:
Reef/Rocky, Right wave, a total beauty, set around an old ship wreck and ship boiler.
  SPIDERS:
Point-break, flat rocks and sandy bottom.
  HASH POINT:
Point-break, sandy/rock bottom, great right.
  ANCHOR POINT:
A notorious wave which will give you the ride of your life.
  MYSTERIES:
Point-break, flat rocks
  LA SOURCE:
Reef/rocky, sandy in the centre, right and left, really fun waves
  KILLER POINT:
A locals favourite and a sunset you'll never forget
  DRACULAS:
Reef break, right wave, the rocks look like Dracula's teeth - its stunning
  IMESSOUANE:
Exceptional site, 2 spots; the bay is Morocco's longest wave (500m), sandy bottom, located in a sweet fishing village and surrounded by mountains. Cathedrals is a fast and fun right wave close by the bay.
---
SURROUNDINGS / REGION
---
Characterization of surroundings/region
MONEY: You cannot bring Moroccan Dirham/MAD into the country our out of the country and most places here do not accept traveller's cheques (including us). You will need to get your holiday money either from the Cash Machine/ATM at the airport or change currency when in Morocco (we are happy to help you change currency also).
RELIGION: Morocco is a Muslim country so when you are walking through the towns it is respectful to cover up shoulders and knees. On the beach though, it's perfectly fine to be in your bikini/board shorts but no topless sunbathing please ladies.
TAP WATER IS A NO-NO: Don't drink the tap water. We advise everyone not the drink the tap water as it can make you ill so still to bottled water please.
IT'S HOT: Morocco is really hot so make sure you avoid sunstroke by wearing a hat, sun cream and drinking bottled water.
IT'S NOT LIBYA: Unlike the problems in Libya, Morocco is a very peaceful country so you can relax on your surfing holiday!
SURF FOR ALL LEVELS: You may have seen big waves in Morocco in surf movies like Sipping Jetstreams but Morocco also offers beginner beach spots so there is a great range of Surf Spots for all levels. Depending on the swell our Surf Guides will take you to the most suitable spots in the area.
---
JOURNEY
---
Ways to get to the camp
With it's beautiful climate and warm ocean water, Morocco may seem like it should be the other side of the world, but in reality it's surprisingly close to Europe and very easy to get to! Serviced by several budget airlines and with warm ocean water all-year round, Morocco is the perfect getaway for an inexpensive sun & surf fix at any time of the year! The closest airport is in Agadir
Our 1 week surf camp packages include return airport transfers from Agadir, and take just 30/40mins, or if you're travelling independently we can help by arranging your pick-up & drop-off from the airport for you. If arriving to Marrakech, cheap coach tickets can be purchased and the journey takes around 3.5hours to Agadir.
PACKAGES & PRICES
---
PACKAGE A - B&B independent Surf Travel - from 133€ € per Week / Person
---
This package includes:

· Surf Camp Accommodation - choice of dorm or double/twin room
· Daily breakfast
· 3 course dinner (optional extra)
· Return transfers from Agadir airport or bus station
·Free Wi-Fi
stays for less than 6 nights exclude airport transfers
---
PACKAGE B - Surf Guiding - from 315€ € per Week / Person
---
This package includes:

· Surf Camp Accommodation - choice of dorm or double/twin room
· Daily breakfast & lunch
· 3 course dinner (optional extra)
· Return transfers from Agadir airport or bus station
· Surfboard & wetsuit hire options
· Beach transport & daily surf check
· Internationally Qualified Surf Instructors
stays for less than 6 nights exclude airport transfers
---
PACKAGE C - Surf Lessons (intermediate) - from 364€ € per Week / Person
---
This package includes:

· Surf Camp Accommodation - choice of dorm or double/twin room
· Daily breakfast & lunch
· 3 course dinner (optional extra)
· Return transfers from Agadir airport or bus station
· Surf lessons every day!
· Full beach days
· Surfboard & wetsuit hire
· Video feedback and /or surf photos
· Beach transport
· Internationally Qualified Surf Instructors
·Free Wi-Fi
stays for less than 6 nights exclude airport transfers


---
PACKAGE D - Surf Lessons (beginner) - from 364€ € per Week / Person
---
This package includes:

· Surf Camp Accommodation - choice of dorm or double/twin room
· Daily breakfast & lunch
· 3 course dinner (optional extra)
· Return transfers from Agadir airport or bus station
· Surf lessons every day!
· Full beach days
· Surfboard & wetsuit hire
· Surf photos
· Beach transport
· Internationally Qualified Surf Instructors
·Free Wi-Fi
stays for less than 6 nights exclude airport transfers