ABOUT THE SURF CAMP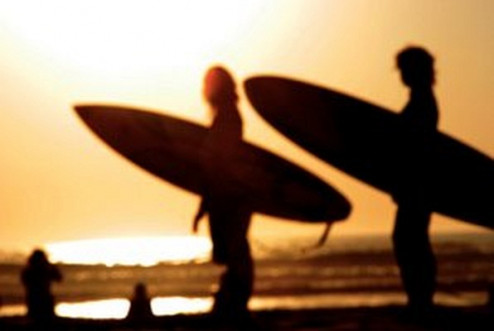 ---
LOCATION AND SURF CONDITIONS
---
With all its surf spots, the South-Western Algarve is one of the best surf locations in Europe all year-round.
Beach breaks, reef breaks, fast and hollow, slow and mellow, here every surfer finds the right wave, no matter if beginner or pro.
ACCOMMODATION AND CATERING
---
ACCOMMODATION AND CATERING

---
Accommodation
Chillhaus room for maximal 6 people
Apartment for 2 – 4 People
Caravan, tree house, own tent or own camper van

The Chillhouse
Interior
    1 Bedroom (Double bed, additional bed/s possible)
    1 Bedroom (two single beds or one bunk bed plus sleeping couches)
    1 Bathroom (with WC, shower and bathtub)
    1 Toilet
    TV lounge with couches
    Spacious living room with pool table
    Kitchen joined with the living room

The Chillandsurf House is fully equipped.

Two bedrooms that can be set up to your needs with doublebed, single and bunk beds. Also available are comfortable sleeping couches placed in the TV lounge ( they can be moved and set up differently in the house)

The living area is combined with the kitchen area (together around 150sqm). The TV lounge is set up with couches and a big screen TV with Sat.TV.
A pool table, stereo, chairs and tables make sure that you will find your personal space to relax, read a book or just....chill.

The kitchen layout is designed to prepare meals for groups. You will find a 5 burner gas stove, electric oven, all the utensils needed. Also a toaster, micro wave, two coffee makers, two fridges and two freezers, a waffel iron and (of course not for cooking, but very important) a washing machine.

Important is that you have space. The house has 250sqm.

The living room is heated with a wood stove, fire wood is provided (no worries, you only have to chop wood if you feel the need for some exercise) In the cooler months of the year (yes, Portugal has a couple of them, too) we can set up additional heaters.

Towels and bed sheets are provided and included in the rental price.

Catering
Breakfast, lunch bag, dinner , snacks, beverages, house bar…   Your well being is guarantied: daily breakfast bar with a big selection (cereals, fruits, eggs….)

ALL-YOU-CAN-EAT Gourmet dinner(also vegetarian)
…lots of energy for bus days and nights...
SURF COURSE AND ACTIVITIES
---
SURF COURSE DETAILS
---
SURF COURSE
Chillandsurf Intro Day
A very intensive introduction into the surf sport in  theory and  practice.
A must for all wanting to rent material  but have no experience.
Duration: 1 Day

5 Day Surf Course
Daily one session in theory and twice 1.5 hours of practice in water, followed by analyzing videos in the camp.
Surf material, wetsuit and the daily transfer to the surf spot are included in the course.
The maximum of participants of a course is 8.

Private Lessons
Maximum of 2 for 2 hours (very intensive surf lessons).

Pro-Lesson
For everyone that already "can" surf and would like to step up a level. Like carving, tube riding and more.

SPOT SHUTTLE
Available to all surf spots at the Southern and Western Algarve. There are plenty!
---
SURF MATERIALS
---
Surfboards available for all skill levels.
Short boards, minimalibus, long boards, fun boards, soft boards,
Skim board, body boards, kids boards.
Quicksilver wetsuits in all sizes.
Surfboard repair on site.
---
OTHER ACTIVITIES
---
Besides all the chilling and surfing, there are many more alternatives to stay fit or have fun: Skate mini-ramp, fitness equipment, table tennis, slack-lines, yoga, pool table, poker table, darts, games, internet…

In the  CAMPSHOP you´ll find surf –essentials like wetsuits, leashes, wax and also shorts & shirts and all you need for life at the beach and water.

Around the surf camp are many interesting sights and attractions:
Breathtaking beaches, charming little villages, boat trips along the coast…
the Southern Algarve  is a place to explore in many ways.

Activities like paintball, Go-Kart…are as well offered in the region…

In the nearby villages of Aljezur, Rogil and Odeceixe you will find a variety of good restaurants and bars. Several events like concerts, DJ Nights…make sure you´ll be moving your body not only on the surf board.
MORE INFO, HOW TO GET THERE & FAQ
---
JOURNEY
---
Ways to get to the camp
Arrival by plane
Airport FARO (110km from theCamp ), transfer possible.
Airport LISBON (230km from the Camp ) and then the "Rede- Expressos" bus
http://www.rede-expressos.pt/default.aspx
Transfer
Transfer Airport Faro       95 €
Transfer Lagos                40 €
Transfer Aljezur              15 €
Rental Cars
Should be booked/reserved in advance. Our affiliate Algarvissimo offers all-inclusive deals.
Check out the website www.algarvissimo.com for more information, rates and reservation.
After confirmed booking you will receive detailed "how to get there" information.
PACKAGES & PRICES
---
CORE DEAL - 140 € per Week / Person

---
This package includes:

Accommodation in your own tent or camper
Daily breakfast
Use of playground
Weekly rate: 140 € per person
---
CHILLANDSURF DEAL - 315 € per Week / Person
---
This package includes:

Accommodation in tree house or caravan
Daily breakfast
1 week surfboard rental
1 week wetsuit rental
Weekly rate: 315 € per person
---
DELUXX DEAL - 495 € per Week / Person
---
This package includes:
Accommodation in tree house or caravan
Daily breakfast
5 day surf course and surf material
Weekly rate: 495 € per person

If you´d like to create your own individual surf holiday, just send us a request!