ABOUT THE SURF CAMP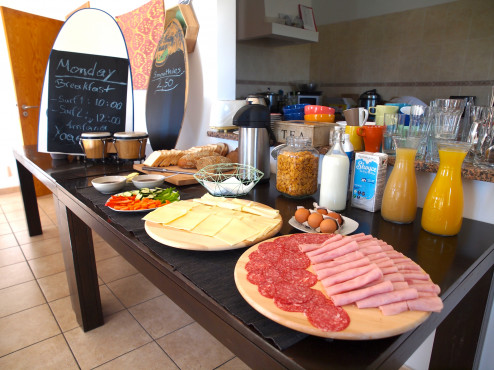 ---
LOCATION AND SURF CONDITIONS
---
Exact location and description: Vale de Telha, Aljezur, Algarve, Portugal, 3 different surf spots are reachable by car within 5 minutes. 
Arrifana surf sport: sheltered beach, good for learning, or when big swell. 
Monte Clerigo: west facing beach break, picks up lots of swell. 
Amoreira: west north west, with lagoon, for SUP, river mouth develops good sand banks. 
---
CAMP CHARACTER
---
Target group: All ages welcome, surfers and relaxation holiday searchers (0+ years)
Camp size GUESTHOUSE (youth, party people, low budget rooms, dorms, tent area, breakfast buffet, bar, mini ramp, pool, chill out area) for up to 20 guests – average age 15-35 years ::: Camp size LODGE (couples, chill out area, garden, volleyball field, comfortable double rooms, 4 bed rooms, quiet atmosphere, families, living room, kitchen for self- catering use) – for up to 16 guests – average age 7-60 years ::: family, friends, laid- back atmosphere ::: dogs allowed ::: main language German & English
---
CAMP OPERATOR
---
Surfing is a feeling that includes good vibes, relaxed attitude, fun and action. In line with that we compiled a program with loads of other activities you can do and opened the camp in May 2013. Boris Fischer the owner and Philipp Sturies the Camp Manager met some years ago and created the ultimate surf & accommodation place. Their vision is to see individuals, whether surfers or non-surfers, young or old to join together in a happy and natural place and enjoy their holidays the best way. They started to look for two houses but still kept the camp small, so that each guest can be treated in a personal way on site and during the group surf courses. This is why they decided on a unique creation in order to satisfy the demand for everybody who is looking for a laid- back holiday at the Algarve. The general offer of accommodation and one week surf packages is enriched by the possibility of individual holiday offers, event & group bookings, on site camp activities (massages, yoga, sup trips, mini ramp, pool, bar, volley ball, mini golf, bistro) and local activities with cooperative companies who offer: horse riding, climbing, mountain biking, scooter rentals, enduro biking, hiking, fishing and bird watching. 
Their mission is to serve the demand of a versatile target group: from surfers to families, from low budget to intermediate standard and from party to laid back ambience, from full board to self – catering and from surf packages to holiday room rental. With this offer we proudly differentiate us from the usual surf camps at the Algarve.
Liquid- Mountains Surf Camp is for everybody – with its small friendly team they create a family- like atmosphere for all our guests. The two houses are based opposite of each other and can be reached within walking distance. With these locations they have established a party and a more lively area on the one site while the other site offers a chill out and quiet relaxation area – together within one place: the liquid-mountains camp! "We created a natural environment- a comfortable straightforward place where guests are treated as friends and have the freedom to choose from variety of activities. Our helpful staff and certificated surf teachers are careful considering the individual well being of all guests. Liquid- Mountains' guests are part of the team and not a product of mass tourism. " – Philipp Sturies.
ACCOMMODATION AND CATERING
---
ACCOMMODATION TYPES
---
Type: guesthouse and lodge
Situation: quiet village in natural park area, next to forest, walking distance to sea site (cliffs), hike 40 minutes to beaches, different beaches can be reached easily, restaurant & bar in 5 minutes by car, area with a view bars & restaurants.

Room types:
single rooms, double rooms (4) of which 1 with private terrace, 2x 4 bed rooms, 2x Multiple bed room (max. 8 people), 2x shared living room (incl. TV & projector for movie nights),
1x equipped shared kitchen, 1 staff kitchen for catering, 4x shared bathrooms,
free WIFI internet, car park, swimming pool, bar, bistro, breakfast/ dinner room, towels & bed linen provided, rooms non-smoking, hair dryer on request, regular euro plugs



---
CATERING
---
Surf camp: self- catering, healthy and fresh breakfast, kitchen provided, shopping facilities nearby (kiosk 5 minutes on foot, bigger shops 8 minutes by car), restaurants nearby, camp bistro, prices menu from 5€ - 25€.
Vegetarian meals, vegan meals and special food request (food allergy) possible at the bistro.


SURF COURSE AND ACTIVITIES
---
SURF COURSE DETAILS
---
Organisation- group size; max. 20 people with at least 4 instructors, min. 4 people with 1 instructor
Course schedule and total duration: surf lessons Mon – Sun/ daily 2 sessions of 2 hours each course programme: theory,& practise at the beach, different groups according to surf level
Course location: beaches (Monte Cerigo)
Levels and goals: All levels, beginner to advance, learn to surf with certificated instructors in a modern way, improve surf level with experienced surf guides, video coaching & analysis
Breaks: depending on tides 
Course language: German, English, Portuguese, Spanish
Only course participation (without accommodation) possible? Yes
---
SURF MATERIALS
---
Materials used during surf course: beginners & intermediate: soft boards, different sizes, up to 9ft. For advanced surfers: hard tops, all sizes & shapes, epoxy & polyester.
Wetsuits: full suite in 4/3 or 5/4 
What will the participants have to bring themselves? Sunscreen, beach towels, swimwear
We provide: tents, umbrellas, beach games (volleyball, beach tennis etc.)
Rental fees: rental included in surf package booking, otherwise: 25€ for board & 10€ for wetsuits / person/ day.
---
OTHER ACTIVITIES
---
further activities: horse riding, biking etc. price on request 
organised trips: daily trips north & south 
surfboard rental: 25€ / day
materials for activities – SUP 45€/half day, Bodyboard with flippers 60€/ day
Yoga: 15€ / per Session
Massage: 35€ for 30 min
MORE INFO, HOW TO GET THERE & FAQ
---
SURF CONDITIONS
---
Breaks directly at the main spot and at nearby spots
Arrifana surf spot: sheltered beach, good for learning, or when big swell. 
Monte Clerigo: west facing beach break, picks up lots of swell. 
Amoreira: west north west, with lagoon, for SUP, river mouth develops good sand banks. 
The coast up north and down south offers a huge potential of further surf spots for different kind of conditions.
Seasonal conditions
Summer often cool north wind, small waves, beginner, sunny, often windy, air temp. 28°C, water temp 18°C
Spring and autumn warm sea current, small & clean waves, sunny, less wind, air temp 23°C., water temp18°C
Winter, mostly bigger waves, sunny, rainy, humid, air temp.18°C, water temp. 19°C


Crowd factor and local people
usually one of the most uncrowded paced in Europe
Very friendly locals


---
SURROUNDINGS / REGION
---
Characterization of surroundings/region
Quiet area, village, next town Aljezur (8 minutes by car), next city Lagos (40 minutes by car), hiking sight: rota vicentina along the coast, sight: old town of Aljezur, Capo de sao vicente: most south western point of Europe, National Park of Costa Vicentina, Beautiful landscape & country site. 
culture, local people, customs- friendly locals, English spoken by most, currency euro and cost of living low (coffee 90c, soup 2€, bakery stuff 1€).
Activities and facilities
sports on offer- excursions south & north, guided surfing tours, volleyball, mini golf, yoga, running, biking etc. 
shopping: 40 minutes Lagos/ Portimao or 8 minutes in Aljezur
cinemas: 40 minutes Lagos
bars: around the area, bigger bars/ tourism: 40 minutes Lagos
---
JOURNEY
---
Ways to get to the camp
Plane: Lissabon & Faro
Train: Faro 1 ½ hours (6€)
Bus: Lissabon 4 hours (20€) 
Shuttle service from airport: Faro 105 € per person
or train station/ bus station Lagos (65€ per person ) / Aljezur (25€ per person) to camp
(transfer Lagos/ Aljezur included in Surf Package booking)
Important details
no visa required


PACKAGES & PRICES
---
CLASSIC SURF PACKAGE - from 380€ per week / person
---
This package includes:
5 days Surf Course / Guided Free Surf
7 days accomodation with breakfast
Always included: Transfer to/from Lagos & Aljezur, equipment, insurance, usage of all camp facilities   from 380 € (dec.-march) from 400 € (april-may & oct.-nov.) from 465 € (june - sep.)
---
FITNESS PACKAGE- from 
380€ per week / person
---
This package includes:

3 days surf course / Guided Free Surf
2 days SUP
7 days accomodation incl. breakfast


Always included: Transfer to/from Lagos & Aljezur, equipment, insurance, usage of all camp facilities   from 380 € (dec.-march) from 400 € (april-may & oct.-nov.) from 465 € (june - sep.)



---
SURF'N'SUP PACKAGE - from 380€ per week / person
---
This package includes:


3 days Surf Course / Guided Free Surf
2 days SUP
7 days accomodation with breakfast
Always included: Transfer to/from Lagos & Aljezur, equipment, insurance, usage of all camp facilities
from 380 € (dec.-march)
from 400 € (april-may & oct.-nov.)
from 465 € (june - sep.)



---
SURF'N'YOGA PACKAGE -  from 380€ per week / person
---
This package includes:
5 sessions Surf Course / Guided Free Surf
5 sessions Yoga
7 days accomodation with breakfast
Always included: Transfer to/from Lagos & Aljezur, equipment, insurance, usage of all camp facilities  
from 380 € (dec.-march)
from 400 € (april-may & oct.-nov.)
from 465 € (june - sep.)
---
PACKAGE PRICES - from 380 € per week / person
---
ACCOMODATION INCL. PACKAGE
(PRICE PER PERSON PER WEEK)             
DEC-MAR          
APR-MAY         
OCT-NOV
JUN-SEP
SHARED ROOM
380 €
400 €
465 €
4-BED-ROOM
420 €
420 €
500 €
DOUBLE ROOM
470 €
520 €
605 €
DOUBLE WITH PRIVATE BATH
520 €
570 €
690 €
---
SINGLE PRICES - from 100€ per week / person 
---
ACCOMODATION INCL. PACKAGE
(PRICE PER PERSON PER WEEK)              
DEC-MAR         
APR-MAY                
OCT-NOV
JUN-SEP
SHARED ROOM
100 €
140 €
175 €
4-BED-ROOM
120 €
160 €
190 €
DOUBLE ROOM
150 €
180 €
280 €
DOUBLE WITH PRIVATE BATH
180 €
230 €
350 €