ABOUT THE SURF CAMP
---
LOCATION AND SURF CONDITIONS
---
Fuerteventura is the second largest of the Canary Islands and is located only 95km from Africa. It has a warm climate which is cooled by Atlantic breezes, which helps those of us who come from milder climates. Waves are available all year-round and yes it is warm water surfing! In the last years Corralejo has become the place to be for numerous surfers from all over the globe, who have come to check out the best beach and reef breaks of the island known as the European Hawaii. The village has a strong surfing vibe; everyone is very laid back and relaxed, the locals are open and friendly and you will make friendships in no time. You will find a large range of bars, restaurants and shops all within short walking distance of the surf house.


---
CAMP CHARACTER
---
Our philosophy:
¨Anyone with an appropriate instruction is able to learn and improve their skills in surf¨.
At Connection we believe that every person with a personalized and specific attention can get amazing results in their movements in the water, regardless of your background, age, and skills.


ACCOMMODATION AND CATERING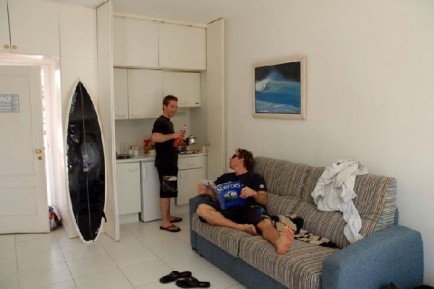 ---
ACCOMMODATION TYPES
---
This magnificent surfhouse located only a few meters from the surf spot Rocky Point and is situaded in the best zone of town. It offers all required amenities for surfers from around the world who want to meet in a perfect environment which only breathes surfing. It has shared and individual rooms with a kitchen, 3 bathrooms, living room with tv, wi-fi, BBQ, chill area, solarium and workout zone. All you need to do is grab your board, walk a few meters to the wave and enjoy a
relaxed session.

Galera Beach is located in the north ofthe island of Fuerteventura in Corralejo, in front of the mellow surf spot and reef-break of Rocky Point Located just minutes from the city center, with a variety of dining, shopping and entertainment. The proximity to the harbour makes it possible a short boat trip to the Island of Lobos.
Complex 16 apartments located in a privileged area to the beach in the village of Corralejo. All dream with a view to the entire Bay and a just few meters to the supermarkets, shops, pubs, restaurants and others. The building has one reception, 2 swimming-pools (one for adults and the other for children). Hammocks are free. All apartments is composed of; 1 or 2 bedrooms, one living-room with a bed and TV, Wi-Fi, balcon or
terrace all with sea view, bathroom, complete kitchen with two ring ceramic, microwave cooker, fridge/freezer, electric kettle, coffee maker and toaster. Apartments will be weekly: 5 times cleaned.3 towels changes. 1 sheet change.

Fuente Park
Located in Corralejo, a town in the extreme north of Fuerteventura, within the region of La Oliva. Surrounded by an unusal landscape of sand dunes, the villa combines the traditional fishing taste of its harbour with an intense tourist activity. Fuente Park is located within 200m distance of the beach and 2kms of the Nationa Park of Corralejos sand dunes. Only 500m walking distance from the center with shops, bars and restaurants. The establishment has 76n apartments which consist of a living room, a ceramic kitchen, fridge, freezer and oven, a living room, bathroom and terrace or balcony. (Cleaning service 5 days per week, sheet are changed once a week, towels three times per week). Fuente Park has 2 outdoor freshwater pools, heated in the winter (from 21st December to 21st Marzo), one of the pools is especially for kids. Surrounded by well maintained garden areas, sunloungers and sun umbrellas and a poolbar. Several services are offered, that is, currency exchange, fax services, internet connections, excursions, car hire, among others.
And all this along with our umbeatable strategic location within the town of Corralejo.


SURF COURSE AND ACTIVITIES
---
SURF COURSE DETAILS
---
Our teaching system:
Connection Surf is an innovative surfschool that uses a teaching system designed for professional surfers. Our methods apply to all levels, from beginners to advanced. With a training program aimed specifically at each individual surfer (based on their weight, height and skills) after subsequent monitoring, we guarantee a rapid progression and best results. We pursue an effective and robust methodology, with specific techniques for each move. It is easy to follow, and it will motivate you during all stages of learning. You will be surprised by your rapid progress!


Technical subjects usually covered in a 1-week surf camp include position on the board, paddling technique, handling white water, take-off techniques, timing, position on the wave, getting to the line-up, turtle-roll, wave selection, reading the wave, following the wave, basic turns, handling different types of waves (slow, fast, beach break, reef break). For intermediate and advanced Levels we cover subjects such as riding the face of the wave, duck-diving, maneuvers, riding bigger waves, perfecting your style etc., and we offer Surf Safaris to various spots of the island.

Our instructors are professional lifeguards and are qualified by the Canary Islands, Spanish, and International Surfing Associations.They are also local surfers and are recognized amongst Fuerteventuras surfing community as some of the very best surfers on the island and they can certify many years of experience with extensive knowledge of the local spots to provide you with a high quality of instruction on the water. We operate with small groups with a maximum ratio of 6 students per instructor to ensure better attainment during the lessons. Surfing in warm climates and excellent conditions with professional care gives you a unique feeling and oportunity to learn to surf.We use high-quality Equipment adapted to your level, with the possibility to change boards
throughout the course as you progress.

Surf Course:
At Connection Surf School, you will get the best tuition from instructors qualified to the Spanish Surf School standards of quality and speaking several languages, where always the emphasis is on safety first! You will receive personalised instruction, which includes step by step guidance, video analysis and movement correction. You will also use the best board available for your size and level of ability. All surfing accessories are included and you will be surfing on the best surfing beaches in the world We offer a full range of courses from beginner to advanced and we recommend 2 weeks surf course to reach optimum training success.


---
OTHER ACTIVITIES
---
In between surfing sessions, Connection offers many activities such as yoga, functional trainning , pilates, SUP, Kayak, Kitesurf, boat trips, quads and much more. Everything will be organized for you, such as, relaxing spa treatments for you and for your partner that just wants to relax during the holidays.


MORE INFO, HOW TO GET THERE & FAQ
---
SURROUNDINGS / REGION
---
Corralejo is a small fishing village , on the north shore of Fuerteventura that has preserved the simple and hospitable character of its inhabitants. The harbor is surrounded by terraces that invite you to take a well deserved rest and refreshing during the holidays. Dunes ofsun, sea and sand are the perfect combination to turn this island into a paradise.Regarded by many surfers as Europe`s great hidden secret for surfing and for beginners our location offers you blue skies, crystal clear waters and uncrowded waves. Thanks to its , Fuerteventura enjoys the best of both coasts, Eastern and Western, always providing a surfing alternative according to the swell and suitable for begginers. The North Coast receives swells from the north and northwest. This coast has consistent waves throughout the year and a variety of reef breaks, mostly for advancers. The South Coast receives swells from the south and large swells from the west.


---
JOURNEY
---
Ways to get to the camp
After arriving at the Fuerteventura airport located 30 kilometres from Corralejo, you can reach us by public bus, taxi or shuttle.
We offer transfers from the airport to our accommodation and back. These are included in our camp packages for free.
Only public transport is a local bus changing in Puerto del Rosario, the capital.


PACKAGES & PRICES

* Discounts will be calculated in the booking process (first step)


---
PACKAGE A - SURF EXTREME PACKAGE - 399€ PER PERSON AND WEEK
---
This package includes:

- 5 days lessons
- 1 day surfari
- 3 functional training classes
- 2 yoga classes
- Video analisys
- Surf photo session
- Welcome pack
- Connection t-shirt
- 8 days / 7 nights Surfhouse in shared room 


---
PACKAGE B - SURF AND SUN PACKAGE - 285€ PER PERSON AND WEEK
---
This package includes:

- 4 days lessons
- 2 yoga classes
- A lot of beach time
- Mojito in Surf Bar
- Welcome pack
- 8 days / 7 nights Surfhouse in shared room 


---
PACKAGE C - GIRLS ONLY PACKAGE - 350€ PER PERSON AND WEEK
---
This package includes:

- 5 days lessons
- 3 pilates or yoga classes
- Foot massage
- Surf photo session
- Welcome pack
- 1 dinner at Surf Bar Eco
- beach bag
- 8 days / 7 nights Surfhouse in shared room 


---
PACKAGE D - FAMILY SURF PACKAGE - 330€ PER PERSON AND WEEK
---
This package includes:

- 4 days lessons
- 1 day trip Isla de Lobos
- 1 day trip Oasis Park
- Welcome pack
- Surf photo session
- Airport transfers
- 8 days / 7 nights In private apartament 

Family Package 3 pax:
330 euros pax low season (full price package 990 euro)
family 3 pax: 350 euros pax high season (full price package 1050 euro)

family 4 pax: 300 euros pax low season (full price package 1200 euro) 
family 4 pax: 320 euros pax high season (full price package 1280 euro)

family 5 pax: 280 euros pax low season (full price package 1400 euro) 
family 5 pax: 300 euros pax high season (full price package 1500 euro)


---
PACKAGE E - COUPLES ONLY PACKAGE  - 350€ PER PERSON AND WEEK
---
This package includes:
- 5 days lessons
- Welcome pack
- Surf photo session
- 1 day trip Isla de Lobos
- 1 day Spa
- 1 dinner at Surf Bar
- Airport transfers
- Souvenir
- 8 days / 7 nights Surfhouse in private doble 


---
ONLY ACCOMMODATION - from 105€ PER PERSON AND WEEK
---
Surfhouse:
shared room: 8 days / 7 nights 105euro/per person 
private room: 8 days / 7 nights 140euro/per person

Galera Beach Apart Hotel (self-catering):
8 days / 7 nights Galera Beach in single room surfer 655 euro/per
person (low season)
8 days / 7 nights Galera Beach in single room surfer 725 euro/per
person (Christmas, Easter and summer)

8 days / 7 nights Galera Beach in double room surfer 425 euro/per
person (low season)
8 days / 7 nights Galera Beach in double room surfer 465 euro/per
person (Christmas, Easter and summer)

8 days / 7 nights Galera Beach in triple room surfer 350 euro/per
person (Christmas, Easter and summer)
8 days / 7 nights Galera Beach in triple room surfer 375 euro/per
person (Christmas, Easter and summer)


Fuente Park Apart Hotel(self-catering):
8 days / 7 nights Fuente Park in single room surfer 545 euro/per
person (low season)
8 days / 7 nights Fuente Park in single room surfer 590 euro/per person
(Christmas, Easter and summer)

8 days / 7 nights Fuente Park in double room surfer 370 euro/per
person (low season)
8 days / 7 nights Fuente Park in double room surfer 390 euro/per person
(Christmas, Easter and summer)

8 days / 7 nights Fuente Park in triple room surfer 315 euro/per person
(low season)
8 days / 7 nights Fuente Park in triple room surfer 330 euro/per person
(Christmas, Easter and summer)