ABOUT THE SURF CAMP
---
VALUES OF CROCRO SURF

---
CONVIVIALITY
This characterizes the atmosphere in Crocro Surf Camp.

RESPECT FOR NATURE
Because being a surfer means to connect with nature and learn to respect it, Crocro Surf Camp participates each year in a beach cleaning operations.

SAFETY
You are supervised by qualified teachers who will provide you expert advice so that the ocean becomes your ally.

During your stay we want to convey and to share those values with you.
---
CAMP OPERATOR
---
Amine and Ilyass, our two certified instructores will be at your side throughout your stay. Our photographer can offer customized shots to keep intact memories of your stay. Hanane will be happy to organize your stay so that it lives up to your expectations.

The Crocro Surf Camp Team will make every effort to make your stay unforgettable!
ACCOMMODATION AND CATERING
---
ACCOMMODATION TYPES
---
Our Accomodation is a typical Moroccan style house, called a Riad, with 21 rooms (Single, Double/ Twin, 4-Bed Dorm Style) all overlooking an interior courtyard with a small pool, heated year-round.
There are two large terraces with Moroccan day beds (Moroccan corner) and sun lounges with stunning ocean views. All rooms are en-suite, equipped with toilet, shower or bath, hair dryer, safe and towels. You can also enjoy free WIFI at reception.
The House is located close to all Tamraght village amenities and 4 km from the village of Taghazout. The Devil's Rock and Crocodile surf spots are at 800m/10 minutes walk from the surf camp.
---
CATERING
---
You can book Breakfast, Lunch and Dinner with your Package.


SURF COURSE AND ACTIVITIES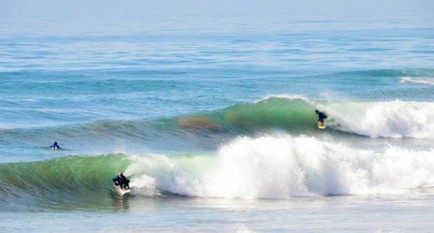 ---
SURF COURSE DETAILS
---
Our teaching program

Our certified surf instructors will guide you through each step of the learning process. Specially designed for beginners and intermediate levels, our surf teaching programme will focus on teaching you the art of surfing a wave safely and in a fun way, taking your level and your experience with the ocean into account. We will do our best to give you one obsession after your trip: coming back!

Learning to surf in Morocco

The Taghazout area is one of the best places you can find to learn surfing, because it hosts many spots that are sheltered from big swells, thus delivering small and easy waves to progress in total safety without dangerous rips. As a beginner or intermediate level surfer, you will be guided every day to the best and safest spot for your ability.

Crocro morocco surf camp and school

• Affiliate And recognized by the Youth and Sports Minister .
• Affiliate The Royal surfing and body boarding federation .
• Member of « L'association professionnelle des écoles de surf Souss »

What a typical day looks like

07:30 : breakfast
08:30 : departure for the spot selected according to conditions
09:30 : launching and course till noon
12:00 : lunch on the beach or return to surf camp
14:00 : launching on the spot selected
17:00 : back to surf camp and viewing of video of your exploits
19:30 : dinner all together
20:30 : free time, evening video games


---
OTHER ACTIVITIES
---
Paradise Valley Road Trip

This beautiful oasis is located about forty minutes drive from Tamraght in the Atlas Mountains . You will spend an exciting and unique day: swimming in natural pools with water slides and rock jumps then lunch in the palm grove, and for the more adventurous there are short discovery trails to explore.

Yoga

Enjoy our yoga sessions with professionals who know how to combine the benefits of Yoga with surfing.

Horseback or camel riding

Experience the sunset on the beach on a ride setting out from Aourir towards Taghazout. An extraordinary and compelling experience.

Massage

Experience the pleasure of a 1 hour massage with Argan oil. Argan oil comes from the argan tree, found in Morocco and western Algeria, mainly in the southwest of Morocco, between Agadir, Essaouira and Taroudant and around Tindouf in Algeria. It is widely used in traditional cooking but it is also used for its beneficial cosmetic properties, as it is rich in vitamin E and antioxidants.

Traditional Moroccan Hammam

This oriental ritual that originates from Roman times is a staple in the lives of Moroccans. The baths are both a social meeting place and a place to relax, enriching both the mind and body: this is an experience you should not miss while you are in Morocco. The hot steam dilates blood vessels and helps the body to relax. Rough skin floats away, toxins are eliminated, muscle pain alleviated and your stress released! Perfect after a day of surfing.

Tours and excursions on request

- The local Agadir, Aourir, Taghazout and Anza souks.
- Essaouira Medina: formerly known as Mogador (from the Phoenician word Migdol which means "small fortres "), it is an outstanding example of an eighteenth century fortified city, surrounded by Vauban style walls and a UNESCO World Heritage Site.
- Marrakech: at the foot of the Atlas Mountains, home to impressive architectural masterpieces and Moroccan art (ramparts, monumental gates, the Koutoubia Mosque, Saadian tombs, Badiâ palace ruins, Bahia Palace, Menara pond and pavilion) each one an outstanding example of Moroccan heritage in itself, that can all be visited in a day.


MORE INFO, HOW TO GET THERE & FAQ
---
JOURNEY
---
Ways to get to the camp
Airport Transfer is included in our Packages.
PACKAGES & PRICES
---
BED & BREAKFAST / FULL BOARD - from 140 € per Week / Person
---
Single Room
B&B:                40 € / per Night      280 € / 7 Nights
Full Board :       55 € / per Night      385 € / 7 Nights

Double / Twin Room
B&B:                50 € / per Night       350 € / 7 Nights (175 € / per Person)
Full Board :       65 € / per Night       455 € / 7 Nights (227 € / per Person)

4-Bed Room
B&B:                80 € / per Night       560 € / 7 Nights (140 € / per Person)
Full Board :     120 € / per Night       840 € / 7 Nights (210 € / per Person)


---
INITIATION - from 360 € per Week / Person

---
This package includes:
– Airport Transfers
– 7 nights Accommodation in shared room
– Full board
– 7 day Surf lessons by qualified federal teacher (2 + 2 hours / day) OR activity
– Loan of equipment (boards, wetsuits)
– Shuttle to spots
– Photos & videos
– Extra activity

1 week                      360 € per Person
2 weeks                     690 € per Person
1 day                          60 € per Person

Upgrade to Single or Double / Twin Room for 10 € / Night per room


---
EVOLUTION - from 360 € per Week / Person
---
This package includes:

– Airport Transfers
– 7 nights Accommodation in shared room
– Full board
– 7 day Surf lessons by qualified federal teacher (2 + 2 hours / day) OR activity
– Loan of equipment (boards, wetsuits)
– Shuttle to spots
– Photos & videos
– Extra activity

1 week                      360 € per Person
2 weeks                     690 € per Person
1 day                          60 € per Person

Upgrade to Single or Double / Twin Room for 10 € / Night per room


---
INTERMEDIATE - from 360 € per Week / Person
---
This package includes:

– Airport Transfers
– 7 nights Accommodation in shared room
– Full board
– 7 day Surf lessons by qualified federal teacher (2 + 2 hours / day) OR activity
– Loan of equipment (boards, wetsuits)
– Shuttle to spots
– Photos & videos
– Extra activity

1 week                      360 € per Person
2 weeks                     690 € per Person
1 day                          60 € per Person

Upgrade to Single or Double / Twin Room for 10 € / Night per room


---
GUIDING- from 320 € per Week / Person
---
This package includes:

–  Airport Transfers
– 7 Nights Accommodation in shared room
– Full board
– 7 day Surf guiding
– Shuttle to spots
– Photos & videos
1 week                        320 € per Person2 weeks                      640 € per Person1 day                             60 € per Person
Upgrade to Single or Double / Twin Room for 10 € / Night per room
---
WELLNESS - from 420 € per Week / Person
---
This package includes:


– Airport Transfers
– 7 night Accommodation in shared room
– Full board
– 7 day Surf lessons by qualified federal teacher (2 × 2 hours / day) OR activity
– Loan of equipment (boards, wetsuits)
– Yoga (3 sessions - 1 hour)
– Hamman, massage (1 session)
– Shuttle to spots
– Photos & videos
– Extra activity


1 week:                    420 € per Person

Upgrade to Single or Double / Twin Room for 10 € / Night per room


---
FREE - from 360 € per Week / Person
---
This package includes:

– 7 Nights standard Accommodation
– Breakfeast
– 7 day Surf lessons by qualified federal teacher (2 hours / day)
– Loan of equipment (boards, wetsuits)
– Shuttle to spots
– Photos & videos

1 week                          299 € per Person
2 weeks                        580 € per Person
1 day                               50 € per Person
Upgrade to Single or Double / Twin Room for 10 € / Night per room


---
SURF SCHOOL

---
Half day Surf Course


2h 30 surf lesson (morning or afternoon)
surf material
transportation
30 € per Person


Surf Stage 1 day


2 + 2h surf lessons
surf material
transportation
meal
50 € per Person


Surf internship 2 days


2 + 2h surf lessons
surf material
transportation
meal
80 € per Person

1 week surf course


2 + 2h surf lessons
surf material
transportation
meal
210 € per Person


Surf internship 2 weeks


2 + 2h surf lessons
surf material
transportation
meal
400 € per Person
---
EXTRAS

---
Paradise Valley Road Trip            25 € / per Person
Yoga Session                             15 € / per Person
Horseback or camel riding           30 € / per Person
Massage                                    20 € / per Person
Traditional Moroccan Hammam    20 € / per Person