ABOUT THE SURF CAMP
---
LOCATION AND CAMP CHARACTER
---
Enjoy your surf holidays in our surf house with our passionate, experienced and professional team ready to take you to an unforgettable Moroccan surf adventure. We're an international team happy to welcome you in Arabic, French, English, Spanish, German, Swiss German as well as in Italian. Besides surfing we're happy to make you explore the Moroccan culture: Join one of our Moroccan cooking classes, explore Morocco on the hidden path on our excursions to Paradise Valley, the Sand Dunes sof Tamri, Imsouane La Bay or while visiting the local market in Agadir or Aourir. We want you to feel right at home in our little surf family, as you relax and unwind in our clean and comfortable surf and yoga villa which offers space for up to 21 guests. Merhaba at Easy Surf Maroc!

Our attempts to become an eco-friendly surf house
We want to be mindful about the use of water and ask our guests to do the same.
We reduce our plastic waste by giving it to local vendors who re-use the bottles for their own business.
We try to produce close-to-zero food waste.
We re-use the cutlery and packages for our packed lunches
We work with a water filtert to reduce our plastic waste mainly coming from botteled water.
---
CAMP OPERATOR
---
HICHAM: Founder, Co-Host and Head Surf Instructor
Hicham is originally from Kenitra, North Morocco. He started surfing when he was 12 years old. Since then his passion for watersports has grown more and more. After having been approached by the Moroccan Surf Federation to become a fully qualified and certified instructor, he started teaching over 15 years ago. As he started his career at an early age, he possesses a natural understanding of the ocean and the waves. Hicham loves to pass on his knowledge to other people and bringing a smile on everybody's face. He is driven by his passion to bring the sport closer to all those who share the same love for the ocean and surfing.
ACCOMMODATION AND CATERING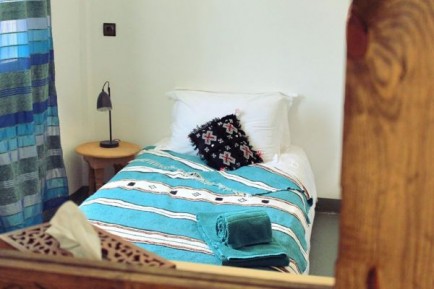 ---
ACCOMMODATION TYPES
---
We will provide you with the comfortable accommodation that you need: A soulful villa with sea view, flowery garden and several chill out areas perfect for socialising or just relaxing

Feel like home in our soulful surf and yoga villa with sea view and many terraces to relax or chill out after the surf. Our dedicated host team who is at your disposal 24/7 wants to make sure you feel like home in our little surf family. A brand new yoga shala on the top floor of the house offers the ideal space for yoga and meditation classes or fitness workouts. Our surf villa offers 9 bedrooms for up to 21 people with either ensuite or private bathrooms. The rooms can accommodate 1 to 4 people (single, double, triple and quad rooms). Double rooms can be booked with twin beds or a big double bed.

Highlights of our surf villa
- all rooms with ensuite or private bathroom
- hotel quality matresses with down duvets and towels
- sea view
- brand new rooftop yoga shala (90m2)
- chill areas and sun loungers with 360° sea view until Killer Point
- table tennis
- video projector for movie nights & feedback analysis
- in-house chef
- little in-house boutique with zinc, beach essentials and hand made Moroccan treasures
- Surf board rental Shop
---
CATERING
---
Our in-house chef Mohamed takes great care to fill your belly with happiness. He prepares a handful of authentic Moroccan dishes like all kind of Tajines, Zaalouk, Briouat, Couscous and much more. We pay special attention to the quality of the ingredients we cook with and the nutrients they provide. Every Wednesday, Mohamed is looking out for the best fresh products on the local market. He is happy to open his kitchen for you for a Moroccan cooking class.
SURF COURSE AND ACTIVITIES
---
SURF MATERIALS
---
Not enough space to bring your own equipment? Don't worry, we provide a choice of 3:2 and 4:3 wetsuits and surf boards for any level
---
OTHER ACTIVITIES
---
- Hiking
- Hammam
- Massage
- SUP
- Skating
- Yoga
- Cooking Class
- Horse Riding
MORE INFO, HOW TO GET THERE & FAQ
---
 SURROUNDINGS / REGION
---
Characterization of surroundings/region
Easy Surf Maroc's Surf and Yoga Villa is located 15 km north of Agadir. You'll find us in a town called Aourir, a 10 minutes drive from Taghazout and 30 minutes from the international airport of Agadir Al Massira, where you can fly to within 2-3 hours from most European airports. That's why our coast is appreciated by surfers all year round. Perfect waves and a guaranteed 300 days of sunshine a year are awaiting you.
---
 JOURNEY
---
Ways to get to the camp
Agadir is served by direct flights (2-3 hours) from all major European airports. Upon arrival, we will pick you up at the airport of Agadir and drive you along the coast to our camp at Aourir (40 minutes drive along the coastal road). You also have the option of taking a taxi from the airport which costs around 250-300 dirhams. From Marrakech, you can take the bus to Agadir (3-4 hours depending on traffic, recommended companies are CTM, www.ctm.ma or Supratours). Don't hesitate to contact us, if we need to pick you up somewhere or if you need help with planning your trip to the Easy Surf Maroc Surf & Yoga Villa.
Important details
You can arrive at any time and any day of the week, but it will not always be possible to have your room ready before 2 p.m. If you wish to arrive earlier and your room is not available yet, we will take care of your luggage so that you can start your holiday peacefully. Departure time is officially 12a.m. but obviously also depending on your flight departure. Don't hesitate to ask for a late check-out.
PACKAGES & PRICES
---
PACKAGE A: Beginner Surf Lessons Package - from 419€ per Week / Person
---
Riding a wave is one of the best feelings in the world! You've never tried it before or you have the basic skills and want to get better? Then our "Surf coaching for beginners" comes up to your needs.

This package has been created for guests who have never surfed before or have tried it once or twice and want to improve their surfing skills. You'll learn all the basics about water safety, how to pop-up on a board, paddling techniques and proper stance for riding waves. After a decent introduction to those theoretical basics of surfing and security, you will be surfing in the white water. The main goal is to make you feel comfortable in the water. Maybe you even start catching your first green wave by end of your stay with us. Video and photo feedback from your surfsession included.

This package includes:
- Return Agadir airport or bus terminal transfer
- Accommodation in our soulful surf & yoga villa
- Full board: Healthy breakfast, packed lunches for the beach days , dinner
- Surf Coaching: Surf lessons with our certified team (2-2.5h) in the morning, free surfing after the lesson under guidance (6 days)
- Surf equipment: Sorft board and wetsuit
- Daily transport to the surf spots
- 1 photo & video coaching evening (feedback round)
- Photos of your best surf moments
- Excursion to Paradise Valley (full day) or Imsouane – longest right hand wave
- Visit of the traditional market in Agadir
- Easy Surf Maroc team at your disposal 24/7
- Free Wifi, daily room cleaning and towels (not for use on the beach)
---
PACKAGE B: Intermediate Surf Package - from 429€ per Week / Person
---
As an intermediate surfer you can paddle out alone and stand reliably on the surf board. While feeling comfortable catching white wash, you might still be having troubles with catching green waves. That's where our certified instructors come in: They will help you to read waves better, work on your paddling skills and timing and will teach you on speed and positioning while riding a green wave. Our coaching will take you out of your comfort zone and build up your confidence so that you will have more fun in the water and can move on to the next level.

This package includes:
- Return Agadir airport or bus station transfer
- 7 nights accommodation in our surf & yoga house in a room category of your choice
- Full board: healthy Moroccan food prepared by our in-house chef (7x breakfast, 6x packed lunches for the beach days with fruit and cereals, 7x dinners)
- Free WiFi, house keeping, towels
 Surf Coaching: 6x surf lessons with our certified multilingual surf instructors (2-2.5h), free surfing under guidance after the lesson
- Surf equipment: Wetsuit and soft top board (long boards, mini malibu or short boards available for 10 EUR/day in our surf shop)
- Daily transport to the surf spots
- Photos of your best surf moments & 1 evening of photo/video analysis including surf theory
- Excursion to Paradise Valley (depending on weather conditions)
- Visit of the traditional market in Agadir (Souk el Had)
- Easy Surf Maroc team at your disposal 24/7
---
PACKAGE C: Surf and Yoga Holidays Package - from 469€ per Week / Person
---
Surf and yoga are a perfect match! Yoga helps you to relax and find your focus, work on your balance and flexibility – important skills that you will highly appreciate when you're out in the water trying to catch waves. Find the pleasure of practicing yoga and surfing - peace of mind guaranteed! The Surf and Yoga package is suitable for all surf levels.

This package includes:
- Return Agadir airport or bus station transfer
- 7 nights accommodation in our surf & yoga house in a room category of your choice
- Full board: healthy Moroccan food prepared by our in-house chef (7x breakfast, 6x packed lunches for the beach days with fruit and cereals, 7x dinners)
- Free WiFi, house keeping, towels
- 6 yoga lessons in our brand new yoga shala (90m2)
- Surf Coaching: 6x surf lessons with our certified multilingual surf instructors (2-2.5h) and free surfing under guidance after the lesson
- Surf equipment: Wetsuit and soft board
- Daily transport to the surf spots
- Photos of your best surf moments & 1 evening of photo/video analysis including surf theory
- Excursion to Paradise Valley
- Visit of the traditional market in Agadir (Souk el Had)
- Easy Surf Maroc team at your disposal 24/7