ABOUT THE SURF CAMP
---
LOCATION AND SURF CONDITIONS
---
Our beachfront villa is surrounded by graceful coconut trees and direct access to a beach and waves, for you to enjoy and chill while staying with us, but also strategically located for you to immerse into the colorful and vibrant local life atmosphere.
It's the perfect place for surf lovers, to connect with your inner self or enjoy the culture, nature, and gastronomy that this amazing country has ready for you. Either if you travel solo, with friends or family.
---
CAMP CHARACTER
---
Clear water, warm temperatures, uncrowded lineups and consistent swells all year long. A great surf experience in 
the best southern surf spots of the island: Ahangama, Midigama, Weligama
. Left or right, reef or beach break, 
suitable for all the surf levels
.
Our beachfront villa is surrounded by graceful coconut trees and direct access to a beach and waves, for you to enjoy and chill while staying with us, but also strategically located for you to immerse into the colourful and vibrant local life atmosphere.
Dreamsea Surf Camp Sri Lanka was thought to make you feel at home, be part of the welcoming Dreamsea family, enjoy unique experiences, magnificent adventures and get to know wonderful people around this magic island.
ACCOMMODATION AND CATERING
---
ACCOMMODATION TYPES
---
Every room at our 
beachfront surf camp in Sri Lanka
 tells a different story as every detail is designed and hand picked with love by our interiorist designer.
Stylish suites and spacious installations that push boundaries of comfort, design and nature to offer you an overwhelming experience during the day and an extraordinary night's sleep.
The calid colours of the comfortable interiors are combined with the surrounding tropical jungle, coconuts trees hanging on the blue ocean and candid sunsets.
We have different types of accommodations on offer : 
Double Room
Be welcomed into an exclusive and intimate space where you can wake up with the sound and the views of the waves and end the day with beautiful sunsets. Perfect for couples or solo travellers who want more privacy.
- Double bed
- Private bathroom
- Towels
- Air conditioning
- Mosquito net
- Safety box

Twin room
The perfectroom for friends travelling together or for solo travellers. Stay in a room with 2 individual beds and sea views. Check the waves every morning and enjoy the beautiful sunsets.
- 2 single beds
- Private bathroom
- Towels
- Air conditioning
- Safety box


---
CATERING
---
Restaurant
Our chefs are always creating and improving tailor-made menus, fusing local dishes with an international and innovative twist. Always with vegan and vegetarian options available.
Delight your senses every day at the table with the ocean as background.
Bar 
Charming at any time of the day and more attractive as the sunsets, our outdoor Tiki bar offers a relaxing ambience and a range of smoothies,  international wine and author cocktails. The ideal spot to relax and meet more wandering souls after a day of surfing and adventures.
SURF COURSE AND ACTIVITIES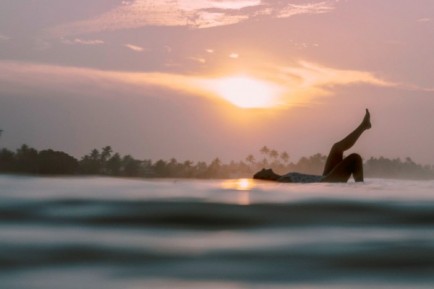 ---
SURF COURSE DETAILS
---
Our normal package allows for 12 hours of surfing lessons, divided into sessions of 2 hours 6 days a week, in small groups and in different levels. With our surfing course, you can expect to improve your surfing skills according to your level, we divide the groups into three levels
BEGINNER
Sri Lanka is well known as one of the most friendly surfing destinations, due to its excellent condition to start learning surf for the first time or for those who haven't surfed in a while. Our beginner package will introduce you to the surf basics in a very easy and friendly way while catching as many waves as possible during your surfing lessons. 
INTERMEDIATE
With our intermediate package, you can expect to develop your surfing skills and catch as many waves as possible by your own from the inside lineup. Our well-qualified surf instructor will help you to understand and read waves properly, catch green waves, ride the face of the wave, and boost you surfing in amazing uncrowded waves 
ADVANCED
Our experienced, well-qualified surf instructor and our local surf knowledge will help you to get the most of your surf trip. Improve your surf techniques with our advance package and take your surf skills to the next level while receiving individual feedback and coaching.
PRIVATE LESSONS
If you want to have a dedicated personal surf instructor for you, or for your kids, you can book private lessons, where the surf instructor will be always 100% attending your needs and giving you tips to improve your surfing skills.
You can book as many private lessons as you want, each lesson lasts for 2 hours, and we don't recommend more than 2 lessons per day. The maximum of people allowed in a private lesson is 3, if you are coming in a group of 4 or more, we can do a group of lessons only for you, or you can have 2 private instructors.
---
SURF MATERIALS
---
If you have already enough experience to surf independently you can join us without having lessons with free access to all our equipment. Ask our surf instructors for the best spots of the day, or tips on where to go surfing.
If after or before the lessons you still have energy and want to keep improving your surfing skills you can use our equipment as long as you want to free surf. Please always ask our instructors to give you advice on which spots to go according to your surfing level.
---
OTHER ACTIVITIES
---
The yoga classes at Dreamsea Surf Camp in Sri Lanka are designed to be a sanctuary for the body, heart and mind. Your breathing will be filled with a mixture of fresh sea breeze and savage local flora. Join every morning to energize your vibe and at the end of the day to stretch and find serenity. Whatever you choose, it is a perfect time to feel younger and in touch with yourself.
We have meticulously chosen the styles practiced at our surf camp:
VINYASA YOGA: it is a style characterized for being more dynamic and invigorating. It is based on sequences of postures, which specifically attend to anatomical, physiological and mental benefits. With multiple adaptations according to the starting point of each person. The variable nature of Vinyasa Yoga helps to develop a more balanced body as well as prevent repetitive motion injuries.
HATHA YOGA: the word "Hatha" means "force", alluding to a physical techniques system. This practice is characterized by its asanas (postures) and pranayamas (breathing exercises) on a softer and pleasant way, to end up the day. The perfect complement for surf.
YIN YOGA: also known as restorative yoga, is a nice way to relax and get a profound rest. Yin yoga is a style of yoga with slower rhythm and asanas (postures) that are held longer (from around 1 to 5 minutes, depending on the level). Yin yoga aims to increase circulation in joints and improve flexibility. It is also a more meditative approach to yoga
MORE INFO, HOW TO GET THERE & FAQ
---
 SURF CONDITIONS
---
Breaks directly at the main spot and at nearby spots

Suitable to all surfer's taste, right or left, sand or reef, you can either surf in front of our camp or you can easily get to the closest surf spots like Kabalana, Weligama, Mirissa, Point, on a short tuk-tuk ride, looking for different conditions, to enjoy uncrowded surf lines.  
Dreamsea Surf Camp is located in Ahangama, where you can find a large number of surf breaks with consistent waves all year long.
From our surf camp you have easy access to the best southern spots where you can get walking or in a short tuk-tuk ride (included with the surf lessons), and find among a vast variety of surf spots, including one in front of your room, the best conditions suitable to your surf level and course.
---
 SURROUNDINGS / REGION
---
Characterization of surroundings/region

Sri Lanka is a diamond in the rough: tropical weather, spectacular, for all budgets and still not crowded often.
Travel in time from a 2000 years old culture to nowadays, visiting from ancient mystic temples to colonial fortresses; immerse in the rainforest and tea fields through a charming train ride;  be thunderstruck by watching large groups of elephants. A whole spectacular world to be discovered, and all seasoned with a colorful and blend of exotic flavors, alluring cuisine!
If you haven't been there, now is the time!
Activities and facilities
STUNNING BEACHES
Be delighted by its beautiful beaches, which thanks to the tropical climate, you can enjoy any time of the year. Clear water, calid temperature, decorated with graceful and delicate coconut trees; the ideal setting for perfect holidays and amazing colourful sunsets.
Come and discover the untrodden and sandy jewels that surround the island of Sri Lanka.
ANCIENT CIVILISATIONS
Sri Lanka has eight Unesco World Heritage Sites, a huge number for a country of this size. You can discover at ancient locations its millenary culture, where magical temples show wonderful details, laid in caves or on mountain peaks.
One of the most significant examples is Anuradhapura, one of the ancient capitals of Sri Lanka. Its ruins consist of dagobas (masonry structures with bell shape), monastic buildings, and pokunas (ancient pools). Nowadays, still a considered a sacred place and the temples are in use.
WILD LIFE
This magnificent country has one of the highest rates of biological endemism in the world. In places like Uda Walawe National Park, you can watch elephants, sambar deer, wild buffalos, giant squirrels, mongooses, jackals, sloth bears or even leopards, besides a reach birdlife.   But you don't need to go far away to enjoy it, at Dreamsea Sri Lanka you will be able to share the backyard and coexist with funny travel mates as monkeys, lizards and many species of birds.

---
JOURNEY
---
Ways to get to the camp

The nearest airport is Bandaranaike International Airport (Colombo – CMB), also known as Katunayake airport and around 2 hours drive from our surf camp. From there you have the following options:
TAXI / TRANSFER: The easiest and fastest way is by taxi. You can take one at the airport, or we could also arrange one for you for 110€ per way for up to 4 people. Our address is 92 Galle Road, Ahangama, in front of the police station.
TRAIN: if you are an adventurer one, you can try the train from Colombo Fort, probably the cheapest way to arrive in Dreamsea. It cost around 2€ and takes 3 hours. To get from CMB airport to Colombo fort you can go by bus for 1€ (it takes 45 minutes and departs every 30 minutes) or taxi for ~10€.
PACKAGES & PRICES
Dreamsea Surf Camp Sri Lanka offers you two different weekly packages: one designed to boost your surfing skills, trying different surf spots of the area and finding the balance with some yoga lessons, and other one designed as a yoga retreat, perfect to get your body and mind tuned.  Select the perfect match for you and make the most of your holidays. All our packages include 7 nights accommodation, 7 breakfast, 5 dinners and access to the equipment. Find more information below.

If you don't have too many days or are only interested in a nice and different place where to stay, relax and enjoy the nature; we offer also all our rooms for you to stay as many days as you want, with our healthy breakfast included. You can add single surf and yoga lessons or rent surf equipment.  
---
SURFER'S PARADISE PACK  - from 749 € per Week / Person
---
This package includes:

– Accommodation (7 nights / 8 days)
– 7 Breakfasts
– 5 Dinners
– Transport to surf spots (if needed)
– Free access to equipment
– 12 hours surfing lessons
– 3 hours Hatha yoga lessons
---
RE-TREAT YOURSELF PACK- from 599 € per Week / Person
---
This package includes:

– Accommodation (7 nights / 8 days)
– 7 Breakfasts
– 5 Dinners
– Access to the equipment
– 10 hours of yoga lessons
– 2 massages
– Access to the equipment
---
HAPPY COUPLE - from 1458 € per Week for 2 persons
---
This package includes:

8 days / 7 nights
Accommodation in double room
7 breakfasts & 5 dinners
Choose your perfect combination:
- 2 surfers
- 2 yoguis
- 1 yogui & 1 surfer
PRICES  
DOUBLE
(private room with private bathroom)
110€ per night (1 or 2 people)
1458€ for 2 people
TWIN
(shared mixed 2X with private bathroom)
55€ per night and person
749€ per person / 994€ single occupancy
ACTIVITIES & SERVICES
– 12 hours surf lessons: 230€
– 2 hs private surf lesson: 60€ / person
– 2 hs group surf lesson: 40€ / person
– 1 day surf board rental: 10€ / person
– 1 yoga sessions: 10€
– 3 yoga sessions: 30€
– 5 yoga sessions: 45€
– Transfer Colombo: 60€ / way (up to 4 people)