ABOUT THE SURF CAMP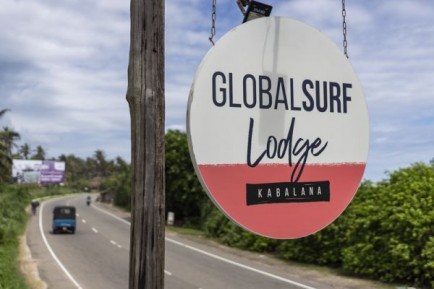 ---
LOCATION AND SURF CONDITIONS

---
Global Surf Lodge Kabalana is located less than 50 meters from the water, right across Matara road. The closest surf spot "south beach" is located 200m from the lodge and is perfect for beginners and intermediates. 
---
CAMP CHARACTER
---
Our lodge has 32 beds in total which create a family like atmosphere. The camp is perfect for millennial's (18-32) who look for a tropical adventure that includes surf, yoga, and good times! The main language used in the camp is English and the staff speaks also Sinhale,German, Swedish, Portuguese and Hebrew.
---
CAMP OPERATOR
---
The crew of the lodge will be there at all time like one big happy family to make sure you get all the attention you need.

Adam - The manager of Global Surf Lodge Kabalana. Adam is an ocean and people lover and the most relaxed person you'll meet. You'll see him walking around induces good vibes wherever he goes.

Steffi - Our Lovely experience manager. Steffi came to us all the way from Germany. She will make sure you're always surrounded good vibes and that your smile is always on. She will join your surf from time to time and share from her rich traveling experiences. 

Riki - Head surf coach and captain good vibe. Riki is a former professional surfer and big waves warrior from Portugal that will make sure you gain the most valuable knowledge about surfing from the bests. As long as he has water in his eyesight, Riki is the happiest person you'll ever get to know.

Tess - Our amazing Yoga and wellness manager. Tess will meet you every morning at the yoga chalet and help you stretch your mind, body, and soul for another day in paradise. She's as professional as it gets and always fun to be with! Oh, she also speak Swedish!
ACCOMMODATION AND CATERING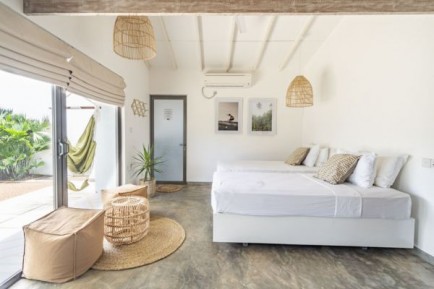 ---
ACCOMMODATION TYPES
---
We have 3 room types at the Lodge:

Dorm rooms: 4 beds spacious and well made gallery dorm room. Each guest has it's own wide single bed and a place for storage. Each dorm room has A/C and en-suite showers and toilet, little private balcony, and hammock.

Twin room: Our twin rooms has 2 wide and comfortable single beds. Each twin room has A/C and en-suite showers and toilet, little private balcony, and hammock. The rooms are well decorated and will give you a great sense of relaxation after a long day of surfing.

Double room: Our double rooms has one large double bed. Each double room has A/C and en-suite showers and toilet, little private balcony, and hammock. Each room has a sofa who can turn into a third bed upon request.

---
CATERING
---
Our in-house restaurant serves fresh and healthy food 3 times a day, made from Sri Lankan produce in our abundant kitchen.

Breakfast: a la carte menu with couple of options for your choice. Eggs of your choice, granola, smoothie bowls and more. 

Lunch: a la carte menu perfectly made for having light lunch or some snacks between the surf sessions.

Dinner: Rich buffet of delicious and nutritious dishes including all main food groups. You'll have protein based dished, as well as vegan and vegetarian options.

*All of our menus has vegan and vegetarian options 
SURF COURSE AND ACTIVITIES
---
SURF COURSE DETAILS
---
Theory lessons and guided lessons
---
OTHER ACTIVITIES
---
Yoga classes
MORE INFO, HOW TO GET THERE & FAQ
---
 SURF CONDITIONS
---
Breaks directly at the main spot and at nearby spots
South Beach - Located 200m from the Lodge, a beginners friendly right hand point break. There's a deep water channel that enable easy paddle out to the line-up. 

Kabalana main point - Probably the best wave in the South West coast of Sri Lanka is located less than 500m from the lodge. Perfect A frame with a long left over a coral reef and a shorter right that breaks on sandy bottom. 

Kabalana beach break - The beach break is located down the point and offers multiple peaks of nice waves for all levels.
Seasonal conditions
The weather in Sri Lanka is warm and tropical all year long, while May and August consider to be the rainiest month of the year.
 
The main season is between October to April where you can score 2-4 ft waves every single day.

Low season usually refer to May - September. Even though it's the low season there are multiple options for beginners to learn how to surf as well as couple intermediates spots you'll score with no one out! 
Crowd factor and local people
During the main season the famous surf spots can get a bit crowded during the mornings and sunset sessions. Since the winds are usually clam, you can always score good conditions for a mid day session with no one out. In addition to the famous spots, the South West coast of Sri Lanka offer tens of surf options that can ensure a great surf vacations for everyone.
---
 JOURNEY
---
Ways to get to the camp
The lodge is located about 2.5 hours drive from Colombo airport.

We offer an airport shuttle from the airport to the lodge for 83 EURO for one way. In case you want us to book the shuttle for you, please provide us with your flight details (:
Important details
*Visas may be required depending of your nationality. You can apply online and the procedure is really easy. We're here for you if you have any questions (:
PACKAGES & PRICES
---
Surf & Yoga package  - from 855€ per Week / Person
---
This package includes:

* 7 nights accommodation (bed in a 4 beds dorm)
* Daily breakfast
* 5 dinners
* 7 guided surf lessons of 2 hours net water time
* 5 surf theory lessons
* 5 Yoga classes
* Photography / filming
* Professional video analysis
* Full day surf trip to remote destination
* Half day of cultural / nature excursion
* Unlimited drinking water
Not included in the package:
* lunch
* Airport shuttle
---
B&B package  - from 255€ per Week / Person
---
This package includes:

* 7 nights accommodation (bed in a 4 beds dorm)
* Daily breakfast
* Complimentary yoga lesson