ABOUT THE SURF CAMP
---
LOCATION AND SURF CONDITIONS
---
The Camp is with a distance of 2.3 kilometers close to the beach. The beach is a surfer paradise for beginners as well as advanced surfer. With professional and experienced instructors, everyone can join surfing sessions.
ACCOMMODATION AND CATERING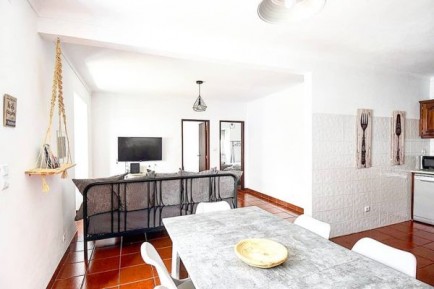 ---
ACCOMMODATION TYPES
---
Your typical day will be a healthy nutritional breakfast, surfing, lunch, surfing again, cultural and board factory visits, and seightseeing. There are many opportunities for you to explore and improve your surfing skills. You are free to use the surfing equipment as long as you want after the surfing lessons. If you are tired of surfing, you can always enjoy sightseeing in Costa de Caparica city, or Lisbon 20minutes from our spot. You will also get a board factory and cultural visit during your stay. Moreover, surf, or SUP tour is available as well, depending your skills or wave hunting. The program itself is five days full program with one for check-in and other to check-out (Check-In Time: 14:00; Check-Out Time: 11:00). 

Highlights 
- 5 days' surfing program 
- Unlimited surfing after classes 
- Visit the cultural and board factory 
- Daily pickup to the beach and return 
- Use of premium surfing or SUP gear 
- 6 nights' accommodation 
- Airport transfers 
- Skill level Beginner &  Intermediate Styles 
- Surfing & Stand Up Paddling 
---
CATERING
---
There is breakfast, lunch and dinner in the price included.
SURF COURSE AND ACTIVITIES
---
SURF COURSE DETAILS
---
For a focused, fast and safe learning, DuckDive structures your lessons and your training according to the level of the students and the progression of your students. The classes take place in Praia do Castelo and have a duration of 2 hours. They include all the materials necessary for the practise of the sport.
Some of the classes are videotaped and documented in photography for post-correction of each student's failures.
---
OTHER ACTIVITIES
---
- Yoga
- Stand Up Paddeling
- Bicycle Rental
- Table tennis
- Golf course
- Gym
- Swimming pool


MORE INFO, HOW TO GET THERE & FAQ
---
 SURF CONDITIONS
---
Due to different surf spots, DuckDive offers surf lessons for beginners as well as for advanced surfer. Portugal is known as one of the best surfing spots, and that not without reason: The weather conditions are nearly all-year perfect for surfers.   
---
 SURROUNDINGS / REGION
---
Activities and facilities
This surf camp will take place in Castelo Beach, Setúbal, Lisbon Region, Portugal.

Nearby places Lisbon Airport (LIS) - 25 minutes by car 
Main bus stop - 100 meters walk distance 
Supermarket - 50 meters walk distance 
The golf course - 4.7 kilometers 
The sea (beach), between the forest and the village Charneca de Caparica - 2.3 kilometers
PACKAGES & PRICES
---
7 Days Marvelous Yoga and Surf Camp - from 699€ per Week / Person
---
This package includes:

- Daily Yoga classes
- Exciting daily surfing sessions
- Mediation and Pranayama practices
- 3 healthy and delicious meals
- Professional instructors
- 6 nights´lodging
---
7 DAYS ENERGETIC SURF AND SUP CAMP  - from 699€ per Week / Person
---
This package includes:

- 5 to 7 days of surfing program, 2 classes per day
- Equipment for all levels (beginner, intermediate)
- Included all premium surf or SUP gear (wetsuit + boards & leashes)
- Private classes
- Private coach (surf guiding)
- Unlimited surfing after classes (during business hours)
- Access to all available amenities at the beach
- 7 nights' accommodation in the villa or camp
- Airport transfers from and to Lisbon Airport (LIS)
- Daily pickups to the beach and back to the Villa and/or camp
---
Surf & Sup Week  - from 699€ per Week / Person
---
 This package includes:

- 5 to 7 days program
- Aeroport Transfers
 - Daily pick-ups to the beach & return
- 2 classes/Day
- Surf unlimited – after classes (as long as you want)
- Surf camp accomodation in Villa or Camp
- All surf or Sup gear included . Premium gear (wetsuit + boards)
- Gear for all levels (begginer + intermediate + advance)
- Private Classes
- Private coach . Surf guiding
- Access too all facilities in our camps
- Surf or Sup tour available
- Cultural Visit
- Board Factory Visit
---
Yoga & Surf Retreat  - from 699€ per Week / Person
---
Nourish your soul by joinning us for an amaising week of surf, yoga, yummy food delicious portuguese wine, meditation, adventure and profund connection with nature in this paradise spot just outside of Lisbon.
 
This package includes:

These Yoga practices will include a beautfull Vinyasa flow, Pranayama (breathing techniques), Yoganidra (profound relaxation) and meditation