ABOUT THE SURF CAMP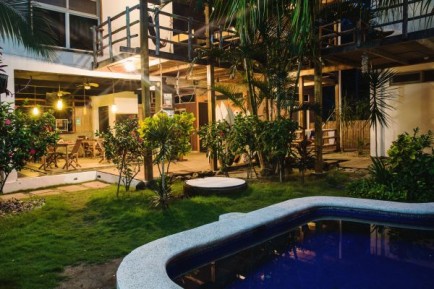 ---
LOCATION AND SURF CONDITIONS
---
After surfing at home for decades, I can assure you that El Salvador is a consistent, top quality, and world class surfing destination.
Our Southern Hemi swell window is between march and october, 8 months. They are composed of 2 months of dry season and 6 months of rainy season. This means that wind and storm variables play a fundamental role in the surfing conditions, so local knowledge is a big asset in El Salvador.
Eco Surf Trips are owned, designed and operated by local surfers. We have decades of surfing experience in El Salvador, in both La Libertad and the Wild East.
The house recommends our signature surf trip: Eco La Libertad and Wild East Premium Package. No surf trip to El Salvador is complete if you don't experience the power of La Libertad and the natural beauty of the Wild East.
Nowadays, we have more spots to surf in but we also have more visitors. Take your surf trip to the next level, take advantage of our local knowledge and surf till you drop.
Welcome to El Salvador, the land of rights and one left…
ACCOMMODATION AND CATERING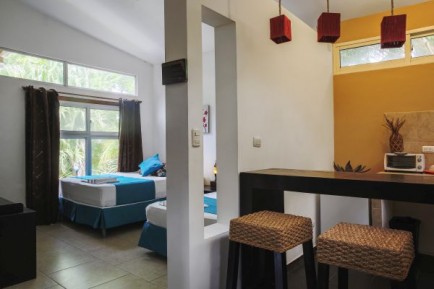 ---
ACCOMMODATION TYPES
---
In this enchanting small apartment you will enjoy relaxation, adventure and surfing.


Our rooms have everything you need to be comfortable and with time to relax. They are big and spatious with a modern and natural architecture.
Our Rooms include:
a/c or fan
LCD TV with cable
dvd
wireless internet
quality beds
breakfast table
refrigerator
small oven
private bathroom
deck and outdoor sitting area
Whether you are looking for an unforgettable surf trip to El Salvador or just a place to relax, Eco del Mar Hotel is your number one choice
---
CATERING
---
Restaurant Service, Breakfast
SURF COURSE AND ACTIVITIES
---
SURF COURSE DETAILS
---
Conceptual Class, Pool Paddling, Sand Exercises, Surfing Session (1 hour lesson)
---
SURF MATERIALS
---
includes Surfboard & Leash.
---
OTHER ACTIVITIES
---
Places of Interest:

Lake Coatepeque
Ruta de Las Flores
Izalco Volcano
Ataco
El Imposible National Park
Montecristo National Park
MORE INFO, HOW TO GET THERE & FAQ
---
 SURF CONDITIONS
---
Breaks directly at the main spot and at nearby spots


El Tunco is now a genuine surf town offering great waves, year-round sun, good food, fun nightlife and nice people all around. It is surrounded by mountains with breathtaking views. It has a surfer atmosphere, a peaceful tranquility and a lush tropical setting as the dominant tones. Extraordinary sunsets are the perfect ending for every day of your stay
Waves for every skill level, from beginner to advanced. Also ocean view and laid back restaurants and bars offer a unique nightlife in Central America where beautiful sunsets fusion into a magical combination.
All breaks perform on different tide stages and sizes, so wind direction is the primary determination factor on sessions


El Salvador Surf Dry Season:
The dry season starts on November and lasts until April. Conditions are typically offshore winds, sunny skies and small surf. Wave sizes average chest to head high during the dry season, but ocassional big swells roll in with excellent conditions


El Salvador Surf Wet Season:
The rainy season starts on May and lasts until October. During the wet season, consistent storms in Antartica and off the coast of New Zealand provide large swells to El Salvador´s coastline. The weather is typically partially sunny in the morning and rains in the afternoons and during the night. Wave sizes average head high to overhead during the rwet season. Conditions are usually glassy mornings and onshore winds beginning in the late morning.
 *Best season for all breaks is March to October
* Best swell direction for all breaks is South and Southwest
Crowd factor and local people
El Salvador now welcomes travelers from all over the world to share unforgettable moments. Salvadorians are full of smiles and warm hearts, we are sure you´ll enjoy the local vibe of the place
---
 SURROUNDINGS / REGION
---
Characterization of surroundings/region
Our country is internationally remembered for it long lasting civil war and considered by many a "dangerous place to go". El Salvador has been at peace and democracy since 1992 and has slowly become a great destination ever since.
Its main attractions are: surfing, cloud forests, volcanoes, eco-tourism and its people.
It is difficult to understand El Salvador before you go there. All you ever see on the international news is: a long war, gangs, violence, etc. But once your there, you get to see the real El Salvador, the broad green valleys, the black-sand beaches, the majestic volcanoes and its people.
PACKAGES & PRICES
---
PACKAGE A  - from 180 $ per Week / Person
---
This package includes:


La Libertad Surf Package
4 nights of air conditioned apartment at Eco del Mar Hotel, pool, cable TV, 1 block from surf, walking distance of Sunzal and La Bocana breaks, airport pick up & drop off transfers. 3 surf transfers in private vehicle to Punta Roca, El Zonte or K59 and breakfast and lunch from our restaurant


Number of Guests Price per Person
1                          $450
2                          $245
3                          $195
4                          $180
---
PACKAGE B  - from 250$ per Week / Person
---
This package includes:


Wild East Surf Package
4 nights of air conditioned room at Miraflores Hotel, pool, cable TV, walk to Las Flores break, airport pick up & drop off transfers. 2 Surf Boat Trips to Punta Mango, breakfast from our restaurant
Number of Guests Price per Person
1                          $690
2                          $385
3                          $295
4                          $250
---
PACKAGE C  - from 390 $ per Week / Person
---
 This package includes:


La Libertad & Wild East Surf Package
4 nights of air conditioned apartment at Eco del Mar Hotel, pool, cable TV, one block from surf, walking distance of Sunzal and La Bocana breaks, airport transfer to Eco del Mar. 2 Surf Transfers to Punta Roca, El Zonte or K59 (6am – Noon) in private vehicle for each group, breakfast from our restaurant. Transfer from Playa El Tunco to Las Flores. 4 nights of air conditioned apartment at Miraflores Hotel, pool, cable TV, walk to Las Flores break, airport transfer from Las Flores to airport. 2 Surf Boat Trips to Punta Mango, breakfast from restaurant


Number of Guests Price per Person
1                             $990
2                             $595
3                             $455
4                             $390