ABOUT THE SURF CAMP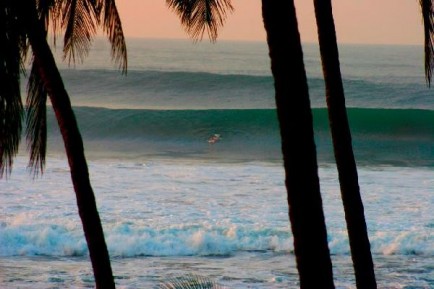 ---
LOCATION AND SURF CONDITIONS
---
K59 Surf Villas is located in front of the K59 right point break a few steps from a great wave, in a beach gated community.
K59 is located on the pacific coastal highway ( carretera el litoral or CA2 ) of El Salvador, 45 minutes from the Comalapa International Airport, being the most safe and modern airport in Central America.
It is only 50 minutes from San Salvador the Capital of the country. The closest town to K59 is El Puerto de La Libertad which is only 25 minutes away.


---
CAMP OPERATOR
---
The owner of K59 Surf Villas local surfer Edgard, has been surfing since 1982 and running the surf business since 1999. Also he was one of the first local that surfers that surfs K59 in the early 80`s.


ACCOMMODATION AND CATERING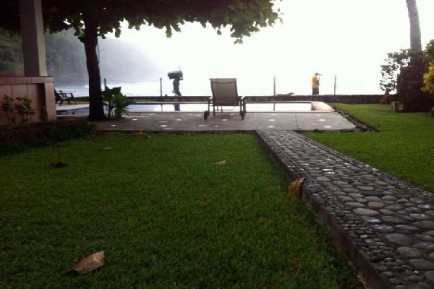 ---
ACCOMMODATION TYPES
---
We have two private Villas one beside the other.
Having your own Villa will give to your friends and family members the privacy you deserve in your vacation.
Villa # 1
It has 2 A/C bedrooms and 2 bathrooms.
Bedroom # 1 has one Queen bed, one Full bed and private bathroom.
Bedroom # 2 full beds and private bathroom.
The Villa has nice open terraza, TV, DVD, swimming pool, 1 great observation palapa to the beach and the waves, hammocks, internet service. 
We can have 6 adults max.

Villa # 2
It has 5 A/C bedrooms with private bathrooms.
One bedroom with one Queen bed and full size bed,
3 bedrooms with 2 full size beds,
TV, DVD, swimming pool and hammocks, internet service.

We can have max of 10 adults.


---
CATERING
---
Meals are prepared by Rosario who has been trained by a professional chef, you will definitely enjoy the taste.
Kitchen is open from 7:30 am to 7:30 pm
Salvadorian coffee from 6 am.


SURF COURSE AND ACTIVITIES
---
SURF COURSE DETAILS
---
K59 is a private beach area with access to the properties only to owners and guests and offers powerful right waves with great tubes and fast sections. This point was unknown for many years, and still a secret spot for some people here.
There is also K61, right point break which is only 500 mts. Away from k59 and offers great waves with long rides and barrels. The coastal scenary seen from the water at K59 and K61 is breathtaking.


---
OTHER ACTIVITIES
---
Very close to K59 we have a Canopi, where you can flight over the jungle and at the same time an spectacular view to the Pacific Ocean. They have 15 towers. The longest ride is 225 meters!!
Price per person 7,00€
Also experience an amazing Moto Enduro tour for all levels. You will see amazing scenaries from the mountains to the Pacific Ocean.
Moreover we have a hiking trip to the beautiful mountains behind K59. Looking donw you can have a great view to the Pacific Ocean…


MORE INFO, HOW TO GET THERE & FAQ
---
SURF CONDITIONS
---
Breaks directly at the main spot and at nearby spots

Surfing El Salvador, at La Libertad will get you to know many other surf spots closet to K59, like World famous Punta Roca ( Originally known as Road de Tepeagua ), perfect right point break, fast and hollow, sometimes crowded especially during weekends; Conchalio, great beach break, hollow tubes, with the right conditions is a perfect totally uncrowned; La Bocana, great river mouth, left hand wave and always hot surf, Sunzal, right point break, the longest wave in El Salvador perfect for long boards and short boards, can handle many surfers, crowded especially during weekends; Mizata, point and beach break, mellow wave with few surfers around.
Seasonal conditions
The surf season in EL Salvador is almost year round. The best months are from March to October. September is rainy and sometimes conditions are not favorable but there are some big waves. November and December the wave average is 3´ to 5´ with a couple of 6´ to 8´ swells very clean, January and February the waves are very small but clean, very good for learning, if there's a 3 feet swell or more the surf will be great.


---
SURROUNDINGS / REGION
---
Characterization of surroundings/region
K59 area is surrounded by beautiful mountains and ancient forest, which makes it great for an enjoyable hiking tour.
Precolumbian culture in El Salvador has left many arqueological sites, the most important being: Tazumal Ruins, the pyramids of Campana San Andres, the ancient city of Cihuatan, the Ruins of Quelepa and those of Cara Sucia, and the recently discovered Joya de Ceren. It is a well preserved site with Mayan dwellings buried under 20 feet of volcanic ash, 1400 years ago, ( declared a World Heritage site by UNESCO ). All this is open to you to explore our culture.


---
JOURNEY
---
Ways to get to the camp
Airport transfer $65.00 each way max of 6 people.
Important details
We all know that surfing sometimes can have a risk of injury, so we think about your health while you are in El Salvador, we have the support of the Hospital de Diagnostico, which is one of the best hospitals in Latin America.
They accept any International Health Insurance or credit card. Your health will be on the best hands.


PACKAGES & PRICES


* Discounts will be calculated in the booking process (first step)


---
PACKAGE A - REGULAR PACKAGE - from 458€ PER PERSON AND WEEK
---
This package includes:

- A/C
- double bedroom
- private bathroom
- 3 meals a day

- Tours to other surf spots , 
- city tour,
- Mayan ruins, 
- Mototours,
- Horse back riding and more are available


| | |
| --- | --- |
| 2 Persons |  458€ per person and week |
| 1 Person |  567€ per week |
---
PACKAGE B - PREMIUM PACKAGE - from 552€ PER PERSON FOR 6 DAYS
---
This package includes:

- Transfer from and to the airport
- any of our Villas
- air conditioning bedrooms
- private bathrooms
- private swimming pool
- three full meals a day
- healthy drinkable water
- TV, DVD
- 4x4 car
- surf guide
- 2 surf trips a day
- one surf trip to the city or Mayan temple
- the best of all excellent personalize service


| | |
| --- | --- |
| Amount of persons |  5 Nights / 6 Days (price per person) |
| 5 | 552€ |
| 4 | 570€ |
| 3 | 607€ |
| 2 | 680€ |
| 1 | 957€ |