ABOUT THE SURF CAMP
---
LOCATION AND SURF CONDITIONS
---
Playa Venao repudetly has the best year round beach break in Panama, with its sandy bottom Playa Venao is recognized as a great surfing beach for beginners and pro alike.
---
CAMP CHARACTER
---
Everyone is welcome for a stay in the camp.
There is also the possibility for various events like weddings or sport activities.
ACCOMMODATION AND CATERING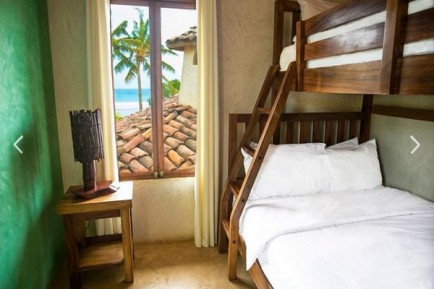 ---
ACCOMMODATION TYPES
---
Right on the sand of the pacific, each room has a character, uniquely named, colored, decorated and handcrafted on site.
---
CATERING
---
Offering fine international and fusion cuisine, using seasonal ingredients, locally caught fish and seafood, ensuring freshly prepared, healthy meals at all times.
every day 7.00 am - 9.30 pm
SURF COURSE AND ACTIVITIES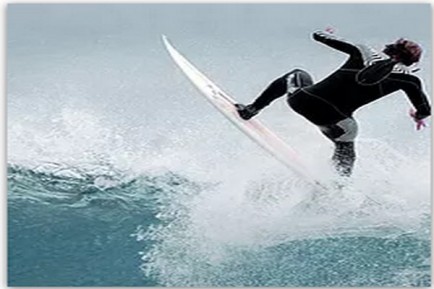 ---
SURF COURSE DETAILS
---
The courses are for beginners as well as advanced.
---
SURF MATERIALS
---
Board Rentals and Surf instructions are available.
---
OTHER ACTIVITIES
---
- Kids lub
- Children playground
- Yoga
- Deep water Fishing
- Horse back riding
- Isla Iguana Tours and Snorkeling
- Isla Canas turtle eggs hatching tours
- Zipline canopy
- Mangroves eco SUP and kayak tour
- Whale Watching (Aug thru Nov)
- Waterfalls of Agua Buena
- Trip to Cerro Hoya national park
- Skate ramps and half-pipe tracks
- Kite Surf
- Hiking
- Dancing
MORE INFO, HOW TO GET THERE & FAQ
---
 SURF CONDITIONS
---
Breaks directly at the main spot and at nearby spots

Playa Venao repudetly has the best year round beach break in Panama
Seasonal conditions
Playa Venao repudetly has the best year round beach break in Panama
---
 SURROUNDINGS / REGION
---
Characterization of surroundings/region
There are lots of must have seens in Azuero. One of the most impressionate sights is the Iglesia San Atanasio.
Activities and facilities
In the space of time without surfing you have the opportunity to spend your time in various ways. For example the visit to the Isla Canas, which is a wildlife reserve or you could go to the Museo de la Nacionalidad, where you can view Pre-Columbian ceramics and religious art if the colonial-era.

---
 JOURNEY
---
Ways to get to the camp

By Car:
From Panama City. Leave Panama city using the Puente de Las Americas exit (bridge of the Americas) and take the Pan American Highway to DIVISA. At Divisa take the road to CHITRE and keep going all the way through Chitre -->  Las Tablas --> Pedasi -->  Playa Venao. The whole journey takes about 5hrs (320km).
By Bus:
Go to the Allbrook Bus Terminal (use Uber or a taxi) and catch a bus to either CHITRE or (better) LAS TABLAS. From there (opt 1) take a local bus to PEDASI and from Pedasi either a taxi ($20) or a local mini bus to Playa Venao. (Opt 2) Take a taxi from Las Tablas straight to Playa Venao ($40).
By Plane:
From Albrook airport in Panama City, Air-Panama are offering 2 daily flights to near-by Chitre. These flights take about 25 minutes ($62).
Once in Chitre, take a 60 min taxi ride ($60) or rent a car at the airport.
PACKAGES & PRICES
---
Billabong Apartment - from 215$ per night/ Person
---
includes:

Fabulous, 2 bedrooms, 1 bath, with huge living room, kitechenette, and large private balcony. Great for small groups and families. Extra child bed (up to 12 years) - extra fee Tax 10% not included Size: 80 sq m Beds: 1 Single(s), 1 Queen(s), 1 King(s)
---
The Lighthouse - from 190$ per night/ Person
---
includes:

The newest addition to El Sitio is our Lighthouse Apartment, featuring a spectacular 360º lookout of the bay. With its own kitchenette, living room, bedroom and bathroom, you just might want to stay forever Beds: 1 Queen(s), 1 King(s)
---
Almendro Suite - from 185$ per night / Person
---
includes:

XL, 2 PPL Our largest Ocean Front suites with one king bed, large private balcony, outdoor seating, overlooking the pool and beach. Extra child bed (up to 12 years) - extra fee Tax 10% not included Size: 54 sq m Beds: 1 King(s)
---
Sol Suite - from 185$ per night/ Person
---
includes:

XL, 2 PPL Our biggest Ocean Front suites with one king bed, large private balcony, outdoor seating, overlooking the pool and beach. Extra child bed (up to 12 years) - extra fee Tax 10% not included Size: 54 sq m Beds: 1 King(s)
---
Sunrise Suite - from 175$ per night/ Person
---
includes:

L, 2 PPL Beautiful Ocean Front suites with one king bed, large private balcony, outdoor seating, overlooking the pool and beach. Extra child bed (up to 12 years) - extra fee Tax 10% not included Size: 48 sq m Beds: 1 King(s)
---
Sunset Suite - from 175$ per night/ Person
---
includes:

L, 2 PPL 1 KID Beautiful Ocean Front suites with one king bed, large private balcony, outdoor seating, overlooking the pool and beach. Extra child bed (up to 12 years) - extra fee Tax 10% not included Size: 48 sq m Beds: 1 King(s)
---
Oria Suite - from 129$ per night/ Person
---
includes:

L, 2 PPL Rustic, Stylish, and spacious rooms with a king bed Extra child bed (up to 12 years) - extra fee Tax 10% not included Size: 26 sq m Beds: 1 King(s)
---
Palmas Suite - from 129$ per night/ Person
---
includes:

L, 2 PPL Rustic, Stylish, and spacious rooms with a king bed Extra child bed (up to 12 years) - extra fee Tax 10% not included Size: 26 sq m Beds: 1 King(s)
---
Marea - from 129$ per night/ Person
---
includes:

XL, 3 PPL Beach Level, Family room with king bed and one single bed, a large outdoor private space, and ocean view seating. Extra child bed (up to 12 years) - extra fee Tax 10% not included Size: 26 sq m Beds: 1 Single(s), 1 King(s)
---
Brisas - from 129$ per night/ Person
---
includes:

XL, 3 PPL Beach Level, Family room with king bed and one single bed, a large outdoor private space, and ocean view seating. Extra child bed (up to 12 years) - extra fee Tax 10% not included Size: 26 sq m Beds: 1 Single(s), 1 King(s)
---
Playa - from 139$ per night/ Person
---
includes:

XL, 4 PPL Beach level Family unit with Two connected rooms, One with a queen bed, the other with a bunk bed, large private balcony with outdoor ocean view seating. Extra child bed (up to 12 years) - extra fee Tax 10% not included Beds: 1 Single(s), 1 Queen(s)
---
Arena - from 139$ per night/ Person
---
includes:

XL, 4 PPL Beach level Family unit with Two connected rooms, One with a queen bed, the other with a bunk bed, large private balcony with outdoor ocean view seating. Extra child bed (up to 12 years) - extra fee Tax 10% not included Beds: 2 Single(s), 1 Queen(s)
---
Olas - from 109
$ per night/ Person
---
includes:

M, 2 PPL Standard room with queen bed. Tax 10% not included. Size: 19 sq m Beds: 1 Queen(s)
---
Morro - from 109$ per night/ Person
---
includes:

M, 2 PPL Standard room with queen bed. Tax 10% not included Size: 19 sq m Beds: 1 Queen(s)
---
Estrella - from 99$ per night/ Person
---
includes:

S, 2 PPL Our Economy room with a queen bed. Perfect for visitors on the budget. Tax 10% not included Size: 26 sq m Beds: 1 Queen(s)
---
La Luna - from 99$ per night/ Person
---
includes:

S, 2 PPL Our Economy room with two single beds. Perfect for visitors on the budget. Tax 10% not included Size: 26 sq m Beds: 2 Single(s)