ABOUT THE SURF CAMP
---
LOCATION AND SURF CONDITIONS
---
Ericeira Surf Camp is nestled in the heart of old town Ericeira, a beautiful surfing/fishing village overlooking the Atlantic Ocean. It is famous for its beaches, excellent seafood, constant swells, and weekend parties during the summer. Known as one of 4 World Surfing Reserve sites, Ericeira is the ONLY one in Europe. There are over 20 world-class surf breaks for all skill levels within a short drive. Beautiful sandy beaches and gorgeous sunset viewing spots are 5-min walk. Just around the corner there are plenty of restaurants, surf cafes, bars and shops.
---
CAMP CHARACTER
---
1. Beginner - Learn How to Surf
This level was designed with the beginner in mind - we welcome complete newbies as well as people who have tried surfing before or on their own and would like some help. We will walk you through all the basics to get you started and catching your first waves!
2. Intermediate - RIDING THE WAVE
 Intermediate lessons are for the "experienced beginner" surfer looking for the support and coaching to take surfing to the next level. You will receive the advanced instruction needed to paddle out and begin catching waves at the peak and in the line-up.
3. Advanced - From Riding to Ripping
The advanced program is intended for surfers who are able to catch green waves on their own and have full control of the board. With Advanced Surfing Lessons you will get the true surf experience in a small group with one of our head instructors. Before you take Advanced Surfing Lessons, it is recommended that you have been surfing consistently on your own for at least 6-12 months.
ACCOMMODATION AND CATERING
---
ACCOMMODATION TYPES
---
Our surf camp is located in the middle of old town Ericeira. The hostel is on the main street, 5 min walk to the beach, with restaurants and surf shops right around the corner.
Our facilities:
- 12 rooms (9 with private bathrooms, 3 with shared)
- small open air roof terrace to relax
- Lounge area with TV, Surf Movies, Books, Board Games and computer
- Free Wi-Fi
- Bedding, linens and beach towels provided
- Spacious and clean rooms

Our Rooms:

1. Twin Room With WC 
2. Family Room With WC 
3. Shared Room for 4 With WC 
4. Twin Room With shared WC 
5. Double Room With WC 
6. Shared Room for 6 With WC 
---
CATERING
---
Having fun and practicing sports makes you hungry. We serve free continental breakfast in the morning and we offer free coffee and tea all day. You'll have basic appliances at your disposition to prepare a light meal (fridge, microwave, hot plate). For the other meals, there are wonderful local eateries in town, just a few steps away from our hostel. 
--> During the pandemic we do not offer breakfast. The only thing we provide is a fridge for our guests to use. Infront of the Camp there is a bakery with delicious offers and in general there are lots of restaurants and Coffees close to the camp.
SURF COURSE AND ACTIVITIES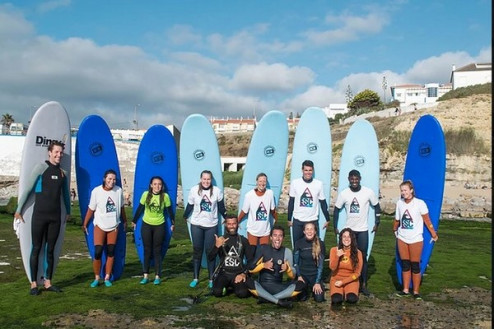 ---
SURF COURSE DETAILS
---
We know that surfing is the most important part of surf camp, therefore we offer high quality instruction and guiding and we seek optimal surfing conditions each day around Ericeira.  
- We offer beginner, intermediate, and advanced lessons, surf guiding and surf trips daily
- Time and location depend on tides and weather conditions
- Beach transfers, board, wetsuit, and insurance are included in all lessons. 
- Each surf lesson is about 2hrs long, split in brief theory, quick warm up, dynamic practice time (minimum 10 waves guaranteed!!!) and feedback post class. 
Lessons are in Portuguese or English. We strive to keep a 4:1 students per instructor ratio with groups never larger than 5 people. 
---
SURF MATERIALS
---
We provide the surf gear.
MORE INFO, HOW TO GET THERE & FAQ
---
SURROUNDINGS / REGION
---
Characterization of surroundings/region
Beautiful sandy beaches and gorgeous sunset viewing spots are 5-min walk from Ericeira Surf Camp & Hostel. Just around the corner there are plenty of restaurants, surf cafes, bars and shops. We are 10-min walk from the bus station and we offer free street parking.
---
 JOURNEY
---
Ways to get to the camp
45 km. North of Lisbon, mainly by highway (+ - 30min)
55 km. South of Peniche, possible to do it mainly by highway (+ - 30min)
23 km. North of Sintra (+ - 30min)
Lisbon International Airport (LIS), 50 km
Ask for details on Lisbon Airport transfers. We can also provide transfers to/from other destinations. "Mafrense" offers regular bus service from Lisbon (Campo Grande station) leaving every 30min and the trip takes about 1hr 15min. "Mafrense" also offers regular bus service from Sintra (Portela do Sintra station) leaving every hour and the trip is about 50 minutes. Have cash (4-6 EUR) and purchase tickets from the driver.
PACKAGES & PRICES
---
PACKAGE A - SURF PACK - from 51€ per day/ Person
---
This package includes:
ACCOMMODATION B&B
SURF LESSONS
TRANSPORT TO/FROM BEACH
INSURANCE FOR SURF ACTIVITY
FREE USE OF OUR BIKES AND SK8S
---
SURF LESSON - from 35€ per Lesson/ Person
---
SURF LESSONS WITH CERTIFICATED INSTRUCTORS
TRANSPORT TO/FROM BEACH
INSURANCE FOR SURF ACTIVITY
ALL THE SURF GEAR (SURF BOARD, WET SUITE, SHOES)
---
ACCOMODATION - from 22€ per Night/ Person
---
ACCOMMODATION B&B, WE HAVE DIFFERENT TYPES OF ROOMS WITH PRIVAT BATHROOM