ABOUT THE SURF CAMP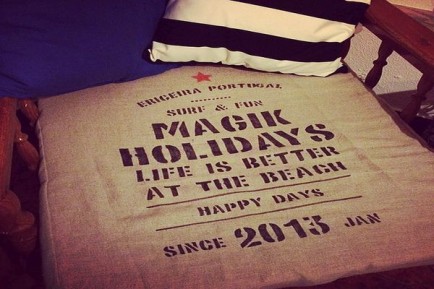 ---
LOCATION AND SURF CONDITIONS
---
Our surfcamp has a great location, it gathers the best of two worlds, close to the town center and beaches as well as secluded enough to bring a sense of privacy. 
---
CAMP CHARACTER
---
We have bikes to rent onsite as well as surf equipment if you choose to put in practice what you learned but if you prefer to relax in the Guest House, you are welcome to enjoy the garden, terraces, sunny balconies, TV room and library - the whole area covered with wireless internet you can access for free but in case you need to use a computer you can also find it in our guesthouse;) 
Our rooms are a mix of Double, twin and 3 to 5 people dorms and you can use the kitchen, barbecue area whenever you need;) 
Everything to make you feel at home.
We can't wait to see you :)
ACCOMMODATION AND CATERING
---
ACCOMMODATION TYPES
---
Our rooms are a mix of Double, twin and 3 to 5 people dorms and you can use the kitchen, barbecue area whenever you need;)
---
CATERING
---
Breakfast + shared kitchen.
SURF COURSE AND ACTIVITIES
---
SURF COURSE DETAILS
---
Most people that come to our surf school have never surfed before, so if that is your case DON´T WORRY :) all of our instructors have vast experience in teaching beginner surfers how to safely learn the basic skills & to get you standing up on a board & riding a wave!
If you have tried surfing before & want to try it again or improve a particular area, our instructors will work with you to help you achieve your goal. They are qualified surf coaches with years of experience &  qualified surf lifesavers. 
Because safety is very important to us, all surfers will be taught the necessary safety procedures & water rules to ensure you have an amazing surf experience.
---
SURF MATERIALS
---
We will provide you with all the equipment needed for the lesson. If you have your own wetsuit and you choose to bring it it is also ok, in fact some people rather bring there own wetsuit.
---
OTHER ACTIVITIES
---
After your surf lesson you will be brought back to the Guest House, there you can simply chill use the sun-beds, TV, games, etc, you can
go into town and explore the narrow streets and cool shops, restaurants and cafes, you can jump on a Bus and go to Lisbon or Sintra (two must sees) or simply walk to one of the many beaches nearby.
If you choose Sintra we often organise trips there, we take you around town including the most westerly point in Europe mainland, called Cabo da Roca.
MORE INFO, HOW TO GET THERE & FAQ
---
SURROUNDINGS / REGION
---
Activities and facilities
Ericeira has many cafes and bars that stay open late so you can enjoy your nights. There is also a Disco, open until 6am and where we know you going to have a great time ;)


---
JOURNEY
---
Airport Transfer
We can provide airport transfers from and to Lisbon Airport. If you are part of a pack that includes airport tranfers all we need from you is your flight details both arrival and departure and one of our staff will be there to pick you up on a time arranged, but in case your pack doesn't include transfers you can book a transfer with us please check oiur page Rates&Dates to see prices.
PACKAGES & PRICES
---
STANDARD SURF PACKAGE 7 NIGHTS - from 699 € per Week / Person
---
This package includes:

7 nights accommodation & breakfast
4 Surf Lessons
Equipment (during lessons)
Beach Transfer (during lessons)
Insurances (during Lessons)
2 Towels
Use of the Guesthouse Facilities


---
STANDARD SURF PACKAGE 14 NIGHTS - from 1199 € per Week / Person
---
This package includes:

14 nights accommodation & breakfast
8 Surf Lessons
Equipment (during lessons)
Beach Transfer (during lessons)
Insurances (during Lessons)
4 Towels
Use of the Guesthouse Facilities
---
INTERMEDIATE SURF PACKAGE 7 NIGHTS - from 799 € per Week / Person
---
This package includes:


5 Surf Lessons
Insurances (during Lessons)
Video Analysis Session
Airport transfers
Tour of Surfboard factory
Individual Advanced coaching
Use of the Guesthouse Facilities
Surf school completely mobile to allow the best chances of green waves
---
ROCK & SURF PACKAGE 7 NIGHTS

---
This package includes:


7 nights accommodation & breakfast
4 Surf Lessons
Equipment (during lessons)
Beach Transfer (during lessons)
Insurances (during Lessons)
2 Towels
Use of the Guesthouse Facilities
Transfers to and from the Concert/Festival Venue to the guest house


Contact for more info


---
SURF & SUP PACKAGE 7 NIGHTS
---
This package includes:


7 nights accommodation & breakfast
4 Surf Lessons
3 SUP lessons
Equipment (during lessons)
Beach Transfer (during lessons)
Insurances (during Lessons)
2 Towels
Use of the Guesthouse Facilities
Contact for more info
---
SURF & YOGA PACKAGE 7 NIGHTS

---
This package includes:
 7 nights accommodation & breakfast
4 Surf Lessons
Equipment (during lessons)
Beach Transfer (during lessons)
Insurances (during Lessons)
5 Yoga Lessons
2 Towels
Use of the Guesthouse Facilities


Contact for more info

---
EXTRAS
---
EXTRA NIGHTS
To extend your stay after the 7 or 14 nights packages.
30,00€


AIRPORT TRANSFERS
1 PERSON 35,00€
2 PEOPLE 25,00€
3+ PEOPLE 20,00€

SURF RENTALS
The price includes equipment, beach transfer to and from the beach where you are surfing from and to the surfcamp, insurances.
20,00€

EXTRA SURF LESSON
Valid after the 4 surf lesson. Price per lesson. Includes equipment, beach transfer to and from the beach where you are surfing from and to the surfcamp, insurances.
30,00€

SURF LESSON
Price per lesson for a maximum of 4 lessons (5th lesson is charged at 30,00€)
45,00€