ABOUT THE SURF CAMP
---
LOCATION AND SURF CONDITIONS
---
Ericeira Villa Hostel and Suites, is located only 5 minutes (by foot) away from the heart of the villa, just steps away from the beach and Bus station.
---
CAMP OPERATOR
---
Ericeira Villa Hostel and Suites was born from three friends' will of working together and honouring the beautiful Ericeira. Our professional areas are: business management, hotel management and the restaurant sector. One from Ericeira since birth, and the other two by options, all three from Ericeira in their hearts. This mix worked perfectly in the creation of this wonderful space where everything seems relaxed, perfect for recharging batteries and having a lovely holiday, but utmost professional at the same time. Everything has been thought out through the client's eyes, so that those who visit us feel at home, get to know the best from Ericeira, have a great time in their holiday and meet people from all around the world, making friends that we hope are for life.
ACCOMMODATION AND CATERING
---
ACCOMMODATION TYPES
---
The Hostel holds 3 joint rooms; one for men, one for women and one mixed, as well as three double bedrooms– all decorated with vintage hand-restored pieces that help make the space unique. At Ericeira Villa Hostel and Suites, we have a great variety of offers for our guests. From a large grass garden, a hammock zone, an outside pool, hidden places to read and relax, a terrace, tennis court, and a bar with cable TV, that's open all day long whether to drink a beer made in the area, a regional wine or a fresh fruit juice. You can also enjoy our restaurant service, whether for a special toast, a hamburger, or a wonderful snack.
Our reception, where one of us is at all times, is available to answer any question, information, or make a reservation for one of the various activities we have for our guests.
Our value per night always includes a continental breakfast, that we serve in a buffet style between 8h30 and 10h00. We also have a laundry service (washing and drying).
SURF COURSE AND ACTIVITIES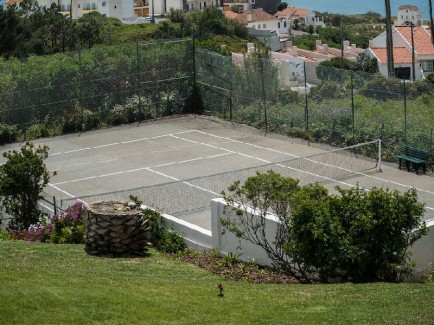 ---
SURF MATERIALS
---
You can rent a surfboard and a wetsuit directly in the hotel. 
---
OTHER ACTIVITIES
---
- SUP
- Bike rental
- Yoga
- Wine Tasting
- Horse Riding
- Tennis
- Skateboarding
- Massages
MORE INFO, HOW TO GET THERE & FAQ
---
SURROUNDINGS / REGION
---
Activities and facilities

You'll find an interesting array of cafés, restaurants, shops, bars, and various attractions all within close walking distance from Ericeira Villa Hostel and Suites. Anything that you need or want is just a few minutes away.
---
 JOURNEY
---
Ways to get to the camp

Most travelers to Ericeira arrive from either Lisbon's international Airport or Lisbon city center. There are several ways to get to Ericeira from there.
If you want, you can book with us the shuttle Service to and from the airport.
The journey from the airport to the apartment is about 35 minutes.
Motorway A8 and then A21 towards Ericeira.
Coming from Lisbon on the A8:
Calçada de Carriche
Take the A8
Exit 5 – Malveira/Mafra
A21 up to Ericeira
Coming from Lisbon on the IC19:
Continue towards Sintra
Exit at the Ericeira/Praias sign 
There is also a public transport available.
PACKAGES & PRICES
---
7 Nights Special Package  - from 364 € per Person
---
This package includes:

7 Nights accommodation
5 Surf Lessons
Breakfast included
Touristic fees included
---
Individual Prices
---
Accommodation: 24 € / night - bed in dormitory
Suite: 100 € / night (2px)
Doble room: 85 € / night per room (2px)
Surf lessons: 40 € per lesson
Yoga: 15 € per lesson
Transfer Airport: 60 € (4 places)

NOTE: On the check in must be charged 2 € per night of mandatory tourist rate