ABOUT THE SURF CAMP
---
LOCATION AND SURF CONDITIONS
---
The surfcamp is located atop of a small hill just above Praia do Sul and 2 minutes walk from the center of the village. Chill in Ericeira Surfhouse is made up by two houses from 1960s that stands in front of each other separated by the typical portuguese cobble stone road. From 2018 season we have a 3rd house around the corner from the original ones.

Chill in Ericeira Surfhouse has the best view of Ericeira, from the windows of the rooms you can see the village, beautiful sunsets and some of the best surf spots, like Foz do Lizandro, Pico do Futuro, Praia do Sul and Praia do Algodio, as well as the western point of Europe, Cabo da Roca.

There are six world-class waves within 4 Km range: Pedra Branca, Reef, Ribeira d'Ilhas, Cave, Crazy Left and Coxos, plus along the 11Km of coastline, you'll find a total of 22 very consistent surf spots with different characteristics, perfect for surfers of all levels, from beginner to professional.
With us you'll feel like a real local surfer!!
We take you to the more suitable beaches for your level of surfing and the best spots to enjoy the night.
---
CAMP OPERATOR
---
Chill in Ericeira grew out of the passion from Daniela Machado, Joana Rocha and Edoardo Cavarretta for surf and Ericeira and the will to welcome. So, if you want to have fun, be their guest!
ACCOMMODATION AND CATERING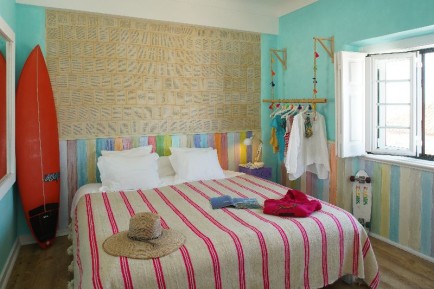 ---
ACCOMMODATION TYPES
---
We offer 15 double/twin rooms and 2 dorm, that can sleep a total of 50 people
- Land view rooms with double bed or two single beds
- Sea view rooms with double bed or two single beds
- Superior sea view room with double bed or two single beds
- 1 Ensuite sea view room with double bed or two single beds
- 1 Shared room with seven single beds and security lockers
- 1 Shared room with four bulk beds (8 people) and security lockers
The guests will be able to relax in one of our three living room and enjoy
- free wifi
- cable tv
- DVD player
- poker table
- table soccer
- outside terrace
- courtyard with BBQ.
Bed sheets linen, towels and breakfast are included in the price of the room.
---
CATERING
---
Breakfast is included 
SURF COURSE AND ACTIVITIES
---
SURF COURSE DETAILS
---
You'll have the chance to start from zero or improve your surfing skills in one of the best surf destinations in the world, lessons are held in the beach of Foz do Lizandro a very surf-friendly beachbreak (sand bottom) that suits all levels. All equipment will be provided (board and wetsuit) and transport to and from the beach is included.
Level 0: Able to paddle; sit on the board and change direction on flat water
Level 1: Able to catch foam waves
Level 2: Able to ride white water standing
Level 3: Able to ride white water standing and turn in either direction
Level 4: Able to catch unbroken waves
Level 5: Able to cope with the basic moves of surfing (Drop, Bottom Turn and Top Turn).
Level 6: Able to perform carving turns and cope with cut backs and re-entries

Video Analyzing
Do you want to improve your surf technique? Do you want to know what you're doing wrong? We can help you out by analyzing a video of your session. We will be filming you, but you can also bring your old vídeo/photos from previous surf trips. Get your surf to the next level, sometimes a small tip can make a big difference!
---
SURF MATERIALS
---
SURF LESSONS:
All equipment will be provided (board and wetsuit) and transport to and from the beach is included.

WITHOUT SURF LESSONS:
If you already know how to surf but you don't want to bring your own equipment we have various surfboards and wetsuits to rent.
---
OTHER ACTIVITIES
---
Surfaris
For more experienced surfer we also offer Surfaris in the many famous and world class spots around ericiera: reefbreaks, poinbreaks and punchy sandbars we have them all! (minimum 2 people, extra cost).
If you wish to surf Peniche we will organize a day trip for you (minimum 2 people, extra cost).
Visit a Shaperoom
In Ericeira there are many famous shapers if you want to discover how a board is made we will show it to you and a professional shaper will also explain you all the technical aspects that lay under your feet.
Touristic Excursions
We also offer tours to nearby touristics sites as the Mafra palace, Sintra town (Unesco heritage), Lisbon, Cascais, Obidos, Fatima (religious spot) and Cabo da Roca the western point of Europe (minimum 4 people).
Horse Riding
In the rare flat days or in your free time you can explore the sourrounding coast of Ericeira having a horse ride excursion.
Yoga / Pilates / Massages
After a few days of surfing, you'll need some more relaxing activities to get back in the water with even more strength.
Golf
Around Ericeira there are some famous golf resorts, if you're an expert player and want to keep up with practicing or if you want to try your first shots we can organize it.
MORE INFO, HOW TO GET THERE & FAQ
---
 SURF SPOTS
---
Foz do Lizandro
Is the spot where the lessons will be held, at walking distance from the surfcamp. It's a really fun beach break during summer time with perfect peaks to give surfclasses and improving your surfing, during the winter with a good swell and when the rains forms new sandbanks it turns into a world class tubing beachbreak.
S. Julião
It's a really punchy and strong beach break, it is at 10 km from the camp. When all the spots are flat in Ericeira this long stretch of beach has always some waves to offer, if you feel to hike away from the main peak you might found some empty banks. When the sand is aligned it can provide some really good waves.

Pico do Futuro/Praia do Sul
These spots are right in front of the camp, you can check them from the comfort of the living room, they mainly work in winter with big swell when anywhere else is maxing out. The first is a right hand pointbrake with a lot of power,mainly for experienced surfer in the big days, that peels off just in front of the Grand Hotel. The second is a misto/reef made out of different peaks that works mostly in winter.
Coxos
Probably the best pointbreak of Europe, a right punchy long ride breaking on an urchin infested reef. The water entrance/exit is very difficult and dangerous. Best with low tide. Only for expert surfers.
---
REGION
---
Ericeira is also known for its warm and welcoming people that love to receive surfers and travellers all year. You'll fall in love for the fresh fish brought in every morning by the fishermen, the natural beauty of the surroundings and the magic of Ericeira night life.
---
 JOURNEY
---
From the international Lisbon Airport: Chill in Ericeira Surfhouse is just about 30/40 min by car. We provide transfer from and to the Lisbon airport for 60 euros one person to 3 people. Alternatively the cheapest way is coming by bus from Campo Grande bus station with the buses of the Mafrense company.
PACKAGES & PRICES
---
SURF WITH US -  from 357€
---
This package includes:
7 nights
7 breakfast
7 surf lessons
beach transport
night guiding
free use of our facilities
a lot of fun!
---
FREE SURF - from 112€
---
This package includes:
7 nights
7 breakfast
night guiding
free use of our facilities
and a lot of fun!
---
EXTRAS
---
Surf Lessons
35€ in Low and Mid Season, 40€ in High Season per lesson per person with surf equipment and beach transportation included

Activities
We also offer many activities that you can buy once you're here

Pick up at airport
60 euros for 1 to 3 people
Tourist Tax
2€ per person per night up to a maximum of 14€ to be added to the prices
Seasons
Low Season: 1st November to 31st March
Mid Season: 1st April to 15th June – 1st October to 31st October
High Season: 16th June to 30th September – Christmas (23rd December to 5th January) and Easter