ABOUT THE SURF CAMP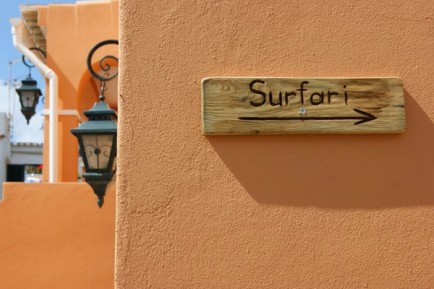 ---
LOCATION AND SURF CONDITIONS
---
Lagos' famous cliffs and grottos are minutes away and can best be enjoyed on your day off via mountain bike or kayak. Or simply take a stroll to see the sunset on another magic day.


---
CAMP CHARACTER
---
You are with the right people in the right place and our staff guarantee you a friendly, welcoming atmosphere and an awesome time! Also to greet you will be Frodo and Lani, our resident Portuguese Water Dogs (whom we had before Obama!)
The way you´ll feel is like you´re staying at one of your buddies houses.


---
CAMP OPERATOR
---
Extreme Algarve is a family run business that started through our love of the outdoors and the ocean. Our motto is simple, we want you to have a good time. We want you to enjoy everything from the moment you arrive fresh off the plane until you depart; maybe a little sunburned and sore, but with a fat smile on your face ...
We know how important your holiday is and we would like to say that with us, you are with the right people in the right place. We are surfers, kitesurfers, fab BBQ hosts, sun-worshipers & all round Algarve lovers who want to pass on the stoke to you guys and make sure your time with us is memorable.
Check out our testimonials page to see what people have had to say before making your own mind up.
See you in the water!
ACCOMMODATION AND CATERING
---
ACCOMMODATION TYPES
---
Casa Offshore is Extreme Algarve's very own Surf, SUP and Kite Lodge, right in the heart of Lagos. Located less than 10 minutes walk from the town centre and all the nightlife you can handle and only a few minutes from the local beaches and beautiful cliffs. There are also bars, restaurants and supermarket facilities right on your doorstep!
The lodge offers you security and privacy during your stay. The kitchen is fully equipped for you to store drinks in the fridge, make a quick tea or coffee, prepare a light snack or cook up a storm!
After your day on the water the grounds are the perfect place to enjoy an ice cold beer or glass of wine in the garden or hot tub, snooze the last hours of the day away on the sun terraces or hammocks, have an outdoor massage, practice some yoga or just crash out around the pool.

Our stylish and comfortable property offers the following:

    Double bedroom with en-suite (private access to garden)
    Double self-contained apartment with en-suite, lounge with tea and coffee making facilities & access to the garden.
    Twin rooms with en-suite (private access to garden)
    Shared/private twin rooms with shower/bathroom next door
    Shared/private Triple rooms with en-suite shower and private entrance, one with mezzanine level and one that sleeps five.
    Single room with shared bathroom
    Facilities include Complimentary breakfast on the terrace or in the kitchen.
    Complimentary picnic lunch with surf packages.
    Outdoor swimming pool with shower and WC
    Beautiful, mature garden with sun terraces
    Spacious lounge with Satellite TV and DVD's
    Hot Tub.
    Free Internet and Wifi.
    Full use of fully fitted kitchen.
    Sun loungers and hammock.
    Best BBQ Nights this side of the Algarve. (€15p.p)
    Linen and bath towel included (changed once a week) please bring your own beach towel!
    Iron/Ironing Board.
    Bars, Restaurants and Supermarkets on the doorstep (with launderette)


---
CATERING
---
Bars, Restaurants and Supermarkets on the doorstep (with launderette
SURF COURSE AND ACTIVITIES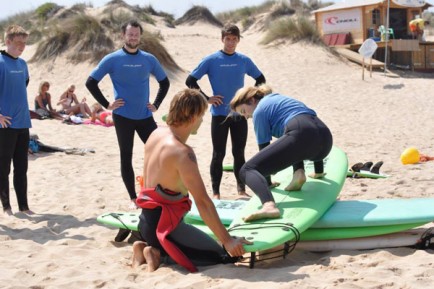 ---
SURF COURSE DETAILS
---
The surf surf crew departs each morning in our comfy air conned vans to find the best waves for you on the day.
On the beach we provide you with an awesome pack lunch to get those bodies refuelled for the next session and in the hotter months you can chill out under our large tent to stop you sizzling too much in the sun.
With 2 coastlines that receive swell there is a wave to suit anyone. Our lessons are catered to your needs so you will get individual tuition whether it´s your first time or you´re looking to improve your green wave count.
Days end, we head back surfed out and a bit sunburned to relax at the Casa.


---
SURF MATERIALS
---
At the lodge we have a wide variety of boards and suits to suit anyone and all conditions. So don´t worry if bringing your own gear is too much hassle.


---
OTHER ACTIVITIES
---
YOGA
The ultimate way to stretch out post or pre surf.
Yoga and surfing go hand in hand and compliment each other. At the Casa you can either make use of the yoga center in town (The Lightroom) which is just a few minutes from the Casa or you can organize for the yoga instructor to come straight the Casa (or beach) and do a session in our lovely gardens (or on the beach) All details available at the Casa.
ROCK CLIMBING
Rock climbing in the Algarve offers the unique opportunity to explore the hidden and picturesque Portugal.
Far from the thronging crowds, emerge yourself into the magnificent tranquility of deserted beach crags, hidden forests and secluded sea cliffs.
SEA KAYAKING
Sea kayaking trips in Lagos gets you exploring the west Algarve's inspiring caves and grotto's with breathtaking views only accessible by sea.
The Algarve's famous grottos are one of Lagos' best attractions and for the ultimate experience we take you up close and personal in our new fleet of sit on top sea kayaks.
SKY DIVING
Your jump zone is the Alvor aerodrome, beautifully sandwiched between the magnificent Algarve coastline and the majestic Monchique mountain range with views of Cape St. Vincent in one direction and Spain in the other.
The Algarve is the warmest jump site in Europe in winter and offers the perfect skydiving holiday year round with its clear skies, beautiful beaches, breathtaking countryside and delectable cuisine. Our qualified instructors and modern jump equipment are all you need for us to guide you through a fantastic day out.

MOUNTAIN BIKING
Whether you want a mountain biking holiday or just fancy doing a few mountain biking trips, you'll find our trails have something to suit everyone at any fitness level.
MIAS qualified instructors and a fleet of Specialized Hardrock Sport Disc bikes and helmets are at your disposal when you come riding with us.

WAKEBOARDING
Whether you're a seasoned wakeboarder or are coming to learn how to wakeboard you'll find the crew on hand to give you the ultimate wakeboard holiday and Lagos'  perfect wakeboarding conditions  perfect for learning or improving.
MORE INFO, HOW TO GET THERE & FAQ
---
SURF CONDITIONS
---
Breaks directly at the main spot and at nearby spots
The Algarve has the widest swell window in Europe and hence has year round waves and is never flat. 

Our surf trips will take you either to the south coast or west coast in search of the best waves for you.
On top of that we throw in an awesome pack lunch for you to refuel those muscles for the next session.
We have a great selection of beach breaks, a few point breaks and some reef and our guides know which break is going off on any given day.

For epic surf conditions with no crowds come visit off season (Oct - May) 
It´s still sunny, offshore or no wind, small groups and a glut of waves for you to surf til you can´t paddle no more.
---
SURROUNDINGS / REGION
---
Activities and facilities
Surfing, Kitesurfing & SUP Holidays
---
JOURNEY
---
 Heads-up Warning Please note that at the Casa, we do not operate a 24 hour reception.  Check-in time is from 16:00 to 18:00.   We can be flexible if you let us know in advance that you will be arriving outside of these times but we CANNOT FACILITATE CHECK INS AFTER MIDNIGHT!  Please take this into consideration when booking your flights.   For early evening flight arrival times up to 21:30 we strongly suggest you book a taxi (see info below) as a transfer will not get you here before midnight and there will be no-one available to check you in.

Ways to get to the camp
BY TRAIN
This is the cheapest option and takes around 1hr 45 mins.
The train costs €7 each way and is ten minute taxi journey from the airport costing around €6 and usually there is always someone to share with.
There is also a bus service between the airport and city centre bus station. The train station is a 3 minute walk from the bus stop.

BY TAXI
Taxis are available from the airport but call our good friend Pedro, he speaks excellent English, is a registered Portuguese taxi and of course knows exactly where we are.
His mobile number is: 00 351 917 617 675
Prices are:
| | | |
| --- | --- | --- |
| Up to 4 people |   | €92 |
| 5-8 people |   | €105 |
PACKAGES & PRICES
---
Surf n Stay Package

---
The Surf n Stay package includes 5 day or 10 day* Surf course and equipment, accommodation, complimentary breakfast, picnic lunches on surf days and beach transfers.
| | | | | | | | |
| --- | --- | --- | --- | --- | --- | --- | --- |
| Surf'n'Stay Packages (Full Pack incls. 7 nights accom, 5 day surf course and equipment, complimentary breakfast, picnic lunch, beach transfers) Discounts available for 14 nights! | March |   |   | April, May, June, October |   |   | July, August, September |
| Shared Quad Room |   |   |   |   |   |   |   |
| 7 Nights | € 305 |   |   | € 340 |   |   | € 400 |
| Shared Twin/Triple Room |   |   |   |   |   |   |   |
| 7 Nights | € 340 |   |   | € 410 |   |   | € 470 |
| Single Room |   |   |   |   |   |   |   |
| 7 Nights | € 375 |   |   | € 445 |   |   | € 505 |
| Private Twin or Double Ensuite (for 2 pax) |   |   |   |   |   |   |   |
| 7 Nights | € 750 |   |   | € 890 |   |   | € 1,010 |
| Double Apt (for 2 pax) |   |   |   |   |   |   |   |
| 7 Nights | € 820 |   |   | € 960 |   |   | € 1,080 |

For less than a week or per day (which include accommodation, surf course with equipment, complimentary breakfast, picnic lunch and beach transfers) the price is made up of the bed or room rate per night plus the relevant surf course (1 to 6 days).
Experienced Surfer Packages

The Experienceed Surfer packages do not include equipment and lessons).
The price is based on bed or room rate per night plus 25€ per day for beach transfers and a complimentary picnic lunch.General Note
Please ensure that you you take arrival and departure days into consideration as clients cannot surf on either of these days
---
Kite Packages

---
| | | | |
| --- | --- | --- | --- |
| KitePackages - Full Pack incls 7 nights accom,6, 9 or 14 hour kite course, complimentary breakfast, transport) Discounts available for 14 nights! |   | June. July, August |   |
| Shared Quad Room pp |   |   |   |
| 7 Nights, 6 Hour Course |   | € 385 |   |
| 7 Nights, 9 Hour Course |   | € 454 |   |
| 7 Nights, 14 Hour Course |   | € 581 |   |
| Shared Twin/Triple Room |   |   |   |
| 7 Nights, 6 Hour Course |   | € 455 |   |
| 7 Nights, 9 Hour Course |   | € 524 |   |
| 7 Nights, 14 Hour Course |   | € 651 |   |
| Single Room |   |   |   |
| 7 Nights, 6 Hour Course |   | € 490 |   |
| 7 Nights, 9 Hour Course |   | € 559 |   |
| 7 Nights, 14 Hour Course |   | € 686 |   |
| Private Twin or Double Ensuite (for 2 pax) |   |   |   |
| 7 Nights, 6 Hour Course |   | € 980 |   |
| 7 Nights, 9 Hour Course |   | € 1,118 |   |
| 7 Nights, 14 Hour Course |   | € 1,372 |   |
| Double Apt (for 2 pax) |   |   |   |
| 7 Nights, 6 Hour Course |   | € 1,050 |   |
| 7 Nights, 9 Hour Course |   | € 1,188 |   |
| 7 Nights, 14 Hour Course |   | € 1,442 |   |
---
Accommodation Only Packages (Per Night)
---
Just Accommodation (per night) (incl. complimentary breakfast)Off Peak Only!
March
 
 
April,May
 
Shared Quad Room pp
€ 15
 
 
€ 20
 
Shared Twin/Triple Room pp
€ 20
 
 
€ 30
 
Single Room pp
€ 25
 
 
€ 35
 
Private Twin or Double Ensuite (for 2 pax)
€ 50
 
 
€ 70
 
Double Apt (for 2 pax)
€ 60
 
 
€ 80
 
Supplement for sofabed pp
€ 15
 
 
€ 15
 
 
---
Surfaris
---
| | | | |
| --- | --- | --- | --- |
| Surfari's (incl. beach transfer, picnic lunch plus complimentary lessons with equipment) | October to June | July, August, September |   |
| 1 Day | € 50 | € 55 |   |
| 2 Days | € 100 | € 110 |   |
| 3 Days | € 135 | € 150 |   |
| 4 Days | € 180 | € 200 |   |
| 5 Days | € 200 | € 225 |   |
| Extra Day | € 40 | € 45 |   |