ABOUT THE SURF CAMP
---
LOCATION AND SURF CONDITIONS
---
Jho'La Surf Camp is locates in Praia da Luz, just 100 m away from the beautiful beach of Luz.
Just 6 km away from the vibrant nightlife of Lagos.
Depending on conditions we can waves in different spots across the area. Since we are on the western part of Algarve we can always find some spot to surf for all levels, either on the South or on the West coast. Most surf spots are beach breaks but there are some reef breaks.
---
CAMP CHARACTER
---
Jho'La Surf Camp has maximum occupancy of 8 guests, just enough for fun nights but not too crowded for peaceful relaxing afternoons.The most common traveler are are between the age of 25 and 38, it's a very relaxed camp with a family like atmosphere. It's for people that really want to learn how to surf and that enjoy good food and good company. The main language is English but we know how to speak Portuguese and Spanish.
---
CAMP OPERATOR
---
Francisco, the owner started surfing when he was 16 years old and has a long and deep connection to the sea. He graduated in marine biology and is a certified surf instructor by ASI – Academy for Surfing Instructors. He has worked for Future Surfing School in Portimão, Algarve. He will welcome you to the camp and will be in charge of making your stay the best experience possible. He also has a passion for cooking, so you will be blown away by the traditional Portuguese delicacies he will prepare. He has surfed Azores, Canary Islands, Costa Rica, Peru, Brazil and Panama. He is also a surf board shaper, so you will have a unique opportunity to learn how surf boards are being made. You can ask him about the boards and shaping and, if there will be an opportunity, you might even have a chance to sneak-peak into his workshop and see him in process of giving the shape to the future board of some surfer.
ACCOMMODATION AND CATERING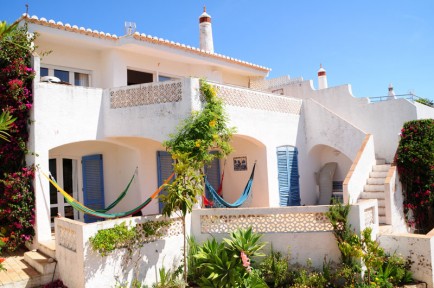 ---
ACCOMMODATION TYPES
---
The surf camp is located in Vila da Luz right next to the city of Lagos in the Algarve. Everything is within walking distance, 2 minutes to the beach, 2 minutes to the nearest bars and restaurants and 5 minutes to the supermarket and pharmacy.
The villa has two floors and allows a maximum occupation of 8 people. Downstairs there are three bedrooms, two of them with a bunkbed and a single bed and the other with a double bed. All bed linen and towels provided. There are two shared bathrooms downstairs with hair dryer. Upstairs there is a service toilet, kitchen and a spacious living room with a big terrace with sea view.
There is free wi-fi in all the house and cable-tv in the spacious living room.
Outside there are several balconies with hammocks and puffs where you can relax after a surfing day, or just chill out with a nice bottle of Portuguese wine.
Smoking is not allowed indoors.
---
CATERING
---
All packages (7 nights lodging) include daily breakfast, 5 lunch snack-packs and 5 typical Portuguese dinners. The kitchen is for staff use only. Guest have a fridge to store their own food, microwave, kettle, toaster, glasses, plates and basic cutlery.
There are restaurants and supermarkets at walking distance from the surf camp with different price levels.
WE can provide vegetarian or vegan meals but with a small surcharge. Please tell us in advance if you have any food allergies or limitations.



SURF COURSE AND ACTIVITIES
---
SURF COURSE DETAILS
---
The surf course can start any day of the week, there is a maximum of 8 students per instructor.
You can have one day of surf course or several days.
A certified surf instructor will pick you up at the surf camp and will take you to the best spot with the best surf conditions for your level. There, you will do a specialised surf warm up, have a briefing and go tho the sea. You will have 1h30min of lesson in the water, then a lunch break and after another 1h30min surf session. In the end the instructor will drive you back to the surf camp where you can relax in the hammocks or doing yoga. our instructors speak, English, Portuguese, Spanish and French.
You can organize surf courses even if you are not lodged at Jho'La Surf Camp.
---
SURF MATERIALS
---
All surf gear is included in the surf courses: surfboard (softboard or fibreglass depending on your level), leash, wetsuit and botties if needed.
Participants should bring comfortable clothing, beach towel, very strong sunscreen (choose organic).
If you want you can rent gear outside the course, prices will depend on how many days and season.
---
OTHER ACTIVITIES
---
Once you are here you have a lot of other activities you can do. We have yoga sessions and massages therapy at the surf camp. We have special package prices for diving in the wonderful waters of Algarve. You can go dolphin watching ok kaiak to the natural caves near buy, or do several other organised trips.


MORE INFO, HOW TO GET THERE & FAQ
---
 SURF CONDITIONS
---


Breaks directly at the main spot and at nearby spots
There are several different breaks close to the surf camp, the closest is Praia da Luz itself that can provided nice little beginner waves to more demanding reef break at the end of the beach. Although these breaks only work sometimes, there are several others near by. Most of our spots are beach breaks, and they can be at a maximum distance of 30 km.
Seasonal conditions
The season starts around March with the finishing of winter storms and the good weather coming in. The water is colder and the weather can be somewhat unstable, but there are always waves. During summer months the beaches are quite busy but the waves are really good for beginners. The water and the weather in general become warmer. September and October have really nice quality waves for more advanced surfers, but if you are still learning don't worry, because there is always some beach with the best conditions for your level. 
Crowd factor and local people
In the Algarve region, there is the tradition of sharing and welcoming others, so you can surf next to locals and in special spots, but please respect everyone in the water and before you go in know your do's and don'ts.
---
 SURROUNDINGS / REGION
---
Characterization of surroundings/region

The regional capital of Algarve is Faro, where you have the closest international Airport to the surf camp. The biggest city in the Algarve is Portimão, but Lagos which is just 6 km away from the surf camp has all that you need in a city. Most people speak english but it is always nice to try to get around basic Portuguese words. Since we are a part of European Union we have Euro as currency. It is always better to travel with health insurance but there is no need for any special kind of vaccination to come to Portugal.
Activities and facilities
There are many different activities you can do besides surfing. You can dive, snorkel, kite surf, hiking, kayak tours, boat tours, dolphin watching, and much, much more.
---
 JOURNEY
---
Ways to get to the camp
From Faro Airport to Jho'La Surf Camp is only 86 km. The best way to get to the surf camp is by airport transfer, there are many companies operating in Faro that will take you to Praia da Luz for very reasonable prices.
But if you prefer you can come by train to Lagos and we will pick you up for free at the train station.

Important details
If you come by train, the cost can go up to 12€, if you come by transfer, prices start at 15€.
PACKAGES & PRICES
---
PACKAGE A  - from 345 € per Week / Person
---
Catered Accommodation - Triple Room

This package includes:

7 nights in 3 or 2 beds room
Daily breakfast,
5 Lunch snack-pack
5 typical home made Portuguese dinners
Lagos pick-up and drop-off
---
PACKAGE B  - from 395 € per Week / Person 
---
Catered Accommodation - Double Room

This package includes:
7 nights in 3 or 2 beds room
Daily breakfast, 
5 Lunch snack-pack
5 typical home made Portuguese dinners
Lagos pick-up and drop-off


---
PACKAGE C  - from 545€ per Week / Person 
---
Surf & Stay - Triple Room

 This package includes:

7 nights in 3 or 2 beds room
Daily breakfast, 
5 Lunch snack-pack
5 typical home made Portuguese dinners
Lagos pick-up and drop-off
5 days of surf classes in west/south coast
Surfboard & wetsuit
Transport to the beach and back
3 to 4 hours of coaching each day

---
PACKAGE D  - from 595€ per Week / Person
---
Surf & Stay - Double room

 This package includes

7 nights in 3 or 2 beds room
Daily breakfast, 
5 Lunch snack-pack
5 typical home made Portuguese dinners
Lagos pick-up and drop-off
5 days of surf classes in west/south coast
Surfboard & wetsuit
Transport to the beach and back
3 to 4 hours of coaching each day

---
PACKAGE E  - from 445 € per Week / Person
---
Guiding - Triple Room

This package includes:


7 nights in 3 or 2 beds room
Daily breakfast,
5 Lunch snack-pack
5 typical home made Portuguese dinners
Lagos pick-up and drop-off
5 days surfari to west/south coast
2-3h surf session a day
Spot introduction

Not included: surfboard and wetsuit 
---
PACKAGE F  - from 495 € per Week / Person
---
Guiding - Double Room

This package includes:

7 nights in 3 or 2 beds room
Daily breakfast,
5 Lunch snack-pack
5 typical home made Portuguese dinners
Lagos pick-up and drop-off
5 days surfari to west/south coast
2-3h surf session a day
Spot introduction
Not included: surfboard and wetsuit 
---
PACKAGE G  - from 615 € per Week / Person 
---
Yoga & Surf - Triple Room

This package includes:

7 nights in 3 or 2 beds room
Daily breakfast,
5 Lunch snack-pack
5 typical home made Portuguese dinners
Lagos pick-up and drop-off
5 days of surf classes in west/south coast
Surfboard & wetsuit
Transport to the beach and back
3 to 4 hours of coaching
5 yoga sessions


---
PACKAGE H  - from 665 € per Week / Person
---
Yoga & Surf - Double Room

This package includes:

7 nights in 3 or 2 beds room
Daily breakfast,
5 Lunch snack-pack
5 typical home made Portuguese dinners
Lagos pick-up and drop-off
5 days of surf classes in west/south coast
Surfboard & wetsuit
Transport to the beach and back
3 to 4 hours of coaching
5 yoga sessions