ABOUT THE SURF CAMP
---
LOCATION AND SURF CONDITIONS
---
 Morocco, officially the Kingdom of Morocco, is a country located in North Africa. It has a population of nearly 32 million and an area of 710.850 km². Morocco has a coast on the Atlantic Ocean that reaches past the Strait of Gibraltar into the Mediterranean Sea. It is bordered by Spain to the north (a water border through the Strait and land borders with three small Spanish exclaves, Ceuta, Melilla, and Peñón de Vélez de la Gomera), Algeria to the east, and Mauritania to the south.

Morocco is a constitutional monarchy with an elected parliament. The King of Morocco holds vast executive powers, including dissolving parliament. Executive power is exercised by the government. Legislative power is vested in both the government and the two chambers of parliament, the Assembly of Representatives and the Assembly of Councillors. Parliamentary elections were held in Morocco on 7 September 2007, and were considered by observers as mostly free and fair; although voter turnout was estimated to be 37%, the lowest in Moroccan political history. The political capital is Rabat, and the largest city is Casablanca; other large cities includes Fes, Salé, Agadir, Marrakesh, Tangier, Meknes, Oujda and Tetouan.

Go Surf Morocco is located in the Agadir region of southern Morocco. Bananabeach village is a unique spot on Morocco's Atlantic coast. Conveniently located 45 min from Agadir international airport it's a short hop ( 2-4 hrs) from most central European cities. It's the closest place for any European surfer to get year round warm water, perfect waves and a unique cultural experience.


---
CAMP CHARACTER
---
Among our surf destinations, we have camps catering to different surf ability levels. Whereas some surf camps are suited to first-time and intermediate surfers, other surf trips are exclusive to advanced surfing abilities.  For more information, simply contact one of our surf travel experts.


---
CAMP OPERATOR
---
Our professional instructors are friendly, fun, knowledgeable and are winners of international competitions who speak French and English. Keep in mind that great setting, atmosphere and smiling faces make all the difference.

Brahim IDDOUCH

Originally from Agadir. His career has started in 2004 on the beach of Taghazout,Morocco's leading surfing beach, in a local association that trains local youth to surf. He later joined the professional international rounds in 2008 confronting the biggest names in bodyboarding in various competitions that were  held in Morocco. Thanks to sponsors and hard work, Brahim could, at last, participate in competitions of IBA (International Bodyboarding Association) world tour. The world tour has 8 stages in different spots around the world and accounts for the world bodyboard championship. Brahim's dream became true when he gained sponsoring of RIPCURL and SPRITE, allowing him to participate in the different stages of the tours and the achievement that was not expected. Indeed, last September, he won the Brazilian tour of the IBA world tour and moved to the head of the men's draw. He is shining high up in the international scene and promises to fight for a place in the Grand Slam Series. Brahim has brought with him unique experiences, knowledge and skills to Go Surf Morocco. He has taught thousands of lessons over the previous years with excellent feedback and results. He is one of the best !


Yassine

A very experienced surf coach, with over 10 years of experience in delivering surf lessons to beginners and amateurs. Very outgoing and full of energy, Yassine is your main contact in the surf camp and the beach as well. Patience and experience are his thing and his main intention is  assisting the client and guarantees his satisfaction by magically fine tuning the lesson to meet the specific needs of the client and his skill level! Yassine has a very wide knowledge of surf spots, which makes the clients of Go Surf Morocco get overwhelmed of discovering such great places. Go Surf Morocco is honored for having a surf instructor such as Yassine.


ACCOMMODATION AND CATERING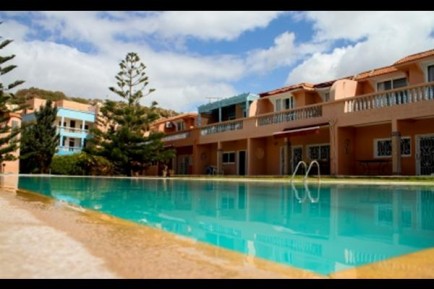 ---
ACCOMMODATION TYPES
---
We intended this service for you to be able to find the best accoomodation deals, make a reservation and be sure to get a confirmation with the best and lowest available rates. We do remain at your disposal so you can have a great holiday.


Blue Sea Hotel Le Tivoli
The 280 guest rooms at Hotel Le Tivoli include 24 stunning suites and are all immaculately decorated in traditional Moroccan style.
The suite room is equipped with a king-sized bed and an en-suite bathroom, as well as complimentary toiletries to help residents relax in a little luxury. Furnished private balconies offer views of the hotel gardens, pool or ocean and fill the rooms with light.
Hotel Inou Aourir
Rooms with bathroom, 24-hour front desk, Newspapers, Terrace, Non-smoking rooms, Facilities for disabled guests, Family rooms, Safety deposit box, Soundproof rooms, Heating, Luggage storage, Non-smoking throughout, Air conditioning, Designated smoking area, Sun terrace services, Room service, Laundry, Dry cleaning, Ironing service, Bridal suite, Gift shop, Car hire, Fax/photocopying, Shuttle service (surcharge), Airport shuttle (surcharge), Shared lounge/TV area, Daily maid service, Free WiFi
Accepted credit cards:
Visa, Euro/Mastercard, Diners Club, JCB, Maestro, Discover
Number of rooms:
32
Address: 
Km 14 Centre De La Commune d' Aourir
Check in/out:
Check-in from 07:00 until 00:00
Check-out from 06:00 until 12:00
Banana Surf House
Go surf Morocco offers you luxury accomodation in a villa which contains two bungalows with a chill-out garden where you will be at peace away from the hustle and bustle of the city, a nice swimming pool for both adults and the smallest among our guests. All rooms feature a view over the beautiful sea, where you can feel the morning and the evening breeze. In the villa, our guests can relax in the property either by taking a refreshing swim in the pool or just lounging in the sun by the green garden.
Go surf Morocco has renovated the villa to your needs and transformed it into two amazing bungalows. Each bungalow can accomodate friends, groups and families ranging from one person to maximum 12 members.
GO SURF MOROCCO'S CAMP
Go Surf Morocco's camp is a villa of 6 rooms that hosts up to 15 persons over the ground and first floor. The furniture creates an individual experience. In the surf camp you will notice that there is a modern and a traditional salon in the first floor where the walls are designed with beautifully colored curtains. Every part of the Go Surf Morocco's camp has a surf tableau that illustrates our surf concept.
The terrace has a breathtaking view and it is equipped with sun bathing lounges where you can sunbathe when there is no surf.
More than a surf school and a surf camp, Go surf Morocco is a guest house with a sophisticated, distinguished and inspiring atmosphere of comfort and tranquility after a day on the beach.
The camp offers many facilities and services:
- Wi-Fi
- TV
- Easy access to every beach
- Day trips
- Concierge service
Our aim is it to make you feel as if you were staying in your own house. Our excellent English-speaking staff is there to serve and cook for you with minimal disturbance.
If you want to experience Moroccan Surf camps at its best, you need to look no further.
---
CATERING
---
We understand that some people have special requirements. Let us know in advance, and we'll do our best to make sure we have exactly what you need. All guests should be aware that we are in Africa and not all 'specialized food alternatives' are available.


SURF COURSE AND ACTIVITIES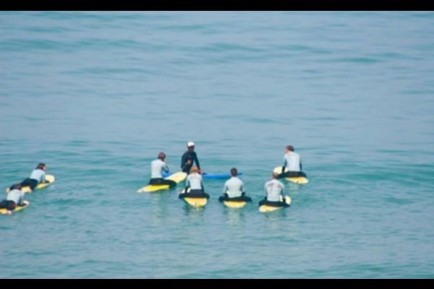 ---
SURF COURSE DETAILS
---
Beginner, intermediate, or professional, you will find your suitable package at Go Surf Morocco. The surf school offers a complete coaching, theoretical and practical with good quality material.

You can now join us by choosing the package that suits you best.


Beginners

If you have never surfed before or if you just want to improve your skills, our team will guide you, teach you the bases of surfing , and will give you a safe and pleasurable beginning to the sport of surf.

You are a beginner and you have a real desire to learn to surf, or you already surfed before but you want to develop your skills? You are then invited to join us at Go Surf Morocco for surf sessions, from five hours per day, including surf lessons.

In Go Surf Morocco in the first Surf lesson we teach you the basics of surfing, you learn how to stand up on your board in the foam zone, while we always insure the highest level of security and you having endless moments of fun. Then we will explain to you what surfing is about, about the materials and wetsuits, about how waves are formed, currents, different types of waves and choosing a beach suitable for your level and safety measures. We will show you how to warm-up properly, how to paddle efficiently, how to stand up, sitting positions on the board and how, where and when to get in and out of the waves and area, etc..

We will teach you how to SURF FOR LIFE !!!!!!!!


Intermediate courses

Intermediate courses are designed for those who have done a beginner course before, have some surf experience and want to improve their skills or simply want to enjoy surfing in a group and in maximum safety. Our instructors will evaluate your current skills and pick up from there... No need to repeat exercise if you don't need to. Our main concern is safety and that you do progress your surfing skills whilst having a lot of fun!


Surf solo

Imagine a surf package where you can plan everything by your own , be alone and have your own privacy. A package where you spend a holiday full of exciting and new daily experiences but flexible to choose your own activities as well as choosing the surf spots that suit you and you can be able to  give your vacation your special touch!!

Go surf Morocco offers  this package only for You, regardless of your ability!! Once You have booked the surf solo package,you are concidered as an Independent surfer which means that you are free  to grab your board anytime and go practice ! Go surf Morocco will be pleased to facilitate your stay with suitable accomadation ; breakfast and dinner are served each day  during the stay as well as transportation from the airport to our local .In the later ,You'll have your own fully equiped room where You can feel like home !
In Go surf Morocco You will not only catch perfect waves but your stress and worries will melt away !!

P.S.Surfboards and wetsuits are not assured.


Surf Guiding

You have a reasonable amount of surfing experience behind you, and want to have hassle free surfing with a professional surf guide who joins you in the surf, knows the best spots and can explain the surf breaks?
GO SURF MOROCCO has the program and coach for you!!

This is for those who 've dreamed of following in the footsteps of surfing legends and who have the ability to surf point breaks and reef breaks and challenging waves.

Go surf morocco assures You  a fleet of cars that we use to get You to and from the advanced breaks ,as well as our team that we will be right there with You always making sure You 're in the take off spot to get You the best ride ever. 
You can seek advice on any part of your surfing,ask as many questions as you like. Go over specific aspects of your surfing, fine tuning both timing and maneuvers. Show us the maneuvers you are having problems with and let us show you where you are going wrong.

P.S. Surfboards and wetsuits  are not assured.


Surf Trip

Thinking of doing a group trip? Arranging your travel from imsouane to  sidi ifni can be a little tricky.  Once you have purchased your surf trip with us, we will help you organize and coordinate your travel.

We cater to surfers of all levels, from beginners to advanced , and We have so much varieties to offer to all kinds of surfers - adventurous, perfect wave seekers; groups of friends looking for a good vacation idea; or professionals looking for a one or two week vacations where they will get warm, ride-able waves and an experienced surf travel guide.

We will take you on an amazing voyage form Imsouane, one of the longest ,easiest ,most  fun point breaks in the world, where you can truly progress your surfing abilit. To Sidi Ifni concidered as the best city for surfing in the south of Morocco .

Our surf instructors know the ins-and-outs of the beaches at our Surf Travel Camps and will lead you to the best waves for learning to surf, for experienced surfers, and for everyone in between. We'll even take you on journeys out of the water to get a taste of local culture and experience new and exciting adventures.

We are experts in group travel and we tailor our amazing surf holidays to suit your groups needs. We also have amazing deals and incentives.

So, contact us  to start organising your surf trip today!


---
SURF MATERIALS
---
Water, sunscreen, and towels are the only supplies you will be responsible for on the day of your lesson. Our surf school will provide boards and wetsuits for all of our surfers except for professional surfers who booked for « surf guiding package » , they should certainly bring there own material.


---
OTHER ACTIVITIES
---
Blue Sea Hotel Le Tivoli

The hotel has a private beach area where guests can relax in absolute comfort.
A sun terrace equipped with beds is available to guests wishing to lounge under a parasol in the warm days.
Additionally there is a glistening swimming pool for cooling off or enjoying a relaxing swim. There is also a children's pool for plenty of aquatic fun. Activities at the hotel range from ultimate relaxation to activities for fitness fanatics, with a full-service health spa offering a sauna, hammam and a range of treatments.
Hotel le Tivoli boasts tennis, basketball and volleyball facilities.


Hotel Inou Aourir

Golf course (within 3 km), Fishing, Windsurfing, Diving, Beachfront


Other

- Excursion to Paradise Valley

- Yoga classes

- Transfer Marrakech

- Transfer Agadir Airport

- Transfer Agadir bus station


MORE INFO, HOW TO GET THERE & FAQ
---
SURF CONDITIONS
---
Seasonal conditions
Morocco is an all year round destination for great surf and great weather. Surf Maroc is open all year. The summer months (April - October) see small to medium swells with surf mostly on the beaches and reefs on the more exposed north west coast. This is a great time for anyone looking for fun, uncrowded warm water surf. There are some bigger days during this time for those looking for something more challenging. During the winter months the waves, that have made Morocco famous, come to life. There is a huge variety of surf in this area of Morocco. There are not many places like it in the whole. The region has something for everyone, from ideal beginner waves to challenging reef ledges. Intermediates and those new to the sport should not be put off or worried. Due to the nature of the coastline there is almost always somewhere sheltered and manageable, and those looking for something challenging won't be disappointed. Morocco is blessed with well over 300 days of sunshine a year. Between the months November to February there is a small chance of rain, although statistically it is unlikely. Typical wave size and temperatures.Your choice of wetsuit comes down to personal choice and tolerance. The best all rounder is a 3/2mm full suit.


---
SURROUNDINGS / REGION
---
Activities and facilities
Taghazout and the surrounding area offer a whole range of other activities. If you feel like a break from surfing or for those of you who don't surf then horse and camel riding and quad biking are all close by and easily organized. For those who'd like to relax there are miles of empty golden sandy beaches to discover or you can sunbathe and chill out in the privacy of the villa or your apartment. The souq's of Agadir provide the quintessential Moroccan shopping experience. Two day trips to the ancient city of Marrakech can be organized. The beautiful seaside town of Essaouira is only two and half hours north and is a popular one or two day trip. There is a great market (souq) in Agadir which has all the stuff you would expect in Morocco: an abundance of leather goods, woodwork, ceramics, rugs, carpets, jewellery and clothing. Non threatening haggling is part of the fun! There is also a small market in Taghazout's village square that sells local wares.

There are an abundance of restaurants and cafes in Taghazout, including our own Auberge restaurant on the sea front. The are plenty of grocery shops selling fruit, vegetable and other essentials. There is a well stocked pharmacy and four surf shops. There are also lots of internet cafes with ADSL connection. Alcohol can be bought in Agadir not Taghazout.

There are a few surf shops in Taghazout. They now stock a fair bit of hardware: leashes, wax, deckgrip etc. The surf board and clothing selection is also growing. Most of the shops offer board repairs, they are often great value and of good quality.


---
JOURNEY
---
Ways to get to the camp
You can arrive at any time. It is not always possible to have your place ready before 2pm. If you do want to arrive early and your room isn't immediately available, start enjoying yourself anyway – we'll take care of your bags and get you started on whatever service you have chosen. Check out is officially 12pm, but if you would like a later check out, let us know and we'll do our best.

Independent Surfer and Apartment stays
We provide airport transfers to and from the airport. From then on you have a hire car at your disposal for the rest of your stay. Please ensure you have the original of a valid EU driving license which must have been held for at least one year. The law insists that you always carry your driving license and car hire documents with you when driving in Morocco. Seat belts must be worn at all times and you must not use your mobile phone whilst driving (a fining offense). Police and Gendarmerie checkpoints are based every few kilometers along the routes.

Minor infringements will result in your having to make an on-the-spot payment. In Morocco, as in Europe driving is on the right. The main roads around Taghazout are good. In addition, when driving in Morocco, we advise you to drive slowly and carefully as the roads are generally narrower and may sometimes have bumps and potholes, especially after periods of rain.

We do ask that you take particular care when driving, bearing in mind the conditions of your hire car rental agreement.

Please bring roof straps if you have them.


PACKAGES & PRICES
---
Surf Lessons - from 210 € per Week / Person
---
This package includes:

- Surf equipments
- Surf coaching with qualified instructors
- Transport to the surf spots everyday
- Packet lunch and wather
- Full supervision

1 Week=    210.00 €
10 Days=   250.00 €
 2 weeks=  280.00 €


---
Surf Guiding - from 280 € per Week / Person
---
This package includes:
- Professional knowledgeable guides getting you to the best wave
- Transport to differents surf spots everyday
- Packet lunch and wather
- Full supervision
1 Week=  
280.00 €

10 Days= 
350.00 €
2 Weeks=
420.00 €


---
Surf Lessons GO SURF MOROCCO'S CAMP - from 409.99 € per Week / Person
---
This package includes:

- Transport from/to airport or bus station (Agadir)
- Full board accommodation (Breakfast, lunch and dinner)
- Surf equipments
- Surf coaching with qualified instructors
- Transport to the surf spots everyday
- Full supervision


1 Week=   409.99 €
10 Days=  530.00 €
2 Weeks= 700.00 €


---
Surf GuidingGO SURF MOROCCO'S CAMP - from 462 € per Week / Person
---
This package includes:

- Transport from/to airport or bus station (Agadir)
- Full board accommodation (Breakfast, lunch and dinner), GO SURF MOROCCO'S CAMP
- Free Wi Fi
- Transport to different surf spots everyday
- Full supervision


1 Week=  462.00 €
10 Days=  650.00€
2 weeks= 903.00 €


---
Surf SoloGO SURF MOROCCO'S CAMP - from 220.50 € per Week / Person
---
This package includes:

- Transport from/to airport or bus station (Agadir)
- Half board accommodation (Breakfast and dinner), GO SURF MOROCCO'S CAMP
- Surf spot map of all the local breaks 
- Free Wi Fi


1 Week=  220.50 €
10 Days=  310.00€
2 weeks= 427.00 €

 
OPTIONAL EXTRAS

Board rentals=      10€ per day
Wetsuit rentals=     5€ per day
Car rentals=         25€ per day


---
Surf TripGO SURF MOROCCO'S CAMP - from 630 € per Week / Person
---
This package includes:

- Transport from/to airport or bus station (Agadir)
- Surf equipments
- Surf coaching with qualified instructors
- Full board accommodation (Breakfast, lunch and dinner), GO SURF MOROCCO'S CAMP
- Transport to the surf spots everyday
- Full supervision

 
1 Week=    630.00 €
10 Days=    900.00 €
2 weeks=  1260.00 €