ABOUT THE SURF CAMP
---
LOCATION AND SURF CONDITIONS
---
Santa Teresa is known for being a constant year-round beach break. Santa Teresa and its surrounding beaches offer the best scenario for surfers of all levels. We can help you learn to surf, or help take your technique to the next level.  We will be happy to arrange surf lessons and/or board rentals.
---
CAMP CHARACTER
---
Our guests are our priority.  It comes natural for us to host people and make new friends, so it is our pleasure to cover every small detail and accommodate our guests' needs so that they have the best time while staying with us. Many of our guests have told us that their experience visiting Gumbo Limbo felt more like staying with old friends, than staying at a hotel.  Whether it's sharing a surf session or an Argentine asado together, we look forward to having you!
ACCOMMODATION AND CATERING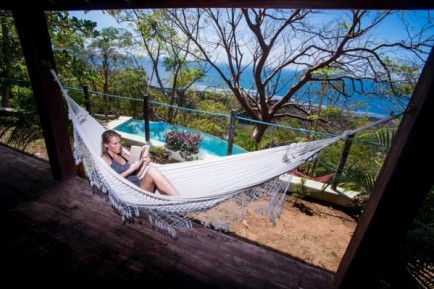 ---
ACCOMMODATION TYPES
---
Each of our villas is surrounded by lush, tropical nature, providing total privacy, comfort, and a real feeling of being in the jungle. From every corner of our property, you can find amazing ocean and mountain views. Our beautiful infinity pool is the perfect spot to relax and watch the best sunsets Santa Teresa has to offer.
VILLA INDIO
2 Bedroom sleeps up to 5 People
Enjoy amazing Ocean views from your private deck overlooking our beautiful infinity pool.
VILLA CRUZ DEL SUR
1 bedroom sleeps 2 people Enjoy amazing ocean views and our beautiful infinty pool at your doorstep
OCEAN VIEW ROOMS
both Rooms offer panoramic views of Playa Santa Teresa. Check the surf from your private Blacony!
---
CATERING
---
A full breakfast is included in your stay.  It is served each morning in our ocean view dining area.  Some of our breakfast options include granola and yogurt with fresh fruits, eggs with gallo pinto, or pancakes, all served with fresh Costa Rican coffee.
SURF COURSE AND ACTIVITIES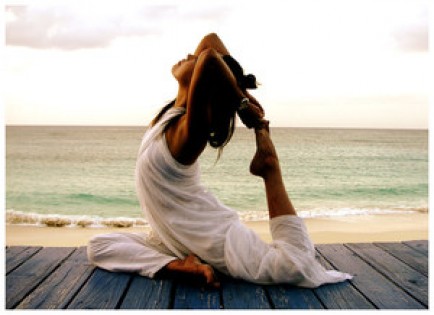 ---
SURF COURSE DETAILS
---
We will be happy to arrange surf lessons and/or board rentals.
---
OTHER ACTIVITIES
---
- Yoga
- Fishing Tours
- Caopy Tours
- ATV/Quad Tours
- Montezuma Waterfalls
- Horseback riding Tours
- Stand up paddle boarding (SUP)
MORE INFO, HOW TO GET THERE & FAQ
---
SURF CONDITIONS
---
Breaks directly at the main spot and at nearby spots

Playa Santa Teresa presents a variety of beach breaks, point breaks and high swells for the more experienced surfers. The surf is better at low tide when waves tend to be faster.
Playa Hermosa:
A long sandy beach with easy going beach breaks, both lefts and rights, well suited for surf beginners.
Manzanillo:
The reef is offshore at the north end of the beach. Very fickle wave which needs a lot of swell to work.
---
SURROUNDINGS / REGION
---
Characterization of surroundings/region
The Puntarenas tourist area and the Golfo Islands comprise 1517 sq. miles and 264 miles of coast line.
Puntarenas is one of the most important tourism regions in Costa Rica. Its coastline is full of islands, inlets, beaches, and very beautiful natural treasures, all which make it an excellent tourist destination. There is a multitude of attractions based around the beaches, as well as protected areas, both land based and around its islands. The area's center is located at Puntarenas which acts as a place for lodging, distribution, port of call, and excursions.
This spectacular area is very close to the Central Valley, around two hours by car and 74 miles from the capital.
The peninsula area has very important areas geared toward tourism like, Tambor, Santa Teresa, and Montezuma, all with very beautiful natural areas, specifically its beach areas. You can also find the Cabo Blanco Absolute Nature Reserve, San Lucas, Chira, Tortuga, and Coco Islands.
The Monteverde area, located north of Puntarenas, has both national and international significance because of its conservation efforts and life style centered around nature. Santa Elena is the hub for commercial services and tourism-based businesses. Other important communities are San Luis and Gerardo.
The primary attraction is the Monteverde Biological Reserve, however there are many other nature sites, picturesque trails, hanging bridges, as well as butterfly and frog exhibits.
---
JOURNEY
---
Ways to get to the camp
FLY TO TAMBOR / DRIVE TO SANTA TERESA
Sansa Regional and Nature Air are two companies with multiple daily flights from San Jose to Tambor.
The flights take about 30 minutes, and from there a 35 minute drive brings you to Santa Teresa.
You can have a taxi waiting to pick you up (approximately $50 one-way), or arrange to have your car rental waiting for you at the airport. This needs to be arranged in advance.
These flights are small, and fill up fast, so be sure to book in advance.
Remember that these flight have low weight limits, with fees for extra weight. During busy times they may refuse to take overweight luggage.
DRIVE/CROSS GULF OF NICOYA BY CAR FERRY
There are a few ways you can drive to Santa Teresa including renting a car (4x4 recommended), or arranging for a shuttle or taxi.  We would be happy to assist you with booking any of these options.
When driving to Santa Teresa, you will almost certainly cross the Gulf of Nicoya by ferry. (There is an overland route which goes through Naranjo)Several times a day the ferry departs from Puntarenas and arrives in Paquera about 75 minutes later.
The time and frequency of the ferry depends on the season, so be sure to check the ferry departure times on their website.
Tickets for the ferry must be purchased in advance from the ticket booth. You will not be allowed on the ferry without a ticket. A ticket must be purchased for every person, as well as the vehicle.
If the ferry has already reached its capacity for automobiles, you will need to wait for the next one. This often happens during peak season. It is recommended that you arrive early to ensure a place on the ferry.
DRIVING DIRECTIONS
When driving to Santa Teresa, the trip can be divided into 3 parts.
Getting to Puntarenas
Going from Puntarenas to Paquera
Going from Paquera to Santa Teresa
1. Getting to Puntarenas
From San Jose, there are two roads one can take to get to Puntarenas. The Pan-American Highway (Carratera Interamericana Norte), i.e. Route 1, takes about 2 hours.
A newer toll road, called the Caldera Highway (Autopista del Sol), i.e. Route 27, cuts the driving time to about 75 minutes from San Jose to Puntarenas. (see the map, below)
From Liberia, drive south on the Pan-American Highway, and turn off at the Puntarenas exit.
From Liberia, you can also bypass the ferry by driving through Santa Cruz, on to  Nicoya - Jicaral - Naranjo to Paquera (a 4x4 is recommended).
2. From Puntarenas to Paquera
Once you arrive in Puntarenas, drive to the end of the peninsula, to the ferry departure point.
You will start to see signs directing you to the ferry
Note that there are two different ferries, one to Paquera, and one to Naranjo. Make sure to take the ferry to Paquera.
Pay for the ferry in the ticket booth, across the street from the ferry. You cannot pay on the ferry. You must pay for the car and for each person in the car.
The ferry takes about 75 minutes to cross the Gulf of Nicoya, and it may take another 15 minutes to drive your car off the ferry.
3. From Paquera to Santa Teresa/Mal Pais
From Paquera the drive to Santa Teresa will take you past Tambor and Cobano before arriving in Santa Teresa. Signs for those places will let you know you're going the right way.
The road to Montezuma is the same as the road to Santa Teresa, until you arrive in Cobano. In Cobano, turn left to go to Montezuma, or keep going straight to go to Santa Teresa
When you arrive at the Playa Carmen crossroads, a left will take you to Mal Pais, and a right will take you to Santa Teresa.
After you turn right at the crossroads toward Santa Teresa, follow the road about 3 kilometers and look for our sign on the right hand side of the road, across from Brunelas hostel and 360 Surf Shop. Turn right at this road and follow up the hill approximately 600 meters. We are located just past Caniama Chill House on the right hand side of the hill. You will see a sign for "Gumbo Limbo"
Important details
A 4X4 vehicle is needed to reach us, and is generally better for Costa Rica roads.
PACKAGES & PRICES
---
VILLA INDIO - from 150€ per night
---
low season
15/april-1/june        
1/sept-15/nov

150$

High season
15/nov-15/dec
1/jun-1/sept

200$

Holiday season
15/dec-15/jan
easter week

250$
FEATURES
- Large, private deck with hammock and sitting area
- Large bathroom and hot outdoor shower with jungle views
MAIN BEDROOM
- King size bed
- Ceiling fan
- Safe
- Closet

2ND BEDROOM
- Double bed
- Single sofa bed
- Ceiling fan
---
VILLA CRUZ SUR - from 95€ per night

low season
15/april-1/june
1/sept-15/nov

95$

High season
15/nov-15/dec         
1/jun-1/sept

150$

Holiday season
15/dec-15/jan
easter week

170$
FEATURES
- King size bed
- A/C
- Ceiling fan
- Large bathroom with hot shower
- Private deck with hammock and chairs
- Small fridge
---
OCEAN VIEW ROOM - from 75$ per night
---
low season
15/april-1/june
1/sept-15/nov

75$

High season

15/nov-15/dec          
1/jun-1/sept

100$

Holiday season
15/dec-15/jan
easter week

120$
FEATURES
- Queen bed
- Private bathroom with ocean view hot water shower
- Private ocean view balcony
- Ceiling fan
- Closet