ABOUT THE SURF CAMP
---
LOCATION AND SURF CONDITIONS
---
Our Surf, Yoga and Spa retreat is located in Santa Teresa/Mal Pais beach on the Nicoya Peninsula. The distance from the best Surf Spot is 50 meters and 5 minutes walk from the others beach and point breaks. .The center of the town is at 10 minutes walk. Life Surf & Spa choose Mal Pais, because it is the ideal place for women who want to learn to surf. With water temperatures averaging around 28C/84F and waves throughout the year, is truly a paradise for surfers

This is one of the most virgin and beautiful regions of costa Rica: endless miles of soft, white sand and a perfect beach for swimming and surfing. Due to its consistent year round surf, Mal Pais is considered a surf heaven, and dream destination for surfers of all levels. It is this blend of surf, Nature and wellbeing  make Santa Teresa the ultimate place for women's surf yoga and spa retreats.

Main beaches, provide easy fun waves on sand bottom beaches in wich to learn; while surrounding areas offer extensive world class reef breaks more for advanced surfer. Our Villas are located just a few minutes  walk (50 meters) to an expansive white beach that runs on uninterrupted for miles. Artistic tropical gardens surround Life with flowering plants and low indirect lighting, creating a special and unique atmosphere.

From the moment you arrive, You will realize you are in a truly wild area of the planet where everything is green, where everything is alive! 50 years ago someone had compared Santa Teresa to Hawaii! The lush tropical forest is the Background to the white beaches of this timeless paradise! The peace of mind that you will be given by uncrowded beaches, warm sea water, local friendly people and the beautiful natural scenery will merge with your mind and your senses, you will feel at one with your surroundings and breathe in full lungs positivity that flows in this amazing place!
---
CAMP CHARACTER
---
target group is 18+ Girls´ and couples Camp
camp size: family-like atmosphere, relax Camp
average age of participants: 18 to 46
main language used in camp: Spanish-english
dogs permitted: no
---
CAMP OPERATOR
---
FABRIZIO (OWNER & surf instructor)
Surf instructor and owner of the brand LIFE SURF & SPA.
"I love the simple life in harmony with nature and the energy of the waves!"

IVANO (masseur)
He has a great amount of experience ad knowledge and is up to date with his level of certicates
"Massage has a very positive effect on the central nervous system,wich in turn as healthy effects on organs and the hormonal system; this way the whole body is in balance and doesn't just have effect on the physique but also on psychic and emotional level"

PINA (yoga instructor)
She really knows how to live healthy by eating what nature gives us and with minimal environmental impact ...we must learn from her!
"Yoga is way of life, it's about cleaning off the lens we see the world through by looking deeply at ourselves....is the union between your mind and your body"

MATTIAS (surf instructor)
This guy is Argentinian...he left his homeland to pursue his dream...to live an easy life! Believe me: his smile is contagious!
"Riding each wave is expressing yourself to the sea.....sometimes unexpected but always giving your full potential"


ACCOMMODATION AND CATERING
---
ACCOMMODATION TYPES
---
As soon as you reached Life will feel the irresistible feeling of letting yourself be pampered by enveloping and colorful local flora and refreshing sound of the ocean. Because our nature, although sometimes suffocated from daily stress, awakens and explodes in the simplicity of nature! Life is a resort developed in a hilly area facing the ocean, where each villa is set in its own corner of paradise, so that our guests can fully experience the sense of relaxation and joy, that put Costa Rica in the first place in the world as quality of life. Awaken by the joyful song of birds, the warm tropical sunrises will heat your skin, be lulled to sleep by the faint rhythmic sounds of the ocean dreaming of riding its waves.
At the top of our resort you will find a wonderful irregular shaped pool out of crystal blue ceramic tiles that makes water incredibly transparent. All it's surrounded by a relaxation area, rich of lush trees and sunbeds where to take a nap or to drink a cocktail made in our well-stocked rancho bar-restourant or enjoy a beautiful sunset between surf companions!
Our Mediterranean style villa is full of fancyful feminine details, lights, spaciousness and a place where you can truly relax and retreat. All villas have their own terrace with garden view, bathroom, hot water and safety box. Other exquisite elements are the teak chairs, the furniture and the deck of all units are made out of precious woods. Every guestroom has all the modern comforts you need to enjoy your stay - from fresh cotton linens to living-dining room, kitchen, one or two bedrooms, air conditioning and corresponding implements. Our villas differentiate through theme colors, handcrafted aromatic candles, incense and essences, stimulating the senses.
Life is also at 2 minutes distance to many fantastic shops, restaurants, attractions and the main beaches! The strong positive vibrations emanating from Life Staff, the Welcome Reception and the luxury of our resort will detoxify you in your deep innerself!
Life Resort Amenities
-quite central setting in Santa Teresa (close to shops, restaurants & beach);
-parking area for guests;
-Luggage storage, safe-deposit box at front desk;
-open Living and resting green areas;
-large swimming pool with sun loungers and pool towels;
-rancho bar area to get your endless purified spring water, coffee, tea, fruit baskets and chill out watching surf movies;
-huge expansive lawn and tropical gardens with numerous relaxation areas;
-large spa treatment area with relaxing music and aromatherapy burner;
-beauty services;
-massage - spa treatment rooms;
-open air yoga area;
-terrace relaxation zone with daybeds and amazing sunset views;
-fresh tropical flowers and scented candles;
-complimentary high speed WiFi internet;
-all local phone calls are complimentary;
-use of bicycles;
-cards accepted: Visa, Master Card, Diners Club, American Express;
-concierge service provided;
-daily housekeeping;
-24 hours security;
-tour assistance;
-air conditioning in public areas;
-walking distance to shops, bars and restaurants.
Life Guestroom Amenities

-room service;
-beautifully appointed bedrooms;
-all accommodations have balconies or patio;
-air conditioned;
-hot water;
-kitchen;
-sumptuous cotton linen;
-fluffy cotton bath towels;
-fresh tropical flowers and scented candles;
-each room has its own Safety Box;
-daily housekeeping;
-coffe/tea facilities.
Private Room
-King Size Bed;
-private balcony;
-coffee/tea maker;
-ensuite bathroom;
-air conditioning.
Shared Villa
-King Size Bed;
-two Single Beds;
-opens to a patio
-kitchen is supplied;
-ensuite bathroom;
-air conditioning, a separate sitting area, and a safe are among the conveniences offered.


---
CATERING
---

surf camp: full pension
shopping facilities and price level of food products: a lot of shops; the food price is medium
restaurants nearby or directly at campsite : both
catering by surf camp: special meals for vegetarians/persons who are allergic to something

Life gives you all inclusive food packages: breakfast, lunch and dinner.
Our menu is peppered with classic delights; food includes tastes for everyone to enjoy from pure comfort to globally inspired cuisine.
All our dishes are bursting with freshness and flavour.

Life menu has been crafted to complement your surf, yoga and wellbeing program!

Beverages
- fresh tropical fruit juice prepared with water or milk (Batido);
- fresh selection of premium organic iced and hot teas;
- coffe and cappuccino;
- spring water all day.

Breakfast
- homemade muesli and acidophilus yogurt;
- tropical fruit platter (selection of exotic local organic fruits);
- banana pancakes;
- freshly baked breads;
- "Gallo Pinto", a local dish made of long-grain rice boiled with a sauce of brown beans peppers and onions, served with scrambled eggs or meat.

Lunch
- "Casado", a unique and tasty dish consists of white rice, beans, green salad, fried platains served with beef, chicken or fish;
- many kinds of organic green salads;
- sandwich;
- hamburger and french fries;

Dinner
- Churrasco and Argentinian beef;
- skewers of meat with potatoes;
- roasted corn on the cob;
- corn tortillas;
- "Empanadas" stuffed with beans, meat or cheese;
- Hamburguesa;
- Italian pizza and pasta;
- Sushi;
- vegetarian food.

Dessert
- cajeta de cocco;
- homemade rice with milk;
- brownie and ice-cream;
- organic fruits;
- chocolate mousse raw food
-panna cotta.

In addition we will drag you in the pleasure of Costa Rican gastronomy, offering 3 free tickets to spend on typical Soda and characteristic restaurants with intrnational flavours (Mexican, Argentinian, Japanese) Vegetarians, Macrobiotic and Vegan.

You will enjoy delicious and satisfying meals made with love!
SURF COURSE AND ACTIVITIES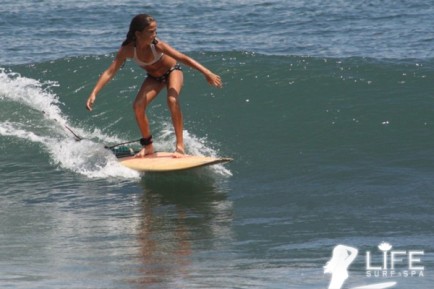 ---
SURF COURSE DETAILS

---
Life Surf & Spa choose Mal Pais, because it is the ideal place for women who want to learn to surf. With water temperatures averaging around 28C/84F and waves throughout the year, is truly a paradise for surfers. Our classes are designed especially for our Life Women, so you are sure to be standing on the table by the end of your first lesson! Come and have a laugh with our team and learn this exciting sport of surfing.

Our goal is not only to teach women how to surf on holiday, but to help create lifelong surfers who share the "soul surfing" in all the oceans of the world respecting the nature and the animals that live in it! Our modular curriculum of surfing allows us to respond to your individual needs - if you've never surf before or already an experienced surfer. Our curriculum allows you to measure progress at their own pace throughout the week, and we are here to support you in every step of the way. You will receive personal attention at all times, with individual feedback provided during each session.

With nearly 9 years of surfing in Costa Rica, our guides are fully qualified and always aware of the wave conditions - swell, wind and tides, and bring you and your skill level at the right place at the right time - from easy beach breaks for beginners for more experienced surfers at cliffs! Our program tailored for women is designed to be fun, but also quite heavy in theory and in practice, so you have all the skills you need to feel safe in continuing to surf independently once you finish the course with LIFE!

BEGINNER
Life specializes in introducing women to the sport of surfing for the first time! Our unique program is designed to surf the simplicity and fast forward. We will teach you how to easily jump up and ride your board in the first lesson! Also you will learn knowledge and ocean water safety, board handling, paddling techniques, forehand and back hand turns and the art of getting the speed you need to slide on an unbroken emerald green waves.

INTERMEDIATE
Our surfing lessons in the intermediate course are based on a thorough knowledge of the sea and its features, these intermediate coaching sessions show how to identify best waves and use it to your advantage.
You will also learn techniques for generating speed, taking off on the angle and using compression and extensions for body positioning and "trimming" the wave.
Life will also focus on the reading of the line-up position, the selection of the waves and surfing rules.
The intermediate course is essential to become a surfer can surf at any spot in harmony with the sea and the local people.

ADVANCED
In this advanced course our guides will help you to increase your skills and perfecting the style that is the basis of a well-executed manuover. Learn how to make top and bottom turns, cutbacks and floaters Including knowledge of tides, reef geography and Respect for the power of the ocean.
Life in this advanced course will help you achieve the mental and physical strength to become a big wave rider.

We also boast a large range of surf equipment that is absolutely the best available for tuition!
---
SURF MATERIALS
---
- materials used during surf course: softboards,longboards,shortboards,rushguards,all kind of boards,and more
- fiberglass boards for advanced surfers? yes
- What will be provided? What will the participants have to bring themselves? We provide all equipment
- use of materials outside course hours- rental and fee:  free


---
OTHER ACTIVITIES

---
SPA
The Life Spa is a sanctuary for those seeking peace and serenity. It is a place to de-stress, detoxify and regain balance.
Life offers you a fantastic way to be pampered, join our Spa and choose from the following:

Holistic massage (60/90 min)
Holistic therapy treats the body as a "whole", which means that not only will a massage treatment pamper your physical body but it will also establish internal and external problems and provide an effective method of rebalancing. Holistic massage is a therapeutic application of touch that is also a supportive, relaxing treatment that encourages the mind to slow down whilst energy is increased. This treatment also lifts the spirit on an emotional level.

Deep Tissue massage (60/90 min)
To do this, the massage therapist often uses direct deep pressure or friction applied across the grain of the muscles. Deep tissue massage is a type of massage therapy that focuses on realigning deeper layers of muscles and connective tissue.
It is especially helpful for chronically tense and contracted areas such as stiff necks, low back tightness, and sore shoulders.

Couple massage: holistic/deep tissue (60/90 min)
Plunge into a world of sweet enveloping relaxation where all clocks stop. Sharing these pleasures and exchanging energy with your dear one will make this an unforgettable moment. This massage uses warm oil. A purifyng fruit drink completes the experience.

Integral (60/90 min)
Integral massage is a combination of some very powerful massage techniques, used for body balancing. These combinations have their origin in the Classical massage, Deep Tissue massage, Energetic massage and Reflexology. By using these combinations, a wide scale of muscle and joint problems can be treated well. The massages are also very effective during periods when there is a heavy emotional or mental pressure on people. Massage can be a good help to get aware of these complaints, by relaxing and activating muscles. This way the whole body is in equilibrium and doesn't just have effect on the physique, but also on psychic and emotional level.

Acupuncture (60/90 min)
Acupuncture is a collection of procedures involving penetration of the skin with needles in order to stimulate certain points on the body. In its classical form it is a characteristic component of traditional Chinese medicine (TCM), a form of alternative medicine, and one of the oldest healing practices in the world. According to traditional Chinese medicine, stimulating specific acupuncture points corrects imbalances in the flow of qi through channels known as meridians. Scientific investigation has not found any histological or physiological correlates for traditional Chinese concepts such as qi, meridians, and acupuncture points  and some contemporary practitioners use acupuncture without following the traditional Chinese approach.

Reflexology (60/90 min)
Reflexology, or zone therapy, is an alternative medicine involving the physical act of applying pressure to the feet, hands, or ears with specific thumb, finger, and hand techniques without the use of oil or lotion. It is based on what reflexologists claim to be a system of zones and reflex areas that they say reflect an image of the body on the feet and hands, with the premise that such work effects a physical change to the body

Yhai Massage (60/90 min)
Thai massage is a type of massage in Thai style that involves stretching and deep massage.
This form of bodywork is usually performed on the floor, and the client wears comfortable clothes that allow for movement. No oils are used in Thai massage.
It is known in Thailand as "nuat phaen boran", literally, the ancient-manner massage.
Thai massage is more energizing and rigorous than more classic forms of massage. Thai massage is also called Thai yoga massage, because the therapist uses his or her hands, knees, legs, and feet to move you into a series of yoga-like stretches. Many people say Thai massage is like doing yoga without any work.
Muscle compression, joint mobilization are also used during treatment. People describe Thai massage as both relaxing and energizing. Thai massage is usually done on a padded mat on the floor.
No oil is applied, so you are fully dressed. You are usually asked to bring or wear comfortable clothing to the massage.

Rebalancing (60/90 min)
Rebalancing® is a form of body oriented awareness work, which brings people back into harmony with themselves, so they can live their essential unity of body, mind and heart. It works with a unique synthesis of deep and soft connective tissue manipulation, joint release, energy and breath work, body reading, body awareness training as well as emotions and their expression.

Lomi-Lomi Nui (60/90 min)
There are many different styles of Hawaiian massage, and different names for each style. The most important thing to remember is that no matter what definition of Lomi Lomi you practice, the common thread that runs through it all is the unconditional Spirit of Aloha, respect, honour and sacredness.
This sacred Hawaiian healing can produce powerful spiritual experiences and heightened states of awareness. The therapist uses various massage oils, hands, elbows and forearms in dynamic, deep movements that mimic the ebb and flow of the ocean. The Lomi Lomi therapist focuses on blockages within the physical or energetic body, using breath, movement and intention to release and free you from anything blocking the flow of your physical, emotional, spiritual or mental health, although always working within your own personal boundaries in the present moment.

Hot Stone Treatment (60/90 min)
A stone massage is a massage that uses smooth, flat, and heated rocks placed at key points on the body.
Stones (usually basalt) are placed into a purpose-built Stone Heater which is filled with water. The water is typically heated to 50-53 degrees Celsius (122-127 degrees Fahrenheit)
Once the stones have heated sufficiently, some are placed onto specific points on the body (such as the back, hands, etc.) and others are held by the massage therapist and used to work the muscles.
Certain styles of stone massage also incorporate chilled stones into the routine. These stones are usually marble, and are placed into a bowl of iced water before use. A competent stone massage therapist will know when it is best to use hot stones and when it is best to use cold stones

Bali (60/90 min)
Balinese massage is one form of traditional Indonesian massage. Originating on the island of Bali, this massage involves a combination of techniques, including massage, acupressure, reflexology, and aromatherapy into one session. Often used for relaxation, this type of massage can also help loosen muscles and ease pain.

Shiatsu - Acupressure (60/90 min)
Shiatsu (Japanese from shi, meaning finger, and atsu, meaning pressure) is an old, traditional, Japanese healing method. Shiatsu means "finger pressure." But unlike the massages of the West, where kneading and friction is used, in shiatsu pressure and stretching is the key.
This form of bodywork is usually performed on the floor, the shiatsu practitioner uses palms, fingers, thumbs, knuckles, elbows, knees and the feet, to work on the body's acupuncture points, along what they consider the body's meridians or energy channels.

Manicure
A manicure is a cosmetic beauty treatment for the fingernails and hands performed at home or in a nail salon. A manicure consists of filing, shaping of the free edge, treatments, massage of the hand and the application of polish. There are also manicure services that are specialties for the hands and feet. For the hands, the soaking of a softening substance and the application of a lotion is a common specialty.

Pedicure
A pedicure is a way to improve the appearance of the feet and the nails. It provides a similar service to a manicure. The word pedicure refers to superficial cosmetic treatment of the feet and toenails. A pedicure can help prevent nail diseases and nail disorders. Pedicures are done for cosmetic, therapeutic and medical purposes. They're extremely popular throughout the world, primarily among women. Pedicures are not just limited to nails; usually dead skin cells on the bottom of feet are rubbed off using a rough stone called a pumice stone. Additionally, leg care below the knee became a common and now expected service included in pedicures. Leg care includes depilation via either shaving or waxing followed by granular exfoliation, application of moisturizing creams, and a brief leg massage.

Life Spa with the restorative properties of the treatments, which have been practiced to perfection, it allows to you to improve your natural energy and spark your spirit.
Experience a deep sense of serenity washing away all negativity from you!

YOGA
Yoga to relax your body and renew your mind! Yoga means "union" in Sanskrit, the language of ancient India where yoga originated. We can think of the union occurring between the mind, body and spirit. What is commonly referred to as "yoga" can be more accurately described by the Sanskrit word asana, which refers to the practice of physical postures or poses.Asana is only one of the eight "limbs" of yoga, the majority of which are more concerned with mental and spiritual well-being than physical activity. In the West, however, the words asana and yoga are often used interchangeably. Many people think that yoga is just stretching. But while stretching is certainly involved, yoga is really about creating balance in the body through developing both strength and flexibility. This is done through the performance of poses or postures, each of which has specific physical benefits. The poses can be done quickly in succession, creating heat in the body through movement (vinyasa-style yoga) or more slowly to increase stamina and perfect the alignment of the pose. The poses are a constant, but the approach to them varies depending on the tradition in which the teacher has trained. Life with its instructors offers you a unique style of yoga which is designed to facilitate a mind, body and spirit connection. We welcome all levels of experience and teachings are shared in a supportive environment that invites exploration and encourages growth. We have introduced many of our guests to yoga for the first time; plus we regularly have yoga teachers join us as guests who also come away with new learning to add to their yoga practice. Our instructors love to get in tune with our guests so as to create a real physical and mental growth path, but only when everyone will have found out a little something extra to take with you as a carry in daily life we will have achieved our goal!


TYPICAL DAY
Our typical day is our passion!
After many years of experience Life has no doubts how facing a healthy day full of physical and mental wellbeing. Life is on the Costa Rican territory to be exact in Mal Pais-Santa Teresa since 2003.
Over the years we have refined our knowledge to make you live every moment to 100% in tune with the flow of the place. The experience gained allows us to let you surf in various spots at the right time of the tide, to enjoy the right light of sunrise and sunset for an unforgettable lesson of yoga. Also develop the beneficial and relaxing in our spa has been one of our strengths over the year.

Our staff has been sought among the most experienced for the passion that put in their discipline!
Life also believes that quality and varied nutrition keep your body renewed and full of energy, for this purpose we have organized a multi-ethnic culinary tour in the town's best restaurants.
In Life scale of values your requests occupy the first place, hence our success!


For Life Guest only the opportunity to join of a special day like this:
06:00-07:00     Yoga
07:30-08:30     Breakfast
09:30-12:30     Surf lesson
13:00-14:30     Lunch
14:30-17:00     Relax (swimming, massage, poolside, ...)
17:00-18:00     Sunset surf session, running, cicling
19:00-20:30     Dinner

This is our program, are you ready to enjoy it?
MORE INFO, HOW TO GET THERE & FAQ
---
SURF CONDITIONS
---
Breaks directly at the main spot and at nearby spots
- in front of the resort there is one spot (LA Lora beachbreak ) with many point A-frame so you can choose the less crowded; 100 m there is a point break (Roca mar) with right wave that works with swell from north; 2Km there is a point break (Mar Azul) with left wave better with swell from south, further south there is a reef break with tube wave only for pro surfer.
- distances: 50-100m from the main spot
Seasonal conditions
-water temperature :average 29°C – 84.1°F
- air temperature :from 25°C to 35°C
- wind :off-shore or absent
- waves :all year round
Crowd factor and local people
- crowded or quiet place? Quiet place , more crowded in the high season
- local habits: Sharing and Pura Vida
- do locals share the waves with others? yes
---
SURROUNDINGS / REGION
---
Characterization of surroundings/region
Stoke your soul visiting the pristine forests of the most extreme part of the Nicoya peninsula. Found your energy with local wildlife, You will disconnect by the gears of society to live an extraordinary feeling of well-being! Thanks to Life You can reconnect to Nature and receive its benefits! Life want to make your experience unique, tailor-made for you. You'll be free to choose from the delightful activities listed below those which stimulate your spirit!

Hike to soak up natural vibes; Life through this tour will allow you to discover the still virgin corners of nature, where animals are at home...so you can really feel the vibrations that bind all living things! Life transmit this important message because the ultimate goal is to open eyes on the progress of the world today, helping to understand how important the role of each of us on this planet! An example for those around you…respect all forms of nature!

- general information about region (situation, distance to bigger towns, sights, etc.): Costa rica is a democratic repubblic since 1978 has not army . they invest in tourism and education .Costa rica is the safest state of central america, for these reasons it's called "Switzerland of Central America".The biggest town close to us is Cobano(18 Km )
- culture, local people, customs : Tico are friendly people in and outside of the water
- helpful language skills : Spanish and english , a simple dictionary is the best thing
- currency and cost of living- health (vaccinations required, medical care, insurance, etc.) :approximately 510colones= 1 $; a travel medical insurance is recommended; no vaccinations are required
---
Activities and facilities
---
The following are Extra and not included activities
   
Visit Cabo Blanco National Park
It was the first protected area in Costa Rica (1963), a dry forest, which includes a marine area and was founded by two Europeans: Nicolas Wessberg and his wife Karen Mogensen.
Playa Capo Blanco is lovely and deserted with azure and blue sea, and everything is surrounded by tropical vegetation. Magic is the visit to the nearby Isla Cabuya, reachable only by foot at low tide.

Horse Riding
Test the freedom to discover a white beach sand or delve into the jungle riding a horse..feel the air on your hair!!

Mal Pais Canopi Tour
This Tour offers everyone an exhilarating opportunity to soar through the rain forest high above the forest floor.
There you will view jungle life from a perspective previously reserved for a
select group of researchers , photographers and animals.
You will move from tree to tree like a monkey!!

Rainsong Wildlife Sanctuary
The Rainsong Sanctuary and Wildlife Rescue Center are located in Cabuya, on the edge of Costa Rica's oldest National Park, "Reserva Natural Absoluta Cabo Blanco".
It is wonderful to see the effort these guys put in the help caring for animals in need and allowing them to return to their normal lives!
They are always great and Life will support this fantastic project!
---
JOURNEY
---
Ways to get to the camp
Our Surf Yoga and Spa retreat is situated on Mal Pais, in the south western corner of Nicoya Peninsula.
The elegant style and quality of bars shop sand restaurants has merged with the naturalness of the site with the highest respect for the environment. Costa Rica is that its do-gooder fans ranging from ecologists to proud Ticos (costaricans) are vocal and vigilant. Nature hire suffers some blows like everywhere but at least it is taken seriously and LIFE do it even more!

DON'T FORGET: Life provides a shuttle service from/to Tambor Airport without additional cost.


Domestic Flights
Departing from San Jose, this flight will take around 30 minutes to get to Tambor. From Tambor it will be just another 30 minutes ride to get to the hotel.
For more information about local flights please visit: www.flysansa.com

Drive yourself to the hotel
You can drive from San Jose to our retreat, this will take you around 5-6 hours trip and it includes a stop in Puntarenas where you must take a ferry in order to cross the beautiful Gulfof Nicoya.
From San José downtown take the direction to the Santamaria international airport, once you get to it, follow the same road (Bernardo Soto HWY-Panamericana) to Puntarenas. Reach the dock area right at the end of the city of Puntarenas and catch the ferry boat to Paquera. From Paquera drive on the main road following the signs to Cobano-Santa Teresa. From the Liberia international airport go south driving to Nicoya, once there follow the road to Carmona, Lepanto, Jicaral, Naranjo, Paquera, Cobano and finally to SantaTeresa.

Bus
Daily direct bus service between San Jose and Montezuma/Mal Pais area. Departures in San Jose from "San Carlo" bus station. This bus trip will take 5 hours. From San Jose there is a bus leaving twice a day from the "San Carlo" bus station to Mal Pais- Santa Teresa.It costs around 15$ per person, NOT including the ticket for the ferry boat (2$). Depending of the schedule, this bus can stops at the main intersection (Frank's Place) or just 200 meters from LIFE, so it's better to be informed. Actually it's not possible to book the seat in advance, but  it could change in the foreseeable future. Telephone number of the bus company:+506 2642 0219

LIFE can provide you the journey from San Jose to our retreat by bus or plane, applying additional costs.
PACKAGES & PRICES
---
LIFE PACKAGE A -  from 2535,00$ per Week / Person
---
 This Life package includes:

- 8 days and 7 nights in our luxurious beachfront location;
- all inclusive food package: breakfast, lunch and dinner ;
- 3 free tickets for best selection of local restaurants (excluding day of arrival and departure where we will serve you main meals so you are free to pack and unpack, absorbing the time zone or shopping in typical local shops);
-highly trained surf instructors who will follow you step by step every day in the water to pass you on all of their knowledge of surfing with a smile and the joy of  knowing that they do the greatest job in the world;
-yoga classes every day to cleanse the body and mind from the stressed of everyday life;
-an hour of wide range of massages to choose from our SPA according to your needs;
-shuttle service from/to Tambor Airport;
-we provide all the best equipment for surfing from softboards for beginners to the most innovative epoxy and fiberglass boards for more experienced surfers, rash guard etc.;
-opportunity to use our surfing equipment throughout the week in this regard you should experience a sunset sitting on the line up .. having the same point of view of a dolphin is priceless;
-Life offers all services needed by the concierge at the daily cleaning of fully equipped rooms;
-at the end of the course we will provide LIFE certificates stating  your level of surfing and respect for nature;
-photo CD with your best surfing moments;
-complementary wireless internet;
-addition to the basic tasks of surfing and yoga we also have other activities that are in the EXPLORE section so please take a look to our website (www.lifesurfandspa.com).

Prices:

Life Shared (All Year): 2535,00$ (8 days, 7 nights)
Life Private(All Year): 2855,00$ (8 days, 7 nights)
Life Shared(Christmas/Easter): 2825,00$ (8 days, 7 nights)
Life Private(Christmas/Easter): 3180,00$ (8 days, 7 nights)

Notes
- Rates are per person and do not include airfare;
- Solo travellers are welcome to choose a shared room, you will be paired up with a suitable room mate;


---
ONLY ACCOMMODATION A - from 1050 $ per Week / Person
---
This package includes:

Life Shared (All Year): 1050$ per week & person
Life Private(All Year): 1260$ per week & person
Life Shared(Christmas/Easter): 1364$ per week & person
Life Private(Christmas/Easter): 1540$ per week & persont