ABOUT THE SURF CAMP
---
CAMP CHARACTER & OPERATOR
---
Hooked Cabarete was founded by Dutch couple Ybo and Chantal in 2005. In 2012 they sold Hooked Cabarete to Walter and Jeannette Derungs, a Swiss-American couple.
There have been many improvements to the Hooked Cabarete surf camp since Walter and Jeannette took over but the spirit of Hooked remains.
Carlos is our gardner and maintenance master. He is with Hooked since the beginning and keeps the garden looking good. Carlos loves to open coconuts for guests with his fancy machete skills!
Niurka is our maid. She is the daughter of Carlos and does a great job keeping your rooms clean and tidy.
Together with Niurka and Carlos we do everything we can to make sure that everyone has a great holiday. Also if you have any questions before or during your stay, don't hesitate to ask. We are happy to give you info about the best places to go for dinner or a drink, nice things to do or see or to answer any other question you might have.
We at Hooked Cabarete offer everything to make your holiday in Cabarete perfect. Our small scaled Apartment Hotel is located in the beautiful area of the National park Playa Encuentro right near the surf spot. We organize surf and kite lessons, but also many other activities and trips and of course we are also happy to give you advice about other things to do and see.
No matter if you want to Kitesurf, Surf, or just chill & relax you will have a great time here. We will take care of all your needs, just send us a message to find out more about how we can create an unforgettable vacation in our little paradise.
---
LOCATION
---
Cabarete - Known as the Mecca for Kitesurfing

Cabarete offers great opportunities for water sports. Year by year many enthusiastic kiters and surfers from all over the world, or those who want to become one, choose Cabarete as their favorite destination for a holiday. Perfect wind and wave conditions, crystal clear warm water, lots of sunshine and the beautiful Caribbean surroundings with its white beaches and thousands of palm trees are the best reasons to come. And besides surfing and kitesurfing, lots of other things to do and see.
ACCOMMODATION AND CATERING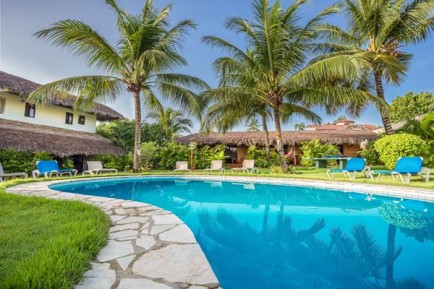 ---
ACCOMMODATION
---
The high quality surf camp apartments are suited for one, two, three or four persons (including children) with a fully equipped kitchen with gas stove, microwave, coffee maker, fridge. Rooms also include a couch, bathroom, potable hot and cold water, private terrace with hammock, 24 hour electricity, valuables safe, and optional air-conditioning.
Furthermore, there is a swimming pool in the large, tropical garden, a BBQ grill, yoga platform and a free high speed internet connection. We have rooms with 1 queen bed or with a queen and a single bed. Additional single beds can be placed in the larger rooms if needed. For small children and babies, cribs are available.
SURF COURSE AND ACTIVITIES
---
SURF COURSE
---
Our surf school partner is Chino's Surfschool. Chino's Surfschool uses experienced, multi lingual instructors. At the surf school you can also rent surf boards. Beginner boards, but also different types of boards for advanced or intermediate surfers.
---
ACTIVITIES
---
Hooked Cabarete is not only right next to the surf spot but also only a short ride from world class kite boarding and windsurfing conditions. Other activities include yoga, stand up paddling, wakeboarding, mountain biking, canyoning, kayaking, horse back riding, snokeling, diving, fishing, zip-lining, hiking and seasonal whale watching.
MORE INFO, HOW TO GET THERE & FAQ
---
JOURNEY
---
PLANETUI Belgium
flies from Brussels to Puerto Plata every week (20 minutes from Hooked). The round trips cost about 700 euros.
PACKAGES & PRICES
---
SURFING PACKAGE  - from 340 € per week / person
---
The package includes:

-Apartment accommodation  
-intensive surfcourse with 3 lessons, every day board rental, leash, lycra, wax


| | | | |
| --- | --- | --- | --- |
|   |    1 person        |    2 persons      |   3 persons      |
| 1 week             |     485€ |     384€ pp |    340€ pp |
| 2 weeks             |     853€ |     652€ pp |    563€ pp |
---
SURFING & YOGA PACKAGE - from 412 € per week / person
---
Benefit from combining and merging the practise of SURFING & YOGA.
Whether you want to improve your strength, flexibilty, concentration or breathing – all important in SURFING – practicing YOGA does help you reach these goals quicker.   This results in better balance on your surfboard, more rhythmic paddling and moving on the board, as well as an increased awareness of your own body, the connection to the water, the waves, and your board. Yoga practice will help you stay calm and relaxed when you are faceed with critical or dangerous situations on the water. The Hooked Surf and Yoga packages are a great and economical way to benefit from Yoga to as a way to have more success and fun as a surfer.

The package includes:
-Apartment accommodation
-beginner surf course, 3 group lessons, every day board rental, 5 yoga lessons per week


| | | | |
| --- | --- | --- | --- |
|   |    1 person        |    2 persons        |   3 persons      |
| 1 week             |     557€ |     456€ pp |    412€ pp |
| 2 weeks           |     992€ |     791€ pp |    703€ pp |
---
NEW!!
---
The Hooked Cabarete Camp now also offers kitesurfing packages (with or without yoga)!