ABOUT THE SURF CAMP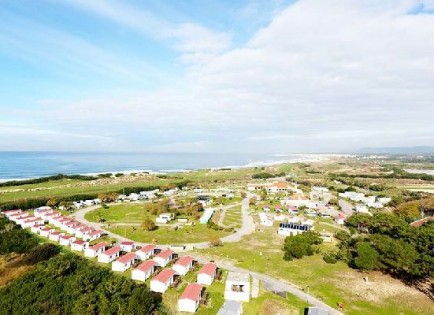 ---
LOCATION AND SURF CONDITIONS
---
The surf camp is located directly at the beach. Distance to the little village Estela is about 3 km. The surf spot Estela is very quiet, uncrowded line-ups with waves for every level.
---
CAMP CHARACTER
---
Relaxed surf camp with 4 shared and 3 private tipi tents. Main language in the camp is English, but we also speak German, Dutch, French, Spanish and Portuguese. 
---
CAMP OPERATOR
---
After travelling and surfing around Europe for many years, we decided to settle on one of our favourite quiet surf spots. Here, we welcome like-minded friends to introduce them to a unique and inspiring lifestyle. 
ACCOMMODATION AND CATERING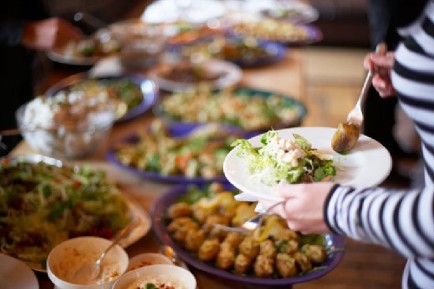 ---
ACCOMMODATION TYPES
---
Camping in fully equipped Glamping tipi tents for 2-4 persons with sea view, next to a quiet beach; shared bathroom in sanitary block, shared kitchen, shared chill area. Free parking in front of campsite, swimming pool, internet, playground, sports court, restaurant, shop. Bed linen is provided. Lockers can be rented at the campsite reception. Non-smoker accommodation with designated smokers areas.
---
CATERING
---
Half pension with daily breakfast buffet and 5x dinner per week. Shared kitchen provided for lunch and dinner-free nights. Little camp shop nearby to buy basic food. We will suit all kinds of diets, just let us know what you can't eat!
SURF COURSE AND ACTIVITIES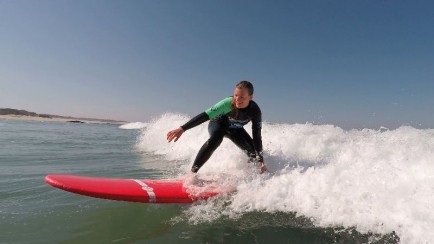 ---
SURF COURSE DETAILS
---
We teach on 5 days a week à 1,5 hours/day. The groups are divided into surf level and we have a maximum of 8 students per group
---
SURF MATERIALS
---
In our surf lessons we work with Softtops and rubber fins, but we do offer a variety of rental hardtops for more advanced surfers. The use of all surf equipment (softtops, hardtops, wetsuits) is included in the stay and the equipment can be used at all times.
---
OTHER ACTIVITIES
---
You will never be bored during your Surf Camp holiday! There are a lot of activities to choose from when you are not surfing, from yoga, games to just chilling out at the beach. You can always tell us what you like and we can try and arrange it for you. A few of our activities are:
Day trip to Porto. Discover this amazing city voted Best European destination 2017!!!
Party! Summer is great in Portugal, we have themed nights with animation and activities.
Chilling at the beach and enjoy the amazing sunset
Camp Quiz for all Quizheads
Slacklining & Indo-Boarding for better surf balance
4 yoga sessions
MORE INFO, HOW TO GET THERE & FAQ
---
 SURF CONDITIONS
---
Breaks directly at the main spot and at nearby spots

The surf spot Estela is 200m away from our camp. It is a beach break and therefore perfectly suitable for kids and beginners.
Seasonal conditions
Water temperature 18-20°C in the summer, air temperature usually between 20-30°C. Low winds in the mornings, picking up throughout the day, dropping off in the evenings.
Crowd factor and local people
Uncrowded surf spot with no local surfers.
---
 SURROUNDINGS / REGION
---
Characterization of surroundings/region
Genuine Portuguese atmosphere with a lot of agriculture and friendly locals. English is spoken in most parts.
---
 JOURNEY
---
Ways to get to the camp
Via rental car, airport shuttle, public transports to Póvoa de Varzim. We organise free shuttles from Póvoa to the camp if needed.
PACKAGES & PRICES
---
Surf only in shared tipi tent  - 435 € per Week / Person
---
This package includes:

7 nights in a spacious and fully equipped shared tipi tent on our ISurfPortugal surf camp in Estela
Daily breakfast buffet with continental selection 
5x dinner including salad and a dessert 
5 days surf lessons à 1,5 hours/day 
Use of the surf equipment (surfboards & wetsuits) throughout the whole stay 
Surf lesson insurance 
Use of all facilities of the surf camp Estela and the campsite Rio do Alto
---
Surf only in private tipi tent -  490 € per Week / Person
---
This package includes:

7 nights in a spacious and fully equipped private tipi tent on our ISurfPortugal surf camp in Estela
Daily breakfast buffet with continental selection 
5x dinner including salad and a dessert 
5 days surf lessons à 1,5 hours/day 
Use of the surf equipment (surfboards & wetsuits) throughout the whole stay 
Surf lesson insurance 
Use of all facilities of the surf camp Estela and the campsite Rio do Alto
---
Surf & Yoga in shared tipi tent  -  475 € per Week / Person
---
This package includes:

7 nights in a spacious and fully equipped shared tipi tent on our ISurfPortugal surf camp in Estela
Daily breakfast buffet with continental selection 
5x dinner including salad and a dessert 
5 days surf lessons à 1,5 hours/day
4 days of yoga lessons 
Use of the surf equipment (surfboards & wetsuits) throughout the whole stay 
Surf lesson insurance 
Use of all facilities of the surf camp Estela and the campsite Rio do Alto
---
Surf & Yoga in private tipi tent  -  530 € per Week / Person
---
This package includes:

7 nights in a spacious and fully equipped private tipi tent on our ISurfPortugal surf camp in Estela
Daily breakfast buffet with continental selection 
5x dinner including salad and a dessert 
5 days surf lessons à 1,5 hours/day
4 days of yoga lessons 
Use of the surf equipment (surfboards & wetsuits) throughout the whole stay 
Surf lesson insurance 
Use of all facilities of the surf camp Estela and the campsite Rio do Alto