ABOUT THE SURF CAMP
---
LOCATION AND SURF CONDITIONS
---
We are located just 100m away from Hiriketiya beach. A little horseshoe bay with good surfing conditions year round for beginner to intermediate levels 
Take your board out and hop off the point or burrow a surfboard from us and try it out in the bay. Local Surf guides are on call and lessons can be organised with reception. Jasper is a great launch pad for day trips to other waves as well so surfers will be in paradise
---
CAMP CHARACTER
---
Surrounded by leafy coconut palms, with far-reaching ocean views, Jasper House offers the perfect blend of quiet seclusion and accessibility to the beautiful location. Beach cafes line the shore, but situated just a two-minute walk up the hill, Jasper House benefits from a degree of separation–making it perfect for those looking for a relaxing break.
Lush tropical settings, an attentive and talented team and a quietly luxurious design- complete with private lap pool and yoga shala- create the ultimate lifestyle package hidden away from view. Whether you come for a retreat– to escape from it all–or just to indulge in style, Jasper House offers the perfect blend of indulgent seclusion and immersion in Sri Lanka's breathtaking natural beauty.

We cater to all types of camp, from men/women only, adults, families and more. We have 12 deluxe rooms available 
ACCOMMODATION AND CATERING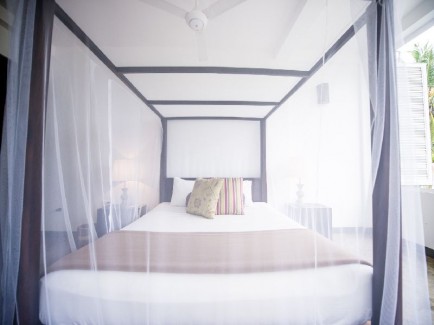 ---
ACCOMMODATION TYPES
---
  Each room at Jasper is unique. Most of the rooms are open air and will feature a beautiful open air bathroom. The Deluxe Pool Rooms are more private with closed bathrooms and full closure. Each room features a King Bed and there is Wifi throughout the hotel. The rooms are fitted with locally produced furnishings and fittings mixed with antiques and art deco features.
Some of the rooms look out toward the ocean and many of the rooms have sweeping views of the coconut grove on the headland. Open rooms provide a sitting area with lounge and coffee table which make for an amazing breakfast spot.
Courtyard Deluxe Rooms provide a nice setting with a private ground floor courtyard and the option for an AC room.
---
CATERING
---
We offer breakfast included, half pension or full pension to all retreats.
As well there are a variety of restaurants walking distance along the beach. 
Our kitchen is happy to make modifications to meals to cater for all types of diets, gluten free, vegetarian, vegan etc.
SURF COURSE AND ACTIVITIES
---
OTHER ACTIVITIES

---
Yoga
Jasper house is a beautiful place to relax and enjoy a Yoga class. A simple and tranquil Yoga Shala sits tucked away at the end of the rock pool. Classes enjoy the sea breeze and the Shala sits high to provide sweeping views of the coconut grove we are in.  Enquire with us for further information about what Yoga is happening during your stay.
MORE INFO, HOW TO GET THERE & FAQ
---
 SURF CONDITIONS
---
A vibrant surf town with a buzzing community, Hirikiteya Bay is one of the Southern Province's best surf breaks for beginner and advanced surfers. The bay is just below the hotel, where consistent waves for all levels of surfers break all year round. You can hear the waves from bed and glimpse through coconut trees will help you picking the tide and best time of day for your session.
---
 SURROUNDINGS / REGION
---
Leafy coconut palms line the white sandy shore of Hirikitiya. Jasper House sits on the quiet point at southern end of the bay. A dusty road takes your along the beach and to the cafes and restaurants that line the shore. Tuk tuks putter by while you explore… Surf the point or learn in the bay. Swim, eat local, wander the beach or roll out the mat for Yoga.
---
 JOURNEY
---
Hiriketiya is situated on Sri Lanka's south west coast. Getting here is easy – Hiriketiya is just off the main highway at Dikwella. It's an easy drive along the highway from Colomobo or the Airport, and the Matara train station is about 40 mins away.
PACKAGES & PRICES
---
PACKAGE A  - from $799 per Week / Person
---
This package includes:

6 Nights in our Deluxe Palm View room
4 Surf lessons
breakfast