ABOUT THE SURF CAMP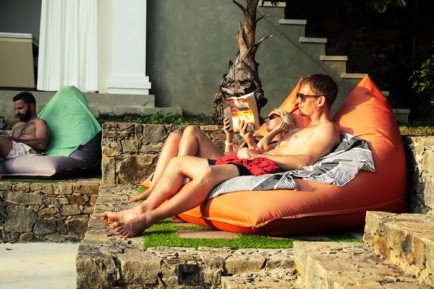 ---
LOCATION AND SURF CONDITIONS
---
The Salty Pelican Yoga & Surf Retreat in Cascais Portugal, is located right in the heart of the Cascais bay, just steps away from the beach and train station. So don't stress about being too far away from the beach, town and all the tourist sights, as everything is within walking distance from The Salty Pelican. We have done you a favour by locating at the perfect position. The Salty Pelican surf and yoga retreat sits snuggled between two sun-dappled tropical shores of Hiriketiya bay, famous for it's surfing and Dickwella's perfectly long beach for swimming and amazing colourful sunsets. We have located in the perfect position on the headland between these two incredible beaches, separated only by a 400 metre walk. 
---
CAMP CHARACTER
---
Create memories of a lifetime in one of the most beautiful tropical beach locations in all of Sri Lanka. Rich in traditions, historical splendor and also has some of the best surf right on its doorstep... Imagine beautiful nature, beachside cafes, swinging monkeys in coconut trees, lively beach bars and tasty local cuisine. Relax & sleep in a laid-back beach retreat, eat well to restore, revive, and feel amazing. Whether you're a complete beginner or a seasoned pro... our packages are tailored to cater to all levels of surfers & Yogi's.
---
CAMP OPERATOR
---
The Salty Pelican yoga & surf retreat was started originally in Portugal by 3 friends in late 2015, who spent the last 20 years collectively backpacking and working their way around the world. We have created our yoga & surf retreats based on inspirations we have found along our journey and added them with a touch of our own. What makes The Salty Pelican retreats stand out from the rest - is that we are experienced travellers just like yourselves and we understand all the needs you may have whilst staying with us. We have extensive knowledge to share with you about about Sri Lanka and your future travels... we can't wait to meet you.
ACCOMMODATION AND CATERING
---
ACCOMMODATION TYPES
---
At The Salty Pelican you will find a variety of  premium shared rooms and superior rooms all with private ensuite bathrooms and balconies overlooking the pool for up to 46 guests. Along with an amazing open plan living area adjacent to the pool deck with large infinity pool for swimming and relaxing with the gentle water massage jets... Kick-up your feet in our beautiful tropical garden after a long day at the beach. Our retreat we designed and built from from the ground up!  So you'll find everything new, comfortable, modern, secure and clean. We give you comfort, luxury and quality for the lowest price we possibly can at this great location, right in the centre of the Southern coast of Sri Lanka.

Facilities:
Amazing Beach location
24-hr Staff  & Security Guard
Property & room security key card access
Large infinity swimming pool
Jacuzzi chill area in pool
Cozy open living space area adjacent to pool
Communal dining table (covered)
Poolside restaurant with charging points
All day menu + healthy drinks & cocktails
Jungle yoga deck + Daily yoga & meditation
Wellness centre offering massages & treatments
All rooms are modern with terrace overlooking pool
All rooms with private ensuite bathrooms
Daily housekeeping
Hairdryers available in all ensuite bathrooms
Outside garden showers 
FREE Yoga mats & equipment use
FREE Unlimited and filtered fresh drinking water
FREE Pool towels
FREE Wifi - including in your room
FREE Local map
FREE A la carte reakfast daily (*Package bookings only)
FREE Electronic lockers with personal charging points
FREE Book exchange
FREE Luggage storage
FREE Surfboard use (*Package bookings only)
FREE Lemongrass & Bergamot Shampoo and conditioner  dispensers in every shower
Laundry facilities
Rooftop cinema nights (dry season)
SURF COURSE AND ACTIVITIES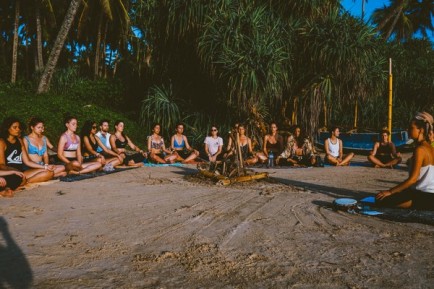 ---
SURF COURSE DETAILS
---
A team of certified instructors who follow a very unique approach in teaching, will make sure that you learn the proper techniques and have loads of fun whilst doing so. Come join us for one of the best weeks of your life... we can promise you that.
---
SURF MATERIALS
---
You can rent the materials from us.
MORE INFO, HOW TO GET THERE & FAQ
---
SURROUNDINGS / REGION
---
Characterization of surroundings/region
If beautiful beaches, delicious food, rich culture and stunning landscape aren't enough to convince you to hop on a plane to Sri Lanka, then take a look at the amazing wildlife that this little island in the Indian ocean offers. Despite its size, the country possesses an extremely high degree of biodiversity and is considered one of the top biodiversity hotspots in the world. Going on a safari in Sri Lanka is one of the best things to add to your itinerary. Both Udawalawe and Yala National Parks are a quick 2hr private air-conditioned transfer away. You will depart early morning from The Salty Pelican for a sunrise safari tour and be back before lunch time. Something you shouldn't miss on your travels to Sri Lanka.

You'll find an interesting array of cafés, museums, shops, bars, music venues and various attractions all within close walking distance from the hostel. Feeling too lazy to walk, just hop on one of our Free longboard skateboards available from reception... makes getting around Cascais quick, efficient and cheap. Need a restaurant, money or groceries, you will find an ATM machine, supermarket and variety of restaurants and cafes just a few minutes walk away.

Activities and facilities
Steps from our yoga & surf retreat you will find everything you need, from surfing spots, beach loungers, local restaurants, beach bars, supermarket, bakery, beachfront cafes, a bank and even some amazing National wildlife safari parks. You can spend your days at the awesome beaches that surround The Salty Pelican and your nights around our social open living space with pool, restaurant and bar or on our rooftop terrace for those magical sunsets. So whether your after peace of mind, relaxing massages, beautiful beaches or that special sunset drink... we have located at the perfect spot for you to enjoy. You will find the atmosphere here at The Salty Pelican is lively, friendly and has staff that actually cares about you.
---
 JOURNEY
---
Ways to get to the camp


FROM THE AIRPORT
If you are coming from Lisbon airport, take the RED metro line towards São Sebastião and get off at the Alameda station and there you must change to GREEN line that will take you directly to Cais do Sodré station (end of the line).
Approximate journey time, 20 minutes.
Ticket price: Approximately €1.40
From the aboveground Cais do Sodré station, take the train that connects Lisbon to Cascais, and get off at Monte Estoril Station (2nd last stop). Sit on the left side of the train for the best views.
Approximate journey time, 30 minutes.
Ticket price: Approximately €2.15

FROM LISBON CENTRE
From the aboveground Cais do Sodré station, take the train that connects Lisbon to Cascais, and get off at Monte Estoril Station (2nd last stop). Sit on the left side of the train for the best views.
Ticket price: Approximately €2.15

ARRIVE BY CAR

f you're arriving by car, the fastest way to arrive in Cascais is by taking highway A5, you have to pay a toll of €1,30 more or less. You also can take the N6 (Via Av. Marginal) along the more scenic coastal drive to Cascais.


PRIVATE TRANSFER FROM THE AIRPORT
We can book you a direct transfer from the airport straight to The Salty Pelican. Please send an email to book. 
Price: €50 ONE-WAY  1-4 person sharing.
PACKAGES & PRICES
---
PACKAGE A - SURF & YOGA - from 599€ per Week / Person
---
This package includes:

7 nights
7 x à la carte breakfast
Unlimited yoga classes
Daily meditation classes
1 x Seafood/Vegetarian BBQ dinner
1 x Sri Lankan Curry & Rice dinner
5 x Surf lessons
Transport for surf lessons
Unlimited surfboard rental
1 x Sunday night cocktail
All yoga mats equipment provided
Unlimited cold drinking water
Free time to explore National Parks
Free WiFi
---
PACKAGE B - BALANCE & RESTORE from 599€ per Week / Person
---
This package includes:

7 x Delicious & healthy breakfasts
Unlimited yoga
Daily meditation classes
1 x Seafood/Vegetarian BBQ dinner
1 x Sri Lanka Curry & Rice dinner
1 x 50 min. Full body oil massage
1 x 50 min. Deep tissue massage
1 x Body salt scrub
1 x 20 min. Head massage
1 x Sunday night cocktail
Unlimited surfboard rental
All yoga mats equipment provided
Unlimited cold drinking water
Free time to explore National Parks
Free WiFi