ABOUT THE SURF CAMP
---
LOCATION AND SURF CONDITIONS
---
Torre Loopa – certified Kite School on Sicily offering the official IKO Basic Course
The group size of our kite courses depends on the wishes of our students. Per day we do 2-3 kite hours, provided that there is enough power and motivation, we also like to do more. Training is generally done with a radio so that the contact is always established. The basic course is usually spread over 3 days. Would you like an extra private lesson? No problem. We are super flexible. All kiteboarding lessons can be customized according to your needs and schedule.
We firmly believe in personal care. At our kitesurfing school the most important thing is that you can kitesurf autonomously at the end of the course. So that it won't be dangerous for yourself or the other kiters – safety-first and quality before quantity are our mottos. It is also important to us that each of our students is familiar with all problematic situations in the water and can react quickly.
We often have children who sign up for kite lessons. Official rules are: From 10 years and 50 kilos. For children we recommend to take a windsurfing course first. If you already have a bit of water experience, kiting will come next year!
---
CAMP CHARACTER
---
Our kite school in Lo Stagnone is situated in the middle of a nature reserve. That's why the school has a family atmosphere. Nevertheless, the school is equipped with a parking lot, chill-out area, landing area, bar and restroom. The kite lagoon is also recommended for advanced kiters. If you practice certain tricks, you don't have to wait for a lifeboat or the like. In hip-deep water you just get up and can go on.
ACCOMMODATION AND CATERING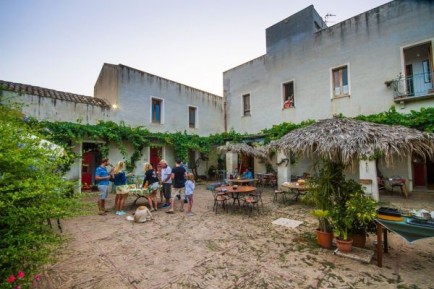 ---
ACCOMMODATION TYPES & CATERING

---
We offer a range of different accommodations so there is something for everyone. Each of our accommodations is located near the kite spot and has fast, stable Internet (5 – 15 MBits). Depending on whether you prefer to live alone, as a couple, family, whole group or with other kiters, we have different offers for you.

Kitehostel Marsala
The Kitehostel is a renovated Sicilian house where you can quickly get to know other kiters. The Kitehostel is close to the Kiteschool.
You can rent a bike and get to the kite spot and the supermarket quickly. The internet is fast (5 – 15 mbps) and stable. Cooking and eating together is desired but not a must.

Hotel Torre Lupa
The Hotel Torre Lupa is especially suitable for families. After kiting you can relax at the pool, where other German children also play – so the children don't get bored. Nearby there is a pizzeria, a vegetable shop, a pharmacy and a supermarket. The famous salt works and numerous other sights can be easily reached by car.

Baglio Fenici
Lo Stagone, with its saltworks and windmills, is one of the most impressive and famous landscapes in Sicily. The area is untouched by intact beauty and mass tourism. Baglio Fenici Resort is situated directly on the sea, has a beautiful panorama and is famous for its delicious breakfast.

Torre Sanchez
Nice apartment house, which can also be reached by foot from the spot. The outdoor parking spaces are free of charge. Some rooms have their own balcony and some offer sea views.

Marsala Kitehaus
The Stagnone Kite Apartment is located in the beautiful Residence Bella Vista just 5 km from Trapani Airport. There is a parking lot, W-Lan, kitchen and balcony. The kite school is only 2 minutes away by car or 7 minutes by bike. Very recommendable for couples and single travellers, who would like to have a cheap but neat apartment with its own bathroom.

Hotel Mozia
The air-conditioned rooms at Isola Di Mozia are equipped with a TV, a refrigerator and a private bathroom. Some rooms have their own balcony and some have a sea view.
SURF COURSE AND ACTIVITIES
---
SURF MATERIALS
---
You are very welcome to rent any kite equipment from us at fair prices. For us kite rental  means accompanied kiting. We are happy to help you choose the right material and always keep an eye on you if you need help. You can change the glider and board size at any time for free. We are also happy to help you with the assembly and double-check the material before you go out on the water.
---
OTHER ACTIVITIES
---
For windless days there are other nice activities: For example a boat trip to Favignana, Erice, Segesta, Marsala old town. Climbing routes are also very popular. And these are just a few examples of the many leisure activities. Since we live here, we have some very nice secret spots that we like to share with our guests. In Segesta there is a small hidden thermal bath in the middle of a forest, where we occasionally relax with candles, sparkling wine and music.  We also have a cool BBQ party every week with music and dancing. We regularly organize an unforgettable meal in Baglio Fontana Salsa, where the "Italian mama" cooks local specialties just for us. This restaurant is also very interesting from a cultural-historical point of view: it was originally the very first olive oil factory in all of Sicily, as you can read in the small olive oil museum. The oldest olive tree in the garden is 800 years old.



MORE INFO, HOW TO GET THERE & FAQ
---
 SURF CONDITIONS
---
In the kite lagoon Lo Stagnone you can stand for miles, which makes this spot perfect for beginners. If you make a mistake, you just get up and walk quietly out of the water.  Therefore you can rent equipment after the kite course and practice yourself. We always take care of our kitesurfers when they get to the rental status – Safety-first!
We are often asked if our station is not too crowded during the high season. The answer is no. Our landing area is very large and we do not accept more than 25 guests at the same time.  Our kite area is as big as it is safe, as there are no objects in the water.
The two most common wind directions are northwest and the Scirocco from the south. Both wind directions mean neither onshore nor offshore wind for our spot "Sideshore Wind" – the perfect prerequisite for learning. In addition, thermals play an important role for us, as the lagoon heats up quickly. The winds are therefore often stronger than announced – and the warm water temperature makes it easy to kite in shorts.
---
 JOURNEY
---
Ways to get to the camp
The approach is more than easy. There is a cheap bus from Palermo to Trapani airport (Birgi). From there we pick up our guests and take them directly to their accommodation or to the beach.
PACKAGES & PRICES
---
PACKAGE A: Kitesurf Basic Course  - from 793€ per Week / Person
---
This package includes:
Maximum 2 Persons
Safety training on solid ground/on the beach
Theoretical basics
Material structure
Launch and kite relaunch
Bodydrag on downwind
Launch with board
The first meters of downwind surfing

Duration: 8 hours spread over 2-3 days (Price: 340€)
---
PACKAGE B: Kitesurf Advanced Course  - from 840€ per Week / Person
---
This package includes:
Improving your kite control
Improving your launch
Practising going upwind
Practising tack
Possible exercise: Switch
On demand: Exercising jibe
Learning Jumps
Learning Grabs

Duration: 6 hours spread on 2 days (Price: €240)
---
PACKAGE C: Windsurf Basic Course  - from 840€ per Week / Person
---
This package includes:
3-day course (basic) – 9 h (small group of maximum 3 people) 240€
---
PACKAGE D: Windsurf Advanced Course  - from 840€ per Week / Person
---
This package includes:
2-day course – approx. 6 h (small group of maximum 3 people) 240€