ABOUT THE SURF CAMP
---
LOCATION AND SURF CONDITIONS
---
Let our surf guides take you on board the Kraken to the best surf spots scattered throughout the atolls till you're stoked.
---
CAMP CHARACTER
---
We offer tours with our two exquisitely packaged and finely tuned boats:

Kraken II
Exquisitely packaged and finely tuned Bold and brazen, Kraken II is 25 feet of pure mythical monstrosity unleashed. Armed to the teeth with state of the art nautical technology, this black beast is a fusion of unbridled adventure and uncompromising luxury.

While able to comfortably seat 8 persons while it roars and cuts through the open waters of the Maldivian deep blue, Kraken II also comes fully equipped with top of the line big game fishing equipment and a crew with a joint experience of xx years between them. Meticulously designed and tuned to perfection, Kraken II delivers the promise made by its bold visual statement with performance as well.

Kraken Kruiser
Explore the finest reefs, ride the best waves or get your selfsweating over game fishing with your mates - this is where it all begins! Come onboard Kraken Kruiser for those fun filled snorkelling trips or to do some cruising and island hopping or maybe jsut to have a few drinks with your buddies while we cruise into the sunset.


---
CAMP OPERATOR
---
Kraken was formed by some crazy water sports enthusiasts with their mutual love for the vast ocean and its mysteries, to bring you the adventure of the Maldivian seas, without compromising the luxury you deserve.
Armed with vessels and top shelf water sporting gear, combined with an extensive knowledge of our home waters, we provide a myriad of watersports activities for both the luxurious traveler to the thrill-seeking adventurer to indulge in.
At Kraken, our aim is to share the unique experiences and unforgettable journeys that Maldives has to offer, in ways that are unmatched and will keep you coming back for more.
ACCOMMODATION AND CATERING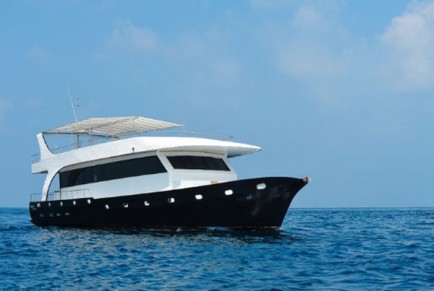 ---
ACCOMMODATION TYPES

---
For the most part, we offer one-day trips and therefore no accommodation. However, if you're looking for longer surf trips, the Kraken Kruiser (one of our boats) could indulge you with weeklong surf tours providing you accommodation on our liveaboard while we tour every nook and cranny of Maldivian breaks.
---
CATERING
---
You can order food and drinks from the menu on our Kraken Kruiser. For 12€ there is also an open bar onboard - Good vibes, good times!
SURF COURSE AND ACTIVITIES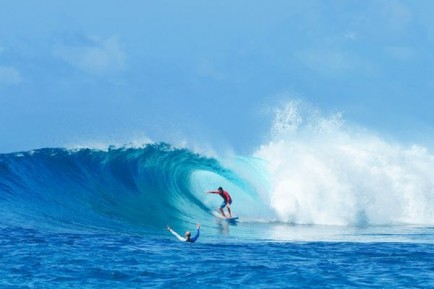 ---
SURF COURSE DETAILS
---
We don't offer surf courses. However, let our surf guides take you on board the Kraken to the best surf spots scattered throughout the atolls till you're stoked. If you're looking for longer surf trips, The Kraken Kruiser could indulge you with weeklong surf tours providing you accommodation on our liveaboard while we tour every nook and cranny of Maldivian breaks.
---
OTHER ACTIVITIES
---
Diving
Delve yourself into an ocean of vast treasures and submerge your senses in the breathtaking underwater scenery. Envelop yourself in the magnificent ocean that holds the beautiful islands of Maldives with our highly-trained staff and instructors, as we take you on a tour of amazing dive spots renowned the world over. Get more bang for your buck as the lightning fast Kraken delivers a different dive spot before your interval between two dives is over.
Snorkeling
What lies beneath the glimmering pristine waters of paradise? The exquisite reefs beneath our waters are home to creatures of near legendary proportions and untold visual riches. Over 5 locations with each one promising a unique and exhilarating adventure of its own, you are promised a breathtakingly beautiful assault on your senses that would differ every time. Under the watchful guidance of our able bodied expert crew, you will be equipped with the best snorkeling gear, to ensure you get the best of both worlds; luxurious adventure with uncompromising security.

Cruising
Enjoy cruising onboard Kraken Kruiser to meet your adventure needs. The black beast covers the whole of Male' atoll and the atolls adjoining it, and is always prepared to whisk you away to your destination in utmost comfort. The Kraken Kruiser is suited for all your sea travels, be it an surf trips with your buddies, diving trips or a tour of the whole atoll just island hopping to sate the explorer in you.
Sunset Cruise
Watch the sunset behind a glistening ocean with frolicking dolphins eager to make your acquaintance. Choose to either dart across the seas aboard the Kraken and let the excitement rush through you as you meet one of the most intelligent creatures in the vast ocean, or set sail on the Kraken Kruiser for a romantic setting and watch the dolphins frolic in front of the setting sun as you sip on a delightful cocktail to complete the ambience.
Watersports
Treat yourself to a wide range of exciting watersport activities ranging from fun tube and banana rides, wakeboarding, watersking, standup paddle boarding or subwing to jet ski's under the guidance of our capable instructors. Whether you prefer a relaxing ride around on a paddle board or seek the adrenaline rush of cutting the seas on a jet ski or just want to learn and test out a new sport that intrigues you, The Kraken will deliver. Just select your preferred entertainment from our list of offered watersports and leave the rest to us. We will lay out a whole trip for you with premium equipment and the perfect spots to enjoy them.

Game fishing 
Feel the excitement as you compete with your friends to catch the biggest game with the help of the finest equipment and crew. Challenge the mighty Maldivian seas on an adventurous fishing tour with us as we take you across the waters famous for game-fishing, which rank top on the avid angler's list. Kraken is armed with all the gear and experienced staff needed to not only hone your skills, but also experience game-fishing in a truly Maldivian style. You will be presented with a myriad of targets such as Yellowfin and Dogtooth Tuna, Sailfish, Marlin, Wahoo and many more.

Night Fishing
Take part in a piece of Maldivian culture as you catch, grill and feast on a variety of fish in the cloak of the night with nothing but the sound of waves to keep you company. Be it high adrenaline battle with the big game of the seas or just laid back fishing while you gaze at the stars, Kraken is more than happy to oblige. Top it off by barbecuing your hard earned catch, either by yourselves on a serene sandbank or by our chefs aboard the Kraken Kruiser.
MORE INFO, HOW TO GET THERE & FAQ
---
 SURF CONDITIONS
---
The Maldives are perfect for surfing especially if you are on an intermdediate or advanced level. Finding a great surfing spot isn't hard as there are plenty. Since many of them are however quite crowded it is definelty a great choice to go on a boat trip to more secluded spots. We will take you and your friends there and show you the best spots scattered throughout the atolls.
PACKAGES & PRICES
---
PACKAGE A  "Full Day Adventour" - from 114€ per Trip/p.p.
---
Explore the best snorkeling spots and sand banks while you laze away the day in this full day adventour (9:00 AM - 6:00 PM).

INCLUDED ARE:
• 2 Snorkeling spots (Gears Provided)
• 1 Free Drink
• Lunch (Buffet)
• Island Hopping
• Sand Bank Visit
• Tea / Snacks
• Sunset Cruise
---
PACKAGE B  "Half Day Adventour" - from 73 € per Trip/p.p.
---
What better way to spend your afternoons than snorkeling these beautiful reefs or just wandering on sandbank (9:00 AM - 2:00 PM).

INCLUDED ARE:
• 2 Snorkeling spots (Gears Provided)
• 1 Free Drink
• Sand Bank Visit
• Lunch (Buffet)
---
PACKAGE C  "Sunset Cruise" - from 53 € per Trip/p.p.

---
All inclusive drinks served onboard while we take a slow cruise to watch the sunset to a perfect day (4:00 PM - 6:00PM)

INCLUDED ARE:
• All Inclusive Alcoholic drinks
• Tea / Coffee
• Snacks