ABOUT THE SURF CAMP
---
LOCATION AND SURF CONDITIONS
---
Andalusia is the warmest region in Europe! The Atlantic coast here is an insider tip for surfers with summer temperatures in autumn and spring and a pleasant Mediterranean climate in winter. El Palmar is the epicenter of the surfing scene in southern Spain.
---
CAMP CHARACTER
---
"Everything comes from the heart!" Our team is there for you with much love and joy! We are experienced surf instructors, language teachers, yoga experts, restaurateurs and insiders of the region. We attach great importance to a close connection to the village and the region and work exclusively with nice local Spanish colleagues. Andalusia has the highest unemployment rate in Europe and we want to do something about it together with you. We are looking forward to seeing you!
---
CAMP OPERATOR
---
Moni...from the Chiemgau, as your hostess, will make you feel good in all respects. From the loving furnishing of the rooms to new ideas for our kitchen to specials such as beach lunches, kids events and unforgettable Christmas and New Year's Eve parties - good vibes and fun are always guaranteed when Moni is around.

Tom... surf coach, life saver, ski instructor, windsurf instructor, ski trainer with great experience in sport coaching. He started surfing here on the Costa de la Luz over 25 years ago, then "surfed" the whole world and has lived here for 15 years in his home and favourite area El Palmar. 
ACCOMMODATION AND CATERING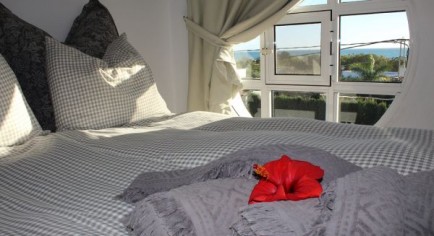 ---
ACCOMMODATION TYPES
---
OUR ROOM
Here you will find lovingly furnished double, twin and single rooms, either directly in the lodge or in our neighbouring holiday homes. Our bathrooms are shared by 2-4 guests and thoroughly cleaned daily. WiFi gibt´s free of charge, of course.
APARTMENTS & SUITES
If you as a couple or small family wish your privacy and still want to participate in the events of La Luz Lodge, then you can live exclusively in our great loft apartment with sea view or one of our dreamlike holiday cottages. Catering and nice people gibt´s in the lodge and your siesta, you can hold in peace on the terrace or in the garden of your apartment or cottage.
HOLIDAYS
If you come as a family or larger group, you can also get a holiday home with room for 4-8 people and a large garden just for you. There you can be among yourself and still have contact with our other nice guests while eating at the lodge.
FAMILY PLANT
During the school holidays you can live with your kids in our family complex "La Luz Casitas" only 200m from the beach (see video). "La Luz Casitas" are 7 holiday homes with a large central sun deck and plenty of space to play. In addition, each house has its own small garden. In the central house or on the sun deck our cooks will provide you with breakfast, lunch and dinner. You can walk to the beach in 3 minutes. I'm sure you'll be very comfortable there.
CASA DE CUORE
Our Casa de Cuore is an oasis of peace with sea views for small groups, yogaretreats, Spanish intensive courses, seminars, trainings and for surfers who wish a special experience. Casa de Coure is beautifully styled as a "Moroccan-Bavarian mountain chalet" and lies together with our yoga dome in the midst of fields and nature. Here you get unique experiences with the best food in small groups of up to 9 people.
---
CATERING
---
 Fresh rolls and Monis homemade jam in the morning, delicious salads and light warm dishes at noon, and in the evening you will be spoiled with 3-course menus from Mediterranean, Spanish and Moroccan cuisine.
We buy fresh from the local farmers! Included are daily breakfast + lunch (incl. water) + 3 dinners in the lodge (incl. wine + water) + 1 tapas meal in a local tapas bar (here excl. drinks).
On two evenings of the week you can try out the local restaurants, in addition gibt´s of course tips from us.
SURF COURSE AND ACTIVITIES
---
SURF COURSE DETAILS
---
Our 5-day surf courses consist of theory and practice lessons, the maximum group size is 8 persons per surf coach. Most of the courses take place in the morning between 10:00-13:30, in the afternoon you can surf or relax on your own. You can start your surf course any day of the week, we have flexible arrival and departure days. Our surf instructors are professionals in their field and teach you in English, the children's courses gibt´s in German. The focus of our courses is on your personal, individual skills and progress.
---
SURF MATERIALS
---
SURFMATERIAL-RENTAL for all those who do not book a surf course:
Wetsuit 10 €/day
Surfboard rental 10 €/day
SUP rental 20 €/day
surfboard + wetsuit 100 €/week
---
OTHER ACTIVITIES
---
There are plenty of activities here, but most of our guests rather love the relaxation and tranquility here in the nature.
You can take advantage of our yoga offer, take a beautiful ride on the beach, mountain bike tours in the hinterland, take a trip with our nature guide and ornithologist into the cork oak forests with unique birdlife, learn Spanish with our language teachers, enjoy massages, race on the kart track or simply take long walks on the beach.
MORE INFO, HOW TO GET THERE & FAQ
---
 SURF CONDITIONS
---
Beginners
: September to May. Beginners courses are possible the whole season, because we always find a place with beginners waves for you.  
Intermediate surfers:
October to mid May, mostly you have the waves at your front door all to yourself.  
Advanced surfers:
mid-October, November, December, January, February, March (winter offers excellent conditions with many empty line-ups.
---
 SURROUNDINGS / REGION
---
Characterization of surroundings/region
We are located in El Palmar on the Costa de la Luz (Andalusia), about 50 km south of Cadiz and 7 km south of Conil de la Frontera. El Palmar has one of the most beautiful unspoilt sandy beaches in southern Spain. Here you are directly at the famous Cape Trafalgar, the Moroccan coast is in sight.
The Costa de la Luz is the southernmost region of Spain and is considered the birthplace of flamenco, home of sherry, Andalusian horses and wild fighting bulls. Beyond the mass tourism only a few surfers cavort on the long, white sandy beaches. Cadiz, Jerez, Sevilla, Tarifa, Gibraltar and the famous "White Villages" can be reached in the vicinity or on day trips.
---
 JOURNEY
---
Ways to get to the camp
You can determine your arrival and departure days flexibly and you are not bound to week periods.
The best way is to travel by plane and then take a rental car, they are super cheap. Alternatively there is public transport and we also offer airport transfers from Jerez.
Airplane: Near El Palmar there are 4 international airports: Jerez de la Frontera (75 km away), Sevilla (120km), Malaga (220km), Gibraltar for our guests from England (100 km).
PACKAGES & PRICES
---
PACKAGE A  - from 510 € per Week / Person   
---
This package includes:


Single room supplement: 100,-€
Loft apartment (from 2 persons): + 130 € per person
Kids up to 12 years: - 50 €
Services:
7 nights in a double or twin room
7x rich breakfast
7x lunch
4x dinner (incl. water/wine)
1x original tapas meal in a local tapa bar (excl. drinks)
Free use of all camp facilities: cosy lounge, WLAN, skateboards, indoor boards etc.
Arrival daily and start of surf courses six days a week.
---
PACKAGE B  - from 670€ per Week / Person
---
This package includes:


Single room supplement: 100,-€
Loft apartment (from 2 persons): + 130 € per person
Kids up to 12 years: - 50 €
Services:
7 nights in a double or twin room
7x rich breakfast
7x lunch
4x dinner (incl. water/wine)
1x original tapas meal in a local tapa bar (excl. drinks)
Extensive surf lessons on 5 days incl. theory lessons
7 days surfboard and wetsuit free of charge.
Free use of all camp facilities: cosy lounge, WLAN, skateboards, indoor boards etc.
---
Without a Surf-Course
---
 SURFMATERIAL-RENTAL for all those who do not book a surf course:
Wetsuit 10 €/day
Surfboard rental 10 €/day
SUP rental 20 €/day
surfboard + wetsuit 100 €/week