ABOUT THE SURF CAMP
---
LOCATION AND SURF CONDITIONS
---
Located on the slopes of "Risco", this unforgettable place has exceptional views of the beach of Famara and its 5 miles of sand combined with stones, as well as the coast of Lanzarote and the "Archipelago Chinijo",group of islands consisting of the island of Alegranza, Montaña Clara and the island of La Graciosa.


---
CAMP CHARACTER
---
La Santa Surf is a brand born on the beach among surfers, with over 16 years of existence. We have a clear feelings towards the sport, and every year we create new projects and challenges remarkable for their quality and personal contact.
We want you to be part part of this great family that grows every day more and more. Share with us freedom, overcoming and respect that evokes the brand. We operate as an organization in which everything is important and anyone who is part of her is partaker of his steps.
La Santa Surf lives, breathes surf Lanzarote and the Canary Islands are Surf.


---
CAMP OPERATOR
---
All the members of this team share the practice of water sports, it is our passion. After collaborating with the brand La Santa in several championships and in different ways, our passion led us to open ProCenter, a meeting place for water sport lovers.


Jose Acaymo Gorrín:
 Local surfer from Caleta de Famara. He has been surfing his entire life. Shop and ProShop Purchasing Manager
Albert Zeggers: He moved to Lanzarote when he was very young in order to make his dream come true: surfing. He is currently living in La Santa-Tinajo. Surf School Manager.

Alex casanella: I.K.O. instructor since 2000. He has more than 14 years experience in sailing and 3 in surfing. Booking and Promotion Manager.


ACCOMMODATION AND CATERING
---
ACCOMMODATION TYPES
---
The ProCenter Famara offers all customers the opportunity to stay in one of the most privileged areas of Lanzarote, in the Natural Park Caleta de Famara. 
Bungalows with all amenities. Meetings with nice decor, satellite TV and Wi-Fi. Kitchen with dishwasher, freezer, toaster, coffee maker and microwave. Laundry room.
Large private courtyards. Terrace. Some bungalows have a private pool and intimate. BBQ areas with fireplace, sink and fully azocado terrace furniture.
We have different offers and Bungalows to choose.


SURF COURSE AND ACTIVITIES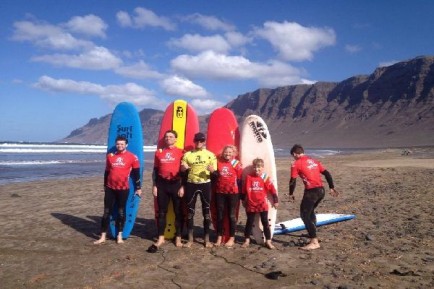 ---
SURF COURSE DETAILS
---
In ProCenter we would like to offer a 100% professional and 100% surfing service, since this is the spirit of our brand La Santa, 100% Canarian surfing.
We offer a wide range of services: children, beginner courses, advanced courses with the brand's local riders, with whom you will be able to surf in the best areas of Lanzarote.


---
SURF MATERIALS
---
Would you like not to worry about your board? Would you like to avoid problems at the airport due to a loss or broken equipment?
Would you like to save on carriage and baggage fees?
No problem! We will provide you with a suitable board for your level, either beginner, intermediate or advanced.
We have soft boards for beginners, Epox if your level is intermediate or La Santa fibre made by the best Shapers in the world in our workshop in Soo, where you will be able to surf without any problems using one of the best brands in the world "Santasurboards".
We also offer different sizes and designs according to your level, offering a wide range of boards. We are 100% focused on surfing, La Santa Surf ProCenter offers never-ending possibilities in the centre, either participating in one of our courses or renting surfboards, offering a totally innovative and different kind of service.


MORE INFO, HOW TO GET THERE & FAQ
---
SURF CONDITIONS
---
La Santa Surf Procenter is located in La Caleta de Famara, surfer and sailor small village on the island of Lanzarote. An ideal location for learn and practice surfing from beginners to advanced surfers recurring practice.
Miles of beach and waves every day Famara make a perfect place for surfing. It lies at the foot of the spectacular cliff of the same name. The dominance of trade winds favor the practice of water sports like surfing.


---
SURROUNDINGS / REGION
---
Famara is a protected natural area which enjoys the tranquility of a seaside town where you can find restaurants, lodging and Surf shops like ours.


PACKAGES & PRICES

* Discounts will be calculated in the booking process (first step)


---
PACKAGE A - SURFCAMP LANZAROTE - from 384€ PER PERSON AND WEEK
---
This package includes:

- 5 day course of 4 hours Monday through Friday
- Accommodation in Famara beach Bungalows within the park
- Surf Trainer specializes in rescue and life guard
- Surfboard high quality and special for beginners and neoprene
- Picnic in the lessons. Sandwich, juice and energy drink or water
- Liability insurance
- Small groups
- Diploma School La Santa Surf ProCenter to the level obtained.
| | |
| --- | --- |
| 5 to 8 people |  384€ per person |
| 2 to 4 people |  426€ per person |
---
ONLY SURF COURSE A - BEGINNER - 315€ PER PERSON AND WEEK
---
This package includes:

- material necessary for proper learning
- Surfboard and wetsuit
- Surf instructor specializing in water rescue and lifesaving
- Liability insurance
- Beach picnic sandwich composite, energy drink or juice and water
- All groups are small
- ability to pick up students at the hotel or accommodation
| | |
| --- | --- |
| Intermediate / Advanced |  50€ per day |