ABOUT THE SURF CAMP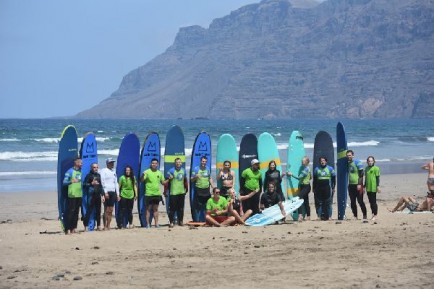 ---
LOCATION AND SURF CONDITIONS
---
Lanzarote is a paradise for the thousands of tourists who visit the island annually: one, neither cold nor hot perfect weather , with a constant temperature, an incomparable natural setting with mountains of volcanic origin, the friendliness of the islanders and their traditions that continue from generation to generation and a magnificent setting for surfing lessons for children , for adults and for all who dare to feel the wind Famara beach.
The vacation you've always dreamed about multiple offers surf that you will not hesitate and immediately you decide for the Canaries. If you do not know already, it's time to do so. When you discover all that Lanzarote has to offer, you do not want to leave.
Enroll in any of the courses surf a surf school in Lanzarote is the best start of every surfer and is there in the surf course where truly acquire techniques surf you will know how to surf using each surf movements .
At the academy surf you will learn all the techniques for surfing and start surfing will be much more enjoyable with surf instructor qualified with proven experience and a great enthusiasm for teaching. You know several tricks surf , some basic maneuvers of surfing , such as how to stand up on a surfboard or how to surf a wave, which will make learning to surf is assured from the outset.
At Surf School Famara have classes start surfing for beginners who want to learn about the sport and the whole philosophy of life behind it.
The surf lessons are the ideal tool whether it is your first experience on a board like some want to perfect surfing technique . In addition to group classes, surf school offers private lessons if you have a specific goal you want to work on a surf specific training.
Making the decision even easier thanks to the fantastic prices of our surf school : cheap surf lessons in a unique setting and the surf teachers more friendly and enthusiasts around Lanzarote. We are proud of our team and the hundreds of people who attended surf lessons in Lanzarote with us we witnessed with his words of affection.
And there is no better way of doing things with a big smile.
The pro surfers also choose Lanzarote
Lanzarote, for all that combines features is usual meeting point of professional surfers come from all over the world.
In addition to surf and compete, always they find a gap in his busy schedule to share and active in surf courses in Lanzarote his wise lessons on a surfboard. Hear them talk about how to get up on the surfboard is a whole class master of PROSURF , a great privilege which has surf school.
Surf championships in Spain are becoming more common and see your idols live in Lanzarote is an event.
Who knows, maybe a few years later is you who accept the challenge and face other professionals on your surfboard or be a guest star surfers surf school and dialogues with other dreamers.
---
CAMP CHARACTER
---
Kids, Adults.
Beginner, Advanced, Pro.
SUP Surf
Groups, Private Lessons
ACCOMMODATION AND CATERING
---
ACCOMMODATION TYPES
---
Where to stay in Playa Famara should not be or Hindrance to come visit . We can offer accommodation in Famara in Famara own cove. Cheap apartments in Famara know, or rooms, including villas, you just have to contact us and we will advise and help you find the right accommodation. We only think of surfing, Leave the rest to us.

Shared or private rooms
holiday homes in Famara, Lanzarote. You can have shared or private rooms, as you prefer. You see, where to stay, will not be a problem. They are next to the beach and with all services in their surroundings. For more information contact and we will inform all aspects that interest and prices.

Sailor beach apartment
Comfortable and spacious apartments. Located in Caleta de Famara. Excellent beach views from every room, terrace balcony. Rest, nature, photography and surfing, the real paradise. Near our school and shops nearby. For nature lovers and sports people. Families with children, groups of friends and couples

Villa Reral
Beachfront Villas, comfortable and spacious. Located in Caleta de Famara. Spectacular views of the beach, at night you sleep lulled with the murmur of the waves. Enjoy a wonderful break in the countryside after a good day of surfing. Proximity to school and shops nearby. For nature lovers and sports. Families with children, groups of friends and couples.
SURF COURSE AND ACTIVITIES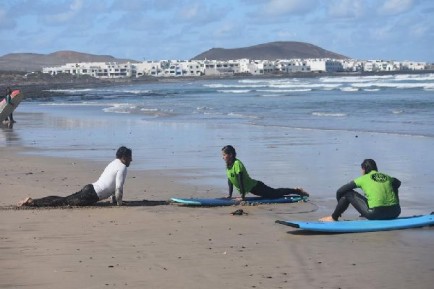 ---
SURF COURSE DETAILS
---
Surf Course Shedule:
10:30
Meeting our MEETING POINT in the surf center of Marinero No. 25 Avenue in Caleta de Famara, where we will process your request and give you your surf gear (surfboard, wetsuit and lycra).
10:45
Will make a video and photo editing and mark the guidelines of our classes, for better service.
11:10
Once the video class, we will take our boards and surf to go to the beach.
11:15
Warm up on the beach, along with stretching and yoga for surfers.
11:30
We will make training and practice positions, techniques and improvement in the sand for better development of skills. Practice "dry".
11:45
All water to practice and have fun with our teacher's instructions.
13:15
Break Time 10 to 15 minutes to recharge your batteries and eat our picnic.
13:30
Second round of practice "dry", which puliremos doubts and mistakes. After this, all the water again.
15:15
We ended the class picking our team and doing some stretching to prevent muscle soreness and cramps possible to return to our meeting point.

Private courses, group courses 
---
SURF MATERIALS
---
Surf Table, Neoprene, Picnic and Fotos/Videos included
---
OTHER ACTIVITIES
---
We offer the possibility to practice this modality adapted to SURF YOGA for better performance and control of our body, in turn prevent injuries.
PACKAGES & PRICES
---
PACKAGE A  - from
450€ per Week / Person
---
This package includes:

1 week private room
5 surflessons
All surflessons inclusive surfboard, wetsuit, pic-nic, video and photos
---
PACKAGE B  - from 345 € per Week / Person
---
This package includes:

1 week shared room
5 surf lessons
All surflessons inclusive surfboard, wetsuit, pic-nic, video and photos
---
Packages with Sailor beach apartment & Villa Reral upon request