ABOUT THE SURF CAMP
---
LOCATION AND CAMP CHARACTER
---
Welcome to Local Surf Maroc, a family run Bed & Breakfast and Surf House, situated in Tamraght, a sun-drenched village along the western coast of Morocco. The village is an old Berber fishing village, where surfers and fishermen live alongside each other and create a unique vibe that is growing along the coast.
At Local Surf Maroc, we haven't simply built a surf camp or organize holidays, we've created a cozy and relaxed space where we can meet new people and build new friendships. While the four or us are the mainstays at Local Surf Maroc, you never know who you might bump into and what friendships you could end up leaving with. The ocean and surfing is our life and our passion, but above all else, we wish for you to feel at home in our community and at our table.
---
CAMP OPERATOR
---
Rachid: Founder, Host, Head Surf Instructor
Rachid grew up in Taghazout, learning to ride waves on a body board as a child. When he was 9, his father bought him a short board, fueling his passion for surfing. Having surfed all his life, Rachid knows every surf spot and how the weather conditions can affect each point differently.
Rachid spent time in England gaining his Level 2 ISA Surf Coach and Lifeguard qualification, and has been coaching for 10 years. Affectionately, Rachid is known as the Surfing Cupid, inspiring beginners to fall in love with the sport, and intriguing those who already love the sport to experience the best surfing Morocco has to offer.
After working for several surf camps in the area over the last 10 years, Rachid formulated a vision that included more personal and homely touch to Moroccan surf camps.

Christiana: Host, Booking Manager, Taekwondo Coach
Christiana grew up on the Canadian prairies, with not much water around. Despite this, her father taught her and her brothers to swim in the public pools and nearby lakes, creating a generation of water babies. In 2011, Christiana tried surfing for the first time and after moving to the UK in 2012, has fallen in love with the seaside.
During her time in the UK, Christiana spent time competing in Taekwondo and gaining her Level 2 Taekwondo Coaching certificate from British Taekwondo. She has coached National champions of her own and from Sport England received runner up for Best Satellite Club in England in 2017 for her work in getting girls involved with sport.
In 2019, Christiana joined the Local Surf Maroc family, bringing not only her management and organization skills, but her love of meeting and connecting with new people and her vision of creating a home away from home for guests.

Mohamed: Host, Cook
Mohamed grew up in Taghazout and is the son of a local fisherman. Despite not being a surfer, he has as much salt water in his blood as those who surf. Mohamed is a wealth of knowledge of the local area and its history: any local culture you have an interest in, Mohamed is likely to have the answer.
Besides being a host, Mohamed is cook and all around handyman of the house. If there's anything you need, he's the man to talk to.

Karim: Surf Instructor
Karim, like his brothers, grew up in Taghazout and next to the ocean. Despite being an apprentice baker, Karim's passion for surfing brings him back to the ocean. Having completed his Life Guarding training in early 2019 to spend all day at the beach during the summer season in Taghazout. He loves sharing his passion and knowledge for the sport with everyone he meets.
ACCOMMODATION AND CATERING
---
ACCOMMODATION TYPES
---
The Tamraght Garden accommodation is a home away from home, situated on a hill overlooking the Bay. The house has an open plan kitchen and dining area where we meet for meals, games and laughter. From the kitchen and dining area you can get to the garden, which is a little shady oasis. You have the option of eating breakfast here, in the dining area, or on the terrace.

Capturing the best of the morning rays, the terrace is the perfect place for your own sunrise yoga practice. The terrace is our favourite place to sit down for some tea or have a BBQ! The house has 3 guest rooms, and is equipped with fridge, microwave, gas stove, coffee machine, kettle, wifi, bathroom with shower and toilet, washing machine, towels, basic toiletries, and BBQ.
---
CATERING
---
Full or Half Pension
SURF COURSE AND ACTIVITIES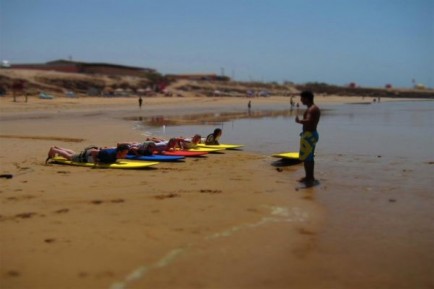 ---
SURF COURSE DETAILS
---
8:00am – 9:30 am Hot Breakfast

9:30am – 10:00am Your surf coach will pick you up and you'll travel to the best spot to spend your day surfing

10:00am – 10:30am Arrive at the surf spot and get ready for your surf lesson. Some days there might be a delay in getting in the water depending on the tide and swell

12:30pm – 1:30pm Lunch break on the beach

1:30pm – 4:00pm You can decide how you spend your afternoon: on your board, practicing what you learned in the morning or just chilling on the beach. Your surf coach will be at hand to help you progress

4:00pm – 5:00pm Pack up and travel back to your accommodation

7:30pm Sit down and enjoy a home cooked evening meal with fellow guests
---
SURF MATERIALS
---
included
---
OTHER ACTIVITIES
---
Excursions:

While we do surfing best, there is so much more to our coastline and our country. You could spend several months traveling around Morocco, however, if you've come to stay with us we have curated some special experiences and activities that can be done in a day.

The Old City & The Souk
Walk or drive up to the Old City and visit the Kasbah ruins that overlook Agadir Harbour and the bay. The walk can take an hour, but the view is stunning and well worth the effort!The Agadir Souk is the traditional market in Agadir, and one of the largest in the region. Enjoy the sights, sounds, and scents of the market, with stalls selling anything from local fruits, freshly caught fish, to traditional mint tea. If you're feeling brave why not give haggling a try! If you catch the Agadir Souk on the day it's closed, there are other equally impressive Souks to experience.

Paradise Valley
Paradise Valley is just that: Paradise. It's an oasis of natural pools, palm trees, and rock formations that is the perfect day trip from the coast. From Tamraght, it's a 40 min journey to the edge of the Atlas Mountains, and then a 30 min walk through the vallies. Enjoy the calm as you eat a Tagine cooked that day beside the river.

Tagazhout
First becoming popular in the 1960's for its surf and beaches, it remains one of the most popular surfing destinations. Mountains surround the beaches from all sides making it one of the most idyllic locations to surf or chill out.

Essaouira
Essaouira is known as "the windy city". Its 3 hours further north along the coast and a quaint little fishing village. Do a bit of wind surfing, take a stroll through the smaller market, or take in the picturesque Old Fort structures that have been used as a backdrop for "Game of Thrones" . Along with the live music and food that Essaouira has been traditionally known for, it's not hard to see why it's been given UNESCO Heritage status!

Marrakech
Marrakech is the fourth largest city in Morocco and boasts a rich history. It's currently one of the busiest cities with its souks (markets) and captivating entertainment in the Jemaa el-Fnaa square. Spend a day or a week, there will always be a new corner to discover.


Other Activities:

Hiking
Suitable for beginners, "Tamraght Mountain" offers stunning views of Taghazout Bay and can be hiked by anyone in the course of a day. Also, we can arrange hikes that take you further inland for the day and reveal some spectacular views.

Horseback or Camel Riding
Casual or experienced rider, beach and mountain rides on horseback or camel are available for all skill levels. Spend the morning, all day, or the evening with a new four-legged friend while taking in some stunning scenery.

Fishing
This day trip starts in Agadir, with the chance to step onto one of the infamous blue fishing boats seen along the coastline. Experience how many of the coastal people in Morocco have made their living for generations. Not into fishing? No problem! The boat trip is still a worthwhile outing to see Agadir from the waters.

Cooking Lessons
Nothing creates better stories or more lasting memories than time spent around a table and sharing a mean. Except for memories creating the meal! See how a Moroccan dish is created from going to the shop and choosing the ingredients, to preparing them, and presenting them before everybody digs in!

Quadding
With miles of coastline to explore, you can see the length and breadth of several of these bays in a day on a Quad. But just like horseback or camel riding, you have the option of going to the mountains and taking in the mountain ranges at a faster pace!

Evening out in Agadir
Taking in the traditional side of Morocco's West Coast is an unforgettable experience, however, there's a modern side of life that we would be happy to show you. Along with paintballing, kart racing, and bowling available in and around Agadir, there's a vibrant night life to witness as well.

Relax:

Spa & Massage
Gentle and relaxing massages are the perfect treat after a few days of surfing and yoga. Restore your body and mind with the usual Swedish and holistic massages available locally.

Hammam
A traditional Moroccan spa experience that involves a steam bath and a scrub. Be prepared for a vigorous scrub that will leave you and your skin feeling rejuvenated and revitalized.
MORE INFO, HOW TO GET THERE & FAQ
---
 SURROUNDINGS / REGION
---
Characterization of surroundings/region
The house is a 10 min walk from local shops and a 15 min walk from the beach.
PACKAGES & PRICES
---
PACKAGE A: Surf Coaching  - from 430 € per Week / Person
---
Have you always dreamed of learning how to surf? Just want to challenge yourself this year? Haven't ridden the waves in a while and you need a refresher? If you nodded your head to any of those questions we guarantee that the Surf Coaching holiday is for you.

The Surf Coaching holiday package is aimed at novice and beginner level surfers, ready to catch the surfing bug in Morocco. Let some of the most experienced and knowledgeable Surf Coaches guide you through every step of surfing, from standing up on the board and riding the waves on your own.

Particularly for novices, we recommend the 7 day Surf Coaching package to gain the most out of your lessons, however, any length of stay with us you'll notice a progression in your skill by the time you leave!

This package includes:
- Transfers (min 7 night stay): from Agadir Airport or Bus Station
- Accommodation
- Full board: breakfast, lunch, dinner
- Bed Linens
- Towels
- Surfboard and wet suit rental
- Surf Lesson
- Transport to and from surf spot
- Excursion (min 7 night stay): Paradise Valley or The Old City & Souk
- Night Out (min 7 night stay): evening meal in Taghazout or Agadir

Not included:
- Flights
- Transfers from locations other than Agadir
---
PACKAGE B: Yoga & Surf  - from 500 € per Week / Person
---
Yoga provides the perfect balance to surfing, giving you the perfect body and soul holiday you were craving. The Yoga & Surf experience is broad and suitable for all surfing and yoga abilities, and we guarantee you will go back home feeling refreshed and rejuvenated.

Please note that any surf or yoga lesson can be skipped and an alternative activity can be arranged at any time. Your stay with us is your experience and our aim is to make sure you've thoroughly enjoyed your time with us.

This package includes:
- Transfers (min 7 night stay): from Agadir Airport or Bus Station
- Accommodation
- Full board: breakfast, lunch, dinner
- Bed Linens
- Towels
- Surfboard and wet suit rental
- Daily surf lessons
- Transport to and from surf spot
- Daily yoga classes: option of either morning or evening yoga class, or both!
- Yoga blocks, recommended to bring your own
- Excursion (min 7 night stay): Paradise Valley, or The Old City and Souk
- Night Out (min 7 night stay): dinner out in Taghazout or Agadir

Not included:
- Flights
- Yoga mats
- specific yoga aids
- Transfers from cities other than Agadir