ABOUT THE SURF CAMP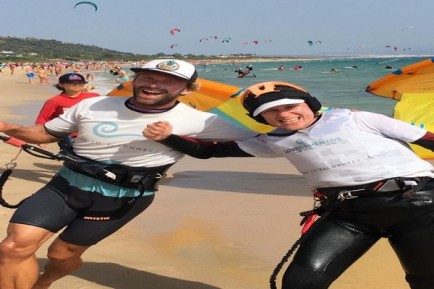 ---
LOCATION AND SURF CONDITIONS
---
We are never stack to one kitesurfing spot as we always look for the best conditions for our kitesurfing classes.

We teach on all 3 main beaches:
- Valdevaqueros
- Los Lances Norte
- Los Lances (town)
---
CAMP CHARACTER
---
We always have the school full of people so you don't have to worry abut choosing special dates. The busy months are from April till November, so there is always someone to hang around with.
---
CAMP OPERATOR
---
Pepe  Kmiecik is the owner of the school. After few years of kitesurfing, he realised that this sport is much more than just a hobby. He felt connected to the elements and so present, that it became some sort of ''Active Meditation''. He then decided to leave his business and dedicate to Kitesurfing Lifestyle. Now his mission is to reconnect people with ''Lost Elementos''
ACCOMMODATION AND CATERING
---
ACCOMMODATION TYPES
---
We have our own mountain villa with a sea view and we collaborate with providers of different types of accommodation:
- Self-catering Apartments 
- Hostels
- Co-working and co-living Hostels
- Hotels
Just please tell us what you need and we will try to help you, the sooner the better, because in Tarifa the accommodation goes alike fresh rolls ;)
---
CATERING
---
self-catering
bed and breakfast 
* all inclusive
SURF COURSE AND ACTIVITIES
---
SURF COURSE DETAILS
---
We do small 1-4 people per instructor.
---
SURF MATERIALS
---
All the material will be provided by us, however we do recommend buying your own wetsuit if you already serious about getting into kitesurfing
---
OTHER ACTIVITIES
---
We also provide:
-Surfing classes
-Wind Surfing classes
-Sailing trips with the captain 
MORE INFO, HOW TO GET THERE & FAQ
---
 SURF CONDITIONS
---
Wind
Average 14-30 but can get 40-50 knots few days per month, depending on the wind
Seasonal conditions
Land:
Summer day 22-35/ night 18-25 degrees
Winter day 10-20/ night 7-12


Crowd factor and local people
The beaches are mostly crowded from the third week of July till end of August
---
 SURROUNDINGS / REGION
---
Characterization of surroundings/region
Tarifa it's not just a kitesurfing paradise. All the surrounding mountains and sea it's a big natural reserve, protected by Geneva. For this reason you won't find resorts, massive hotels and all the traffic that comes with it. 
Here is where are the most beautiful beaches of Spain and the most southern part of Europe. 
We are separated from Africa by only 14km of water and you can see the Morrocan mountains from the beach. Thanks to this you can see many types of birds stopping by for the last rest, before passion through the channel.

Activities and facilities
-Kitesurfing
-Windsurfing
-Surfing
---
 JOURNEY
---
Ways to get to the camp
Flight to Malaga, Sevilla, Jerez, Gibraltar 

Important details
A transfer could be arrange for you from the airport or you may use a bus. 
PACKAGES & PRICES
---
PACKAGE A - from 660 € per Week / Person
---
This package includes:
- 7 Nights accommodation in a private room with bathroom
- 9h Private Kitesurfing classes (1 student + 1 instructor)




---
PACKAGE B - from 495 € per Week / Person
---
This package includes:
- 7 Nights accommodation 2 people in a private room with bathroom
- 12h Semi-Private Kitesurfing classes (2 student + 1 instructor)




---
PACKAGE C - from 375 € per Week / Person
---
This package includes:
- 14 Nights accommodation 2 people in a private room with bathroom
- 15h Semi-Private  Kitesurfing classes (2 student + 1 instructor)