ABOUT THE SURF CAMP
---
LOCATION AND SURF CONDITIONS
---
Directly at the Beach
---
CAMP CHARACTER
---
Groups, Families, Private Lessons, Beginner, Intermediate, Advanced, and Competition-Level Surfers
---
CAMP OPERATOR
---
Macao Surf Camp started back in the Summer of 2009, when Armando, Gustavo and Rafael, longtime friends and Jesus Loving Surfers got together in Punta Cana, where they moved from Santo Domingo, they usually met on weekends at Macao Beach, one of the most beautiful beaches in the Caribbean with six different surfing breaks. After Surfing they started teaching Armando Reid's kids and some of their friends, it was so much fun that they decided to start a Surf School, with the main idea of giving back to the youth of Punta Cana all the benefits that Surfing brought to their life and to earn some money doing something they are passionate about. By that time, they all had more than 35 years of Surfing Experience and a lifetime involved in organized sports, including Surfing Associations and the National Surfing Federation; besides that, Gustavo Alvarez is the Surfing Pioneer in the Dominican Republic, and also opened a few years before the first Surf School in the country, at Encuentro Beach, Puerto Plata.


ACCOMMODATION AND CATERING
---
ACCOMMODATION TYPES
---
No Accomodation
---
CATERING
---
Free Lunch
SURF COURSE AND ACTIVITIES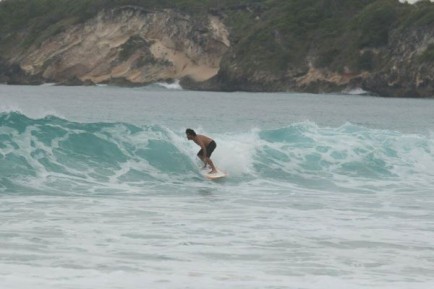 ---
SURF COURSE DETAILS
---
We offer:
- private lessons for all levels of experience: beginners, intermediate, advanced, and competition level. A free lunch is provided!
- group surf lessons
- three or five-lesson packages for either private or group surfing lessons.
---
SURF MATERIALS
---
We have long boards, short boards, foam boards, and soft tops available for rental. Rash guards are included! Book 1 hour 10 $

In booked lessons marterials included!


MORE INFO, HOW TO GET THERE & FAQ
---
 JOURNEY
---
Ways to get to the camp
Round-trip transportation is included with your price! We pick you up from your lodging and drive you back, as well.
PACKAGES & PRICES
---
PACKAGE A: Private Surf Lessons - from 115$ per Day / Person
---
Dial in your surfing skills with one of our experts! Our private lessons are the perfect way to focus on the specific techniques you want to improve.

Private surf lessons take place on a beautiful Punta Cana beach and can be tailored to your skill level. One-on-one time with the instructor allows you to learn at your pace. If this is your first time, we get you out on the waves in just one day!

Our lessons are divided into two sessions, and in between, we provide coconut or purified water and fruit for refreshment. Afterward, relax and enjoy a delicious lunch at the Surf Shack Grill, available for purchase.

This package includes:
- Round-trip transportation
- Surfboards
- Two-hour lesson
- We also can lend you a Lycra shirt as a rash guard in case you don't bring one
- Coconut or purified water and fruit for refreshment
---
PACKAGE B: Group Surf Lessons  - from 95$ per Day / Person
---
Enjoy learning how to surf with friends and family on a beautiful Punta Cana beach! We provide lessons for all skill levels, so whether this is your first time or you just need to brush up your skills, we have a perfect lesson for you.

We're the only surf school in Punta Cana that provides lessons for beginner, intermediate, advanced, and competition-level surfers. Our experienced instructors tailor the lesson to your skills and make sure you have a blast while learning.

Lessons are divided into two sessions, and during the halftime break, we provide coconut or purified water and fruit. Spend a fun day on the beach with your family or friends and learn how to ride the waves with us!

This package includes:
- Round-trip transportation
- Surfboards
- Two-hour lesson
- We can lend you a Lycra shirt as a rash guard if you don't bring one
- Coconut or purified water and fruit for refreshment