ABOUT THE SURF CAMP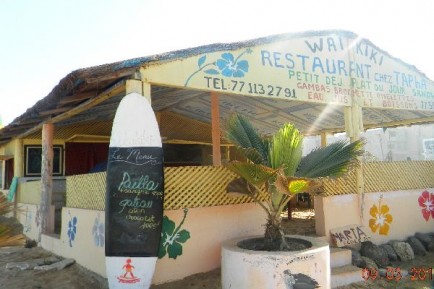 ---
LOCATION AND SURF CONDITIONS
---
- The surfhouse is just on the beach break of Yoff, where the surf school is based. Yoff is the good spot to learn to surf in safety thanks to the sandy bottom and huge beach. This spot offer good waves in summer time with off shore wind and barrels.

- The surflodge is on Ngor Island, the mecca for expert surfers who want to ride this right wave. Ngor offers good waves in winter, even if cross wind.

-Around the peninsula of Dakar there are more than 15 waves in 10 km radius and every day off shore on one side or on the other one!


---
CAMP CHARACTER
---
- open to everybody
- medium sized camp
- mainly relax camp, but some party as well
- average age of participants: 15-50, from all the country
- good mix between European facilities and African life style
- languages used in camp: English , French, Italian, Spanish, Wolof


ACCOMMODATION AND CATERING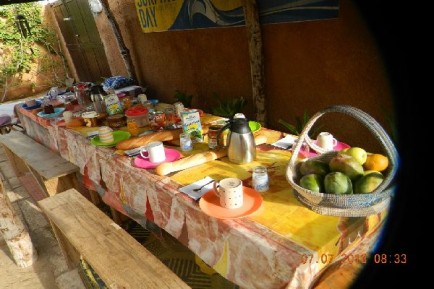 ---
ACCOMMODATION TYPES
---
Surf house on the beach of Yoff "La Maison des Surfeurs"

Hosting 12 guests split in double rooms with single beds and common toilets and double rooms with double beds and private toilets, a living room with a TV to watch surf movies and the internet access (free service for the guests), a kitchen, a garden all around the surfhouse with chill out area. The beds have mosquito nets and the toilet have hot water for the shower (a proper luxury in Senegal). Every day Gracy (the house keeper) cleans common and guests' rooms.

The surf house is in front of the spot of Yoff, with the beach at your doorstep! It is also close to shops, pharmacies, banks, supermarkets and taxi station. It is just a 5 minutes drive from the airport, 15 minutes from Dakar downtown and 10 minutes from the Almadies peninsula (where some of the best spots are located). Nice restaurants and bars are on a walking distance from the house.

Surf lodge in Ngor Island "La Maison d'Italie"

Hosting 15 guests split double rooms with double beds and private toilets and family rooms with private toilets, a restaurant with local and Italian food, a natural pool, a terrace and a solarium. The rooms are equipped with mosquito nets on the beds, TV and AC. The cleaning service is daily.

The surf lodge has own boat to take guests to the island and back at any time of the day or the night. From the lodge surfers can reach in less than 5 minutes the spots of Ngor Right, Ngor Left, Baye des Carpes and Goiche de Loic.

Surf camp facilities in Yoff surfhouse and Ngor surflodge:
| | | |
| --- | --- | --- |
|   | Yoff surfhouse | Ngor surf lodge |
| Wi fi | x | x |
| computer | x | x |
| van | x |   |
| AC |   | x |
| Mosquito nets on the windows | x | x |
| Mosquito nets on the beds | x | x |
| Hot water for shawer | x | x |
| Elecrticity 220 V | x | x |
| Vegan and vegetarian kitchen | x | x |
| Emergency light | x |   |
| generator |   | x |
| Laundry service by hands | x | x |
| Washing machine | x |   |
| Baby sitter | x | x |
| Cold biers | x | x |
| Guests`s fridge | x |   |
| bbq | x |   |
| Personal lockers | x | x |
| restaurant |   | x |
| Garden and chill out area | x | x |
| Daily housekeeping | x | x |
| Private boat | x | x |
| Djembe class | x | x |
| Fixing boards | x | x |
| Night life | x | x |
---
CATERING
---
MSC offers to all guest the "champions' breakfast": cheese, coffee, tea, milk, jam, bread, butter, chocolate, local juice and fruits. Tasty dinners of Senegalese and European food are also served every night in the common room.

In the surfers lodge guests can enjoy breakfast and dinner just in front on the sea, in a magical atmosphere on the island.
SURF COURSE AND ACTIVITIES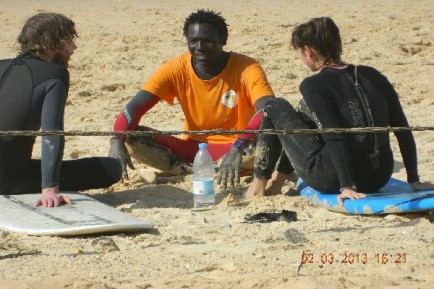 ---
SURF COURSE DETAILS
---
Surf school for beginners

All MSC surf instructors are authorized by the Senegal Surfing Federation and have received the ISA diploma. The surf school works all year long in the beach break of Yoff. However, the best period for beginners is the summer, due to easy waves and warm water. Beginners at MSC are usually either surfcamp guests that want to learn to surf, expatriates living in Dakar and coming to the beach during weekends or tourists. Surf teachers speak French, English, Spanish, Italian. All kind of beginners boards are available, from longboard to mini mal.
We use to have 1 teacher each 4 students or each 2 children, and we will give you the correct surf equipment for you, to learn in a funny and professional way!

Surf safari for intermediate and expert surfers

MSC gives surfers the opportunity to be on the best waves every day, looking at tide, swell and wind direction and moving on the best spot accordingly. In Senegal, wind conditions and waves direction can change quickly. Thanks to local instructors' knowledge of spots and beaches, surfers will enjoy the best waves at the best moment for every day. The surfer Modou knows all the spots (secret spots included) and can help surfers in making the best of their time at MSC. A van guarantees fast, easy, comfortable and free of charge movements around Virage, Almadies and Ouakam. A boat can take surfers to Ngor Island where the famous wave of Ngor Right can be found. Surf guides are usually taken by guests during winter time, from November to June.

Yoga for Surfers offer for any surf level

This offer shows how yoga and surfing intersect on the mental and spiritual planes. Both require strength, flexibility and a lot of balance; attract lovers of nature; keep their devotes feeling unusually young, strong and vibrant. 
The program includes yoga class in the morning just in front of the beach and surf session in the afternoon. The yoga techniques should helps surfers in any ability they need: beginners to have more balance and intermediate to focus on a movement and the breath.


---
OTHER ACTIVITIES
---
- djembe class at the beach
- tourist visit
- fixing board stage
- fishing trip
MORE INFO, HOW TO GET THERE & FAQ
---
SURF CONDITIONS
---
Seasonal conditions
Flora and Fauna
Senegal offers 360 sunny days per year and more than 300 km coastline with sandy dunes and trees. You can see baobab, mango-, papaya -, coconut-trees and aloe-vera plants.
There are no snakes and scorpions in habited areas, but you can see eagles on the beach. During early morning in summer, you can also see groups of dolphins pass just in front of the coast.
In the South coast, at about 2 hours from the camp lies the Natural Reserve of Bandia, where you can find zebras, crocodiles, hyenas, giraffes and rhinoceros living wild in a beautiful landscape.
In front of the camp there is the Yoff Island, a natural reserve for birds and fish. We can bring you there by boat.
Climate
Air:
Summer 30° C
Winter 20°C

Water:
Summer 25°C
Winter 15°C

Winter:
From December to March. You need a 3/2 wetsuit . The climate is dry, you can wear T-shirt and shorts during the day, you'll need a jumper in the evening.
Summer:
From June to October. You surf in shorts, the climate is warm, some days are really hot but close to the ocean there is always a breeze to make you feel fine.
Rain period:
August and September. Rain usually falls at least for 1 hour, then the sun's back out!
Crowd factor and local people
Senegal surfers are kind with foreign surfers. They can help you to catch your waves and show you their spots. For them it's part of evolving.
Most of them share an old board with all of their friends, so if you leave some surf equipment after your stay or bring along an old board for then, they will be very happy!
---
SURROUNDINGS / REGION
---
Characterization of surroundings/region
Malika Surf Camp is located in Senegal, a safe and easily accessible country in West Africa. Due to its place and position, the country is exposed to the best swells of the western part of the continent. There has never been any internal political tension that could have lead to any disorders or dangerous situations. The country is thus one of the safer (if not the safest) countries in West Africa in terms of low level of criminality and political stability .


---
JOURNEY
---
Ways to get to the camp
Airport pick up
Aziz will waiting for the guest just outside the main doors with a banner MALIKA SURF CAMP. The guest has to look for Aziz, if they cannot see him just waiting close to the main doors. Please note that Aziz is the only one from the camp so don't trust to any other person asking for money. You need to complete a form with the address of the camp once at the airport, so please tell to the guest to print it off and keep it with him.
Important details


Address
Marta Imariso / Aziz Kane
Yoff plage BCEAO, villa 19 – 12500 Dakar - Senegal
BP 50702 Dakar
Marta (00221) 771132791 / Aziz (00221) 772991297
Entry
From the 1st of July 2013 all citizens from Europe needs to have a VISA to enter in Senegal. They can do it at the Senegal Embassy in their country or by internet on 
Language
In Senegal most of the people speak French, which is the official language. Younger people can also speak English. Everybody speaks Wolof, the native African language.
At the camp we can speak French, English, Italian, Spanish and Wolof.

Time Difference
Senegal lies in the GMT (Greenwich Mean Time) Zone. This equals 1h or 2h behind us, depending on the season.


Money / Bank / Credit Cards
The Senegal money is the CFA. The rate is about 1 EURO = 656 CFA. But the common change that you find is 1 EURO = 650 CFA. You can easily change money in local shops.
There are international banks that work with VISA and Maestro cards, where you can directly get CFA. Usually the commission depends on your bank.

Health
A yellow fever vaccination is not mandatory for travelling in Senegal. Here in Senegal, above all here around Dakar, life is healthy. People have food and water, there are good hospitals and pharmacies.
At the camp we have mosquito nets on the windows and on the bed. Senegal lies in the malaria area, we therefore encourage you to ask your doctor about according prophylaxis. For protection, we suggest mosquito spray and light, long clothing at dusk, dawn and night.
We recommend you to drink mineral water (provided at the camp), even if tap water is drinkable, and not to eat vegetable and fresh fruits without cleaning them first.
The camp is in touch with the SOS MEDECIN organization: they can send doctors at the camp and you can receive good treatments. If you have the travel insurance the fees can be reimbursable.
 We advise to do the travel insurance because every care you might need in Senegal is paying and good hospitals are expensive.



We just started a program called Solidarity Surfers: so the camp support the local surf club in Yoff and give equipments to the young surfers. Help us in giving used boards and wetsuit because surf equipment in Senegal is too expensive for local surfers! (link on the website)
PACKAGES & PRICES
---
PACKAGE A - THE SURF SCHOOL PACK - from 350€ / WEEK
---
This offer includes:
-Accommodation
-Half board (big breakfast and dinner, mineral water) in the surfhouse in Yoff or breakfast in the Ngor Island lodge
-Surf school 2 times per day
-Free access to the beach
-Surf equipment (board and wetsuit)
-Transfer to/from the Dakar airport
Price: 350 Euro per week in the surfhouse in shared room
Price: 390 Euro per week in the lodge in double room
90 euro more per week for single room


---
PACKAGE B - THE SURF GUIDE PACK - from 350€ / WEEK
---
This offer includes:
-Accommodation
-Half board (big breakfast and dinner, mineral water) in the surfhouse in Yoff or breakfast in the Ngor Island lodge
-Transfer on the spot by car and by boat
-Local surf guide for the whole day
-Free access to the beach
-Surf equipment (board and wetsuit)
-Transfer to/from the Dakar airport
Price: 350 Euro per week in the surfhouse in shared room
Price: 390 Euro per week in the lodge in double room
90 euro more per week for single room


---
PACKAGE C - THE YOGA FOR SURFERS PACK - from 380€ / WEEK
---
This offer includes:

-Accommodation
-Half board (big breakfast and dinner, mineral water) in the surfhouse in Yoff or breakfast in the Ngor Island lodge
-1 yoga session in our yoga center
-1 Surf class
-Free access to the beach
-Surf and yoga equipment (board and mat)
-Transfer to/from the Dakar airport
Price: 380 Euro per week in the surfhouse in shared room
Price: 415 Euro per week in the lodge in double room
90 euro more for single room