ABOUT THE SURF CAMP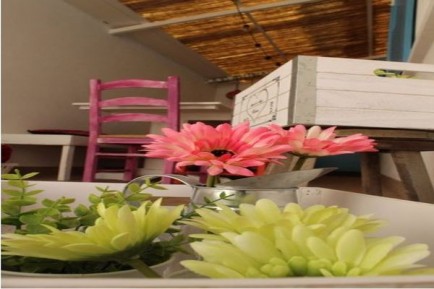 ---
LOCATION AND SURF CONDITIONS
---
The hostel is at 70mts from the beach. In Furadouro and nearby we have a lot of surf spots, ideal for begginers, intermediates and advanced surfers. Most of the surf spots are not crowded, so usually we have a surf spot just for us.
---
CAMP CHARACTER
---
Marias Hostel has a quiet and relaxed atmosphere, so you can rest and chillout, making friends from all over the world.
---
CAMP OPERATOR
---
Hello, I'm Bruno. My professional life started in the sales area, I worked 5 years as a sales technician. Later I took an opportunity to move myself to industry as director of quality, environment and hygiene and safety at work, fitting me better in my higher education base. Later in the same company I also assumed the position of director of production, managing 60 employees. After 11 years of work in this company, I decided to free myself of the pressure and stress that the function caused and to continue a family tradition, restoring the house that was from my grandparents, opening  this hostel.
My main goal is that my guests can spend an unforgettable vacations, having fun, surfing and making friends.
ACCOMMODATION AND CATERING
---
CATERING
---
We provide breakfast included in the price. We have a nice well equiped kitchen so you can make your meals. You can use our barbecue in the terrace. There is a supermarket at 200mts from the hostel. If you don´t want to make your meals, there are very nice restaurants near the hostel.
SURF COURSE AND ACTIVITIES
---
SURF COURSE DETAILS
---
The surf course includes all the necessary gear you need for the surflessons. The instructors are experienced level I and level II professionals, certified by the Portuguese Surfing Federation and are very experienced surfers, they speak fluent Portuguese and English.
Surf course includes:
- 5 days surfing lessons or surf-trips
- Transport to the best surf spot and beach of the day
- Photos and videos analyses
- Free photos and vídeos of your surf lessons
- Transfer from and to Ovar´s train station
- 1 free Nature tour or stand up paddle experience
- Free use of surfskates and bikes
---
SURF MATERIALS
---
For begginers softboards will be provided.
For intermediate and experienced surfers we have from longboards to shortboards for rent, in epoxy and poliéster. We will give you great tips about the best surf spots to go nearby.
---
OTHER ACTIVITIES
---
We also have stand up paddling and nature tours.
We can give you some tips about the best spots for hiking.
MORE INFO, HOW TO GET THERE & FAQ
---
 SURF CONDITIONS
---
Breaks directly at the main spot and at nearby spots

All surf spots are sand, there´s spots for every levels of surfing, right-handers or left-handers.
Crowd factor and local people
It´s very difficult to have crowded spots even in summer, the locals are friendly.

---
 JOURNEY
---
Ways to get to the camp
Porto Airport – 30 minutes by car.
Lisbon Airport – 2.5 hours drive.
Ovar Station – 10 minutes by car.
You can easily catch a public transport, to go to a train station in the city of Oporto or Lisbon, then take the train to Ovar station.
The train journey from Porto takes about 45min.
The train journey from Lisbon takes approximately 3h.
PACKAGES & PRICES
---
PACKAGE A  (SHARED ROOM FURADOURO - 4 GUESTS) - from 325 € per Week / Person
---
This package includes:

- 7 nights bed including bedlinen and towels
- 7 days breakfast
- 5 days surfing lessons or surf-trips
- Transport to the best surf spot and beach of the day
- Photos and videos analyses
- Free photos and vídeos of all your surf lessons and holidays
- Free wi-fi
- Transport from and to Ovar's train station
- Free use of surfboards, surfskates and bikes
- 1 free Nature tour
1 - Low season (March to May; October and November) = 325€/week/person
2 - Mid season (June and September) = 350€/week/person
3 - High season (July and August) = 375€/week/person
---
PACKAGE B (PRIVATE 2 SINGLE BEDS ROOM MACEDA)  - from 680 € per Week / 2 Persons
---

This package includes:

-
7 nights bed including bedlinen and towels 
- 7 days breakfast
- 5 days surfing lessons or surf-trips
- Transport to the best surf spot and beach of the day
- Photos and videos analyses
- Free photos and vídeos of all your surf lessons and holidays
- Free wi-fi
- Transport from and to Ovar's train station
- Free use of surfboards, surfskates and bikes
- 1 free Nature tour
1 - Low season (March to May; October and November) = 680€/week/2persons
2 - Mid season (June and September) = 715€/week/2persons
3 - High season (July and August) = 790€/week/2persons
---
PACKAGE C  
(PRIVATE 2 SINGLE BEDS ROOM PICO 9)  - from 680 € per Week / 2 Persons
---
 This package includes:

- 7 nights bed including bedlinen and towels
- 7 days breakfast
- 5 days surfing lessons or surf-trips
- Transport to the best surf spot and beach of the day
- Photos and videos analyses
- Free photos and vídeos of all your surf lessons and holidays
- Free wi-fi
- Transport from and to Ovar's train station
- Free use of surfboards, surfskates and bikes
- 1 free Nature tour
1 - Low season (March to May; October and November) = 680€/week/2persons
2 - Mid season (June and September) = 715€/week/2persons
3 - High season (July and August) = 790€/week/2persons


---
PACKAGE D  (PRIVATE ROOM WITH PRIVATE BATHROOM MARRETAS) - from 750 € per Week / 2 Persons
---
 This package includes:

- 7 nights bed including bedlinen and towels
- 7 days breakfast
- 5 days surfing lessons or surf-trips
- Transport to the best surf spot and beach of the day
- Photos and videos analyses
- Free photos and vídeos of all your surf lessons and holidays
- Free wi-fi
- Transport from and to Ovar's train station
- Free use of surfboards, surfskates and bikes
- 1 free Nature tour
1 - Low season (March to May; October and November) = 750€/week/2persons
2 - Mid season (June and September) = 785€/week/2persons
3 - High season (July and August) = 860€/week/2persons