ABOUT THE SURF CAMP
---
LOCATION AND SURF CONDITIONS
---
Morocco is a surfer's dream...the coastline north of Agadir is chock full of great surf spots and is an ideal place for learners to advanced surfers, while experiencing Morocco's unique culture. With the amazing variety of breaks in such a small area, there's always a great wave to be found in this part of Morocco.


---
CAMP CHARACTER
---
We offer a range of accommodation, from the beauty and great value of our surf camp to a range of beach-side apartments facing such famous surf spots as Anchor Point, Panoramas Beach or the luxury apartments at Killer Point. And it's all right in front of Morocco's world class surf.
ACCOMMODATION AND CATERING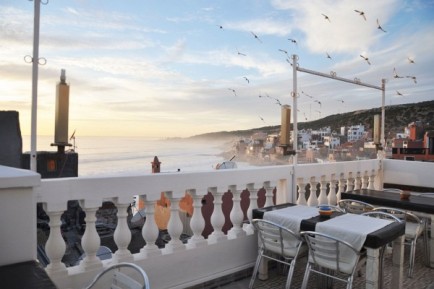 ---
ACCOMMODATION TYPES
---
SURF CAMP
Our boutique surf camp is a recently refurbished old-style Moroccan building, using traditional Moroccan design elements with a cool, modern twist.

Our surf camp boasts the best view in the area, with a 360-degree panoramic view starting from Anchor Point all the way down to Devil's Rock, with the gorgeous backdrop of the whole town and scenic mountains behind it.

Surf shops, restaurants, cafes and the Friday market are all at your door. Taghazout's beaches and surf breaks like Panoramas and Hash Point are just steps away.

No bunk beds! We cater to travellers who like their privacy! The rooms are all comfortable, with hotel-quality, beautifully pressed, white cotton sheets and comfy duvets. Bathrobes provided for those sharing rooms without en-suite bathroom.

Free wifi is available throughout the accommodation. The many terraces are great for panoramic views, chilling out and sunbathing.


APARTMENTS
If you want the privacy and independence of an apartment and hire car for your holiday in Morocco, our apartments are all well appointed and ideally located. Each private apartment has a furnished balcony that overlooks the surf during the day and is engulfed in a blanket of stars every night. So whether you want to check the waves for a dawny, sunbathe on the balcony or take it easy in the comfort of your own pad, our apartments have it all.

All of our accommodations come with a fully equipped kitchen including a coffee maker, satellite TV as well as all of the standard appliances that you're used to back home. A hire car is included in all self catering holidays so you can get to the surf when its on and explore this amazing country.

The best part of the deal is that the Mint Surf Morocco team are on hand 24/7 doing everything we can to make sure you have an amazing holiday and classic surf.


---
CATERING
---
Included in our lesson and guiding packages are:
-    Daily breakfasts of cereals, yoghurts, juices, fresh bread with a selection of jams and cheeses, tea and coffee to set you up for a full day in the surf (surf camp only)
-    Lunches that are provided on the beach and consist of either a healthy salad or sandwich made fresh that morning by the team, fruit, snacks and soda.
-    Three 3-course traditional Moroccan dinners served at the surf camp
We are happy to cater for any dietary requirements that you may need, and for the nights that dinner isn't served, we'll take you out to try some of the restaurants in town.


SURF COURSE AND ACTIVITIES
---
SURF COURSE DETAILS
---
Our great value surf camp packages are geared towards giving you the best time surfing and providing you with a true taste of Moroccan culture.
 
If you are new to surfing then check out our surf camp & lessons package. This really is a great value package to start surfing and includes the equipment and instruction to get you standing on your board. In fact, we guarantee you'll stand up, or you'll just pay for B&B.
 
If you already surf but have never been to Morocco, then choose our surf camp & guiding package. This way you can be sure you will hit the best surf spots in Morocco, no worries about driving, and you also get to enjoy a great lunch on the beach.
---
SURF MATERIALS
---
We have a wide range of surfboards available for hire; from beginners' foamies and NSPs through to quality Surftechs in all shapes and sizes. Plus great quality wetsuits for both men and women are available to hire directly from us.


---
OTHER ACTIVITIES
---
On flat days, you can visit Agadir's souk, hike Paradise Valley, take a horseback ride, go quad biking, or get a scrub and massage at the local hammam. Just let us know if you are interested in any of these activities, and we are happy to make arrangements.
MORE INFO, HOW TO GET THERE & FAQ
Breaks directly at the main spot and at nearby spots

The small, laidback towns and the surrounding area not only host the world-renowned surf breaks Anchor Point, Killer Point, Dracula and Boilers, but also has a wide selection of waves for every need and capability, and also offers some of the most consistent waves to be found anywhere. The area has been attracting foreign surfers since the 60s, and locally you can find surf shops, restaurants, pharmacies, Moroccan handicrafts and other amenities.

Seasonal conditions

The coast north of Agadir is populated by beautiful hills that spill into the ocean, creating this area's numerous surf spots. It is home to a variety of perfect waves, from sandy bottomed beginners' waves to long glassy point breaks. In winter, storms in the north Atlantic generate long period groundswells that travel 1000s of miles to hit the coast of Morocco and produce the clean waves the area is famous for. For advanced surfers, the best time to come is October to February. But there is a huge variety of surf in this area of Morocco, from ideal beginner waves to challenging reef ledges. Intermediates and those new to the sport should not be put off or worried. Due to the nature of the coastline there is almost always somewhere sheltered and manageable, and those looking for something challenging won't be disappointed. Morocco is blessed with over 300 days of sunshine a year.

Between the months November to February there is a small chance of rain, although statistically it is unlikely. The summer months (April - October) are full of sunny days, and see small to medium swells with surf mostly on the beaches and reefs on the more exposed north-west coast.

JOURNEY

Ways to get to the camp

Morocco is served by direct flights from the UK and other major European airports, with flight times to Agadir between 2-4 hours. Guests travelling from the US can connect either in Casablanca or at a European airport as there are no direct flights to Agadir.
 
From Agadir airport it's a 45 minute drive south east along the coastal road. There are taxis at the iorport for 300 dirhams to Taghazout, but you can also arrange a pick-up from us for £25. You can take a bus from the airport, but it's complicated, as it requires a bus to Inzegane (a city next to Agadir, then another bus to Agadir, to catch a bus to Taghazout.
Important details

EU, US, Australian and New Zealand passport holders with a passport that is valid for at least 6 months beyond your return date do not require a visa to enter Morocco for tourist purposes. If you hold a passport from another country, check http://www.moroccanconsulate.com/visa.cfm



PACKAGES & PRICES
---
PACKAGE A - Surf Camp Guiding Package
---
Agadir Airport transfers, pick up & drop off
Accommodation at the surf camp (7 nights)
Continental breakfast
Packed lunch (with meat, different each day + fruit + cookies + soda)
Three 3-course dinners at the surf camp
Unlimited transport to the surf from 9am to sunset every day (7 days)
Professional, knowledgeable guides getting you to the best waves
Single rooms available (supplement)
Free wifi throughout the surf camp
Mint Surf team on hand 24/7
 
 
£245/week
EUR295, US$390, MAD3430
Price per day is £35


---
PACKAGE B - Surf Camp Beginner Lessons Package
---

Agadir Airport transfers, pick up & drop off
Accommodation at the surf camp (7 nights)
Continental breakfast
Packed lunch (with meat, different each day + fruit + cookies + soda)
Three 3-course dinners at the surf camp
5 days x 2.5hr beginner surf lessons with our ISA & Surfing GB qualified coaches
Board and wetsuit hire all day and all week
Softtop foam board
Unlimited transport to the surf from 9am to sunset every day (7 days)
Professional, knowledgeable guides getting you to the best waves
Single Room available (supplement)
Free wifi throughout the surf camp
Mint Surf team on hand 24/7
 
£355/week
EUR425, US$565, MAD4900
Price per day is £55
 

---
PACKAGE C - Surf camp improver lessons package
---
Package C - Surf camp improver lessons package
Agadir Airport transfers, pick up & drop off
Accommodation at the surf camp (7 nights)
Continental breakfast
Packed lunch (with meat, different each day + fruit + cookies + soda)
Three 3-course dinners at the surf camp
5 days x 2hr improver surf lessons with our ISA & Surfing GB qualified coaches
Board and wetsuit hire all day and all week
Access to various NSP shapes
Unlimited transport to the surf from 9am to sunset every day
Professional, knowledgeable guides getting you to the best waves
Single rooms available (supplement)
Free wifi throughout the surf camp
Mint Surf team on hand 24/7 
£380/weekEUR450, US$605, MAD5320Price per day is £60