ABOUT THE SURF CAMP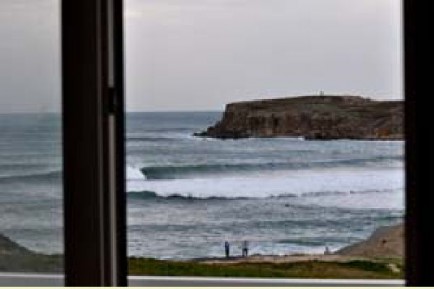 ---
LOCATION AND SURF CONDITIONS
---
Spots
Because Peniche it's situated in a peninsula, there are good conditions for water sports, like: Surf, Body board, Kitesurf, Windsurf, etc, every single day. Here you will find spots like Supertubos, Molhe Leste, Lagide, Almagreira and a lot more.


---
CAMP CHARACTER
---
It doesn't matter your age or your physical conditions we will help you in these water sports Adventure. If you want to learn these sports we have for you certificated teachers by the different federations to assure your security and help in everything you need to enjoy the power and the magic of our amazing ocean. In our surf house you can feel the relaxing surf-camp spirit and rest at the end of a full surf day.



ACCOMMODATION AND CATERING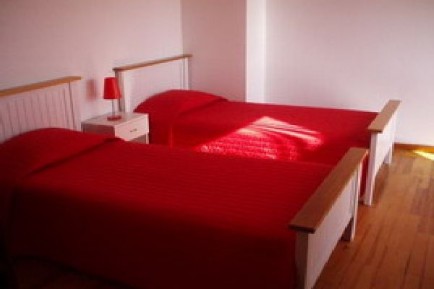 ---
ACCOMMODATION TYPES
---
Sort:
Hostel or Apartment

Location:
The hostel is situated about 30 meters from the beach just in front of our Peniche Kite & Surf Center and 300m from downtown Peniche, Portugal, where you have everything you need to have the holidays you're looking for!
Every apartment is close to the beach and supermarkets. You won't be needing a car.

Room Types:
- Shared rooms with bunk beds
- Private rooms
  All rooms share the living room and kitchen with the other guests.

- Apartments are equipped to offer the maximum comfort. Cleaning once a week. All with equipped kitchen where you can cook your meals.

Extras:
Rooms in the hostel are equipped with:

- shared fully equipped kitchen
- shared living room with television
- DVD
- surf & kite movies
- bed clothing
- bath towels
- big terrace with barbeque with long chairs and tables

All the apartments are equipped with:

- Fully equipped kitchen
- Washing machine
- Big living room
- Television
- DVD's player
- DVD's kite & surf movies
- Room clothes & towels
- Big terrace with barbeque and long chairs


---
CATERING
---
Self-Catering (fully equiped kitchen)



SURF COURSE AND ACTIVITIES
---
SURF COURSE DETAILS
---
Because not everyone has the same level of surf we have for you 3 different levels.
The lessons are held in several spots we have in Peniche. Depending on the weather conditions we guarantee you that you will always surf the best waves and know the best spots around.
Surf classes:
  - 2 lessons day, 2 hours each one
  - surf Instructors approved by the F.P.S. (Portuguese Surf Federation) and with life guard diploma
  - surf material appropriate to your needs
  - transfer to the beach
  - 2 video sessions every week
  - maximum of 6 students per instructor
  - personal insurance
Classes description:
LEVEL 1 – Ready for your first step on surf?
This level is for those that never had any contact with surf or have just tried a few times but really want to learn it. You will have an instructor near you, to help and explain everything about the currents, different types of waves, wind effects, etc. And most of all the security rules so that you will be able to practice surf in a fun and secure way.
LEVEL 2 – Do you want to learn some moves?
This level is for those who already had some surf lessons or level 1 lessons but want to learn more. We will teach you some simple moves, like: duck-dive; bottom-turn; cut-back; etc. You're going to have an instructor helping and correcting you on the water.
LEVEL 3 – Do you want to become a pro?
We have for you lessons given by a high competition instructor to help you in your surf and teach you to have a correct physical and food program so you can take the best out of the waves.


---
KITE COURSE DETAILS
---
Kitesurf lessons include:

- School kites with 4 and 5 lines
- wetsuits
- helmet
- life jacket
- harness
- walkie-talkies
- boards for beginners and advanced students
- personal insurance


---
OTHER ACTIVITIES
---
Other Sports
- Body board
- Windsurf

Leisure Time
-The best Restaurants
- Bars, Supermarket
- Museums
- Fairs



MORE INFO, HOW TO GET THERE & FAQ
---
SURROUNDINGS / REGION
---
Characterization of surroundings/region
Encircled by XVI century halls, this fishermen's peninsula it's located in Portuguese coast center about 85 Kms from Lisbon.

With an extreme variety of natural resources, like some of the best surf spots of Portugal and for sure the most consistent place to surf in all Europe.
Peniche is the city in Portugal with the best fish, surrounded by old cities like Obidos and Caldas de Rainha.
You will find a beautiful landscape, and a big golf resort is close.
Here you can find the holidays that you're looking for!


PACKAGES & PRICES
---
PACKAGE A - 1 Week Accomodation - from 100 € per Week / Person
---
This package includes:
Nov. to Fev.        Mar. to Jun.        Jul. to Ago.       Set. to Out.1 night              
15,00 €                 20,00 €                 25,00 €              20,00 €
1 week
            100,00 €               120,00 €               150,00 €            120,00 € 
- price for person in bedroom with capacity for 4 people 
                   Nov. to Fev.       Mar. to Jun.        Jul. to Ago.          Set. to Out.1 night 
         30,00 €               40,00 €                  50,00 €                   40,00 € 
- price for room
- private apartments with special prices
---
PACKAGE B - 1 Week Surf School - from 300 € per Week / Person
---
This package includes:
Price for person in bedroom with capacity for 4 people in bunk beds in shared apartment
                         
                          Nov. to Fev.     Mar. to Jun.     Jul. to Ago.     Set. to Out.
1 week              300,00 €             320,00 €             400,00 €          340,00 €
+1 night             40,00 €               45,00 €               60,00 €            45,00 €
+1 week           250,00 €             280,00 €             350,00 €          280,00 €

- + 10 Euros/Night in Twin Room
- 7 Nights, TV, Wireless Internet, Washing Machine
- DVD, kite & surf movies

- 5 days Surflessons;
- 10 Surflessons, 2 hours in morning, 2 hours in afternoon
- 2 days of free surf
- personal insurance
- Surfboards + Wetsuits, Transportation for other spots
- Barbeque one day in our beach bar



---
PACKAGE C - Surfari - from 25 € per Day / Person
---
 This package includes:

                      Nov. to Fev.     Mar. to Jun.     Jul. to Ago.     Set. to Out.
1 day                 25,00 €             30,00 €           40,00 €            30,00 €
+ material        15,00 €             20,00 €           25,00 €            20,00 €

- minimum 4, maximum 8 Persons
- Transportation, Beach Snack
- Guide
- + Material (Surfboard & Wetsuit)



---
PACKAGE D - Kite Package - from 400 € per Week / Person
---
This package includes:

Price for person
                 Nov. to Fev.     Mar. to Jun.     Jul. to Ago.     Set. to Out.
1 week     400,00 €               400,00 €             500,00 €          450,00 €
 
 
- 7 nights in bunk beds in shared apartments (Surf House or Guest House)
- +10 euros/night/twin room
- DVD, kite & surf movies

- 4 days kite lessons (4 x 2,5 hours)
- 1 instructor for 4 person's maximum
- Liability insurance for all students
- Equipment needed for the course
- Transfer for other spots
- One Barbeque which will be take place at our beach bar



---
PACKAGE E - Kite & Surf Package - from 480 € per Week / Person
---
This package includes:

                Nov. to Fev.     Mar. to Jun.     Jul. to Ago.     Set. to Out.
1 week     480,00 €              480,00 €            550,00 €           520,00 €
 

- Price for person
- 7 nights in bunk beds in shared apartments (Surf House or Guest House)
- +10 euros/night/twin room

- 3 days kite lessons (3 x 2,5 hours)
- 2 days surf lessons (4 x 2 hours)
- 1 instructor for 4 person's maximum (kitesurfing)
- 1 instructor for 7 person's maximum (surfing)
- 2 days of free surf
- Liability insurance for all students
- Equipment needed for the course
- Transfer for other spots
- One Barbeque which will be take place at our beach bar