ABOUT THE SURF CAMP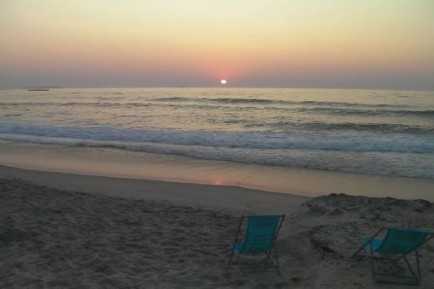 ---
LOCATION AND SURF CONDITIONS
---
Peniche is now best known for its world class waves. A peninsula that is surrounded by the Atlantic Ocean, with the north and south facing beaches Peniche attracts consistent swells and offers something for everyone. Peniche is now the destination for the ASP WORLD TOUR, a fantastic event held in October, based at Supertubos. You can watch famous professional surfers from all over the world and experience the professional surfing contest life. It is well worth a visit to Peniche at this time of year.
---
CAMP CHARACTER
---
Ideal for large families and groups.
---
CAMP OPERATOR
---
Duncan has 35 years surfing experience. He has lived in many different countries but has eventually settled with our family here in Peniche, Portugal, for the weather, waves and most importantly the quality of life. Our son, Dane, is also an experienced surfer, achieving a 2nd place in the British Junior Championships in 2008. He competes all over the world and has over ten years of competition experience.


ACCOMMODATION AND CATERING
---
ACCOMMODATION TYPES
---
Peniche Surf Lodge is very versatile accommodation. It can be rented as: 2 Separate Private Self contained apartments. Private en-suite rooms, Double rooms or Shared rooms with breakfast included.
The Whole Lodge - Ideal for large families and groups.
Our Downstairs Apartment - Papoa View: 2 Private en-suite double rooms and 1 twin with private bathroom all with cable tv and wifi. Fully equipped kitchen with washing machine. Back sunny courtyard with board rack, outdoor shower BBQ, furniture and parasol.
Our Upstairs Apartment - Ocean View: 2 large double bedrooms.
1 bunk room with single beds all with sea views, cable TV and wifi. 2 bathrooms, 1 on each floor. A large sunny fully equipped kitchen with BBQ balcony and washing machine. A large comfortable living room with computer, wifi, cable and Sky tv, a selection of games, DVDs, Nintendo wii and balcony with sea views.


SURF COURSE AND ACTIVITIES
---
SURF COURSE DETAILS
---
Learn to surf like a pro. We can give personal surfing lessons, including video analysis and equipment advice. These are available for beginners, intermediate and advanced surfers. We also offer coaching and surfaris up and down the Silver Coast.
---
SURF MATERIALS
---
 Need a wetsuit, surfboard or bike to hire? Look no further, we've got a lot.
---
OTHER ACTIVITIES
---
Peniche is quaint, historic fishing town with its own port. The town has so much to offer: beaches, which can be totally deserted, spring and autumn scenic walks, culture, fishing, biking, boat trips, snorkeling, outdoor water park and skate park.
MORE INFO, HOW TO GET THERE & FAQ
---
SURROUNDINGS / REGION
---
Characterization of surroundings/region
Peniche is surrounded by the ocean with a beautiful working harbour with a marina, where there are daily boat trips to the beautiful Berlengas Islands, haven to thousands of sea birds.
There is also an amazing church in Peniche, the Baroque Misericordia Church in the main square which has a mural on its ceiling depicting scenes from the New Testament.
---
JOURNEY
---
Ways to get to the camp
Car hire is available at Lisbon airport and also in Peniche.  Otherwise we can happily arrange airport transfers for you at an added cost.
PACKAGES & PRICES
---
PACKAGE A

---
Accommodation rates

| | | | | | |
| --- | --- | --- | --- | --- | --- |
| Dorm beds |   |   |   |   | 20 € |
| Ensuite rooms ,twin or double  |   |   |   |   | 46 € |
| Twin or double with a shared bathroom |   |   |   |   | 42 € |
| Whole Lodge from per night |   |   |   |   | 130 € |
We pickup for free from the bus station and provide free breakfast 

Transport to the beach every day , lessons and hire ,bikes ,diving
Equipment hire
| | | | | | | | | | | | | | | | | | | | | |
| --- | --- | --- | --- | --- | --- | --- | --- | --- | --- | --- | --- | --- | --- | --- | --- | --- | --- | --- | --- | --- |
|   |   |   |   | 1/2 day |   |   |   | 1 day |   |   |   | 3 days |   |   |   | 1 week |   |   |   | extra week |
| surfboard fibreglass |   |   |   | 18 € |   |   |   | 25 € |   |   |   | 69 € |   |   |   | 140 € |   |   |   | 126 € |
| surfboard epoxy |   |   |   | 15 € |   |   |   | 20 € |   |   |   | 54 € |   |   |   | 105 € |   |   |   | 91 € |
| wetsuit |   |   |   | 8 € |   |   |   | 10 € |   |   |   | 27 € |   |   |   | 56 € |   |   |   | 42 € |
| surfboard fibreglass + wetsuit |   |   |   | 20 € |   |   |   | 30 € |   |   |   | 84 € |   |   |   | 175 € |   |   |   | 161 € |
| surfboard epoxy + wetsuit |   |   |   | 18 € |   |   |   | 25 € |   |   |   | 69 € |   |   |   | 140 € |   |   |   | 126 € |
| bike rental |   |   |   | 5 € |   |   |   | 10 € |   |   |   | 27 € |   |   |   | 63 € |   |   |   | 49 € |
| bike rental + racks |   |   |   | 8 € |   |   |   | 15 € |   |   |   | 42 € |   |   |   | 98 € |   |   |   | 84 € |