ABOUT THE SURF CAMP
---
LOCATION AND SURF CONDITIONS
---
Surf in Santa Teresa and Mal Pais
Santa Teresa hosts some of the best surf beaches in Costa Rica. Ranchos Itaúna is situated on the beach, in the middle of the best surf spots: Playa Carmen and Playa Santa Teresa. We offer surf board rentals, surf lessons, and give you expert advice for catching the best waves. Or join us on a trip by speed boat and explore the most thrilling surf spots of the southern Nicoya Peninsula.
The beaches of Mal Pais and Santa Teresa host some of the best surf spots in Costa Rica. There are a variety of world-class breaks with ideal surf conditions throughout the year.
Usually bigger and more hollow than Playa Carmen, Playa Santa Teresa presents a variety of beach breaks, point breaks and high swells for the more experienced surfers. The surf is better at low tide when waves tend to be faster.
ACCOMMODATION AND CATERING
---
ACCOMMODATION TYPES
---
Our hotel offers 4 spacious and very comfortable rooms which accommodate 2 - 4 people each. They all have private bathrooms with hot water, fan and refrigerator. Two of our rooms have a kitchen. All rooms are clean, comfortable, secure and convinient. All rooms at Ranchos Itauna are air conditioned and come with security safes and w-fi access
---
CATERING
---
The restaurant of Ranchos Itaúna offers international specialties ranging from Indonesian curries to typical Brazilian. At any rate you shouldn't miss our Barbecue on Thursdays. Breakfast is served in the morning from 7:30 - 9:30 a.m. For dinner the restaurant and bar opens at 6:30 p.m. Sundays the restaurant is closed. 
Ranchos Itaúna is also famous for Full Moon and New Year's Parties on the beach when international DJs spice our tropical paradise with ambience and good vibes.


SURF COURSE AND ACTIVITIES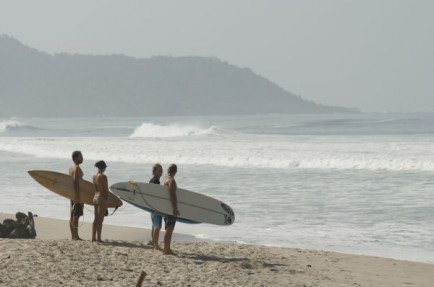 ---
OTHER ACTIVITIES
---
We also arrange for you:

canopy tours
fishing tours
horse tours
surf lessons and tours
kite surfing
yoga or massage
and anyways: a good ambience


MORE INFO, HOW TO GET THERE & FAQ
---
SURROUNDINGS / REGION
---
Characterization of surroundings/region
Since the jungle hugs the shore, you find lots of shady hideaways on the beach. Fortunately there aren't yet high-rise buildings in Santa Teresa so that views of the coast are undisturbed until the wooded hills of Mal Pais and Cabo Blanco. Not long ago, Santa Teresa was a small village that has now become a lively town. Many who had only planned a surf vacation in Costa Rica fell in love with Santa Teresa and decided to stay. The influx of newcomers from all parts of the world has spawned a variety of restaurants and bars, along with hotels and vacation rentals to match every taste and budget. To visit more remote beaches and villages you can rent a bicycle or an ATV in Santa Teresa.  See also: Beaches North of Santa Teresa. Tour options from Santa Teresa include the picturesque village of Montezuma with its waterfall, or Costa Rica's oldest nature reserve Cabo Blanco.
Activities and facilities

Other activities offered in Santa Teresa and Mal Pais are tours by boat around the tip of the peninsula, fishing, snorkeling, kite surfing, SUP, horseback riding, or a canopy tour on the edge of the Cabo Blanco Nature Reserve. A very popular sport is yoga, which is offered in several hotels in Santa Teresa, some of them also specializing in yoga, surf and health retreats. Santa Teresa offers plenty of nightlife, especially during high season and even more so over the Christmas holidays. Drop in to the unique atmosphere of a "Baile" in the dancehall of "La Lora", or hit Santa Teresa's other nightspots on the beach where international DJ's spin electronic dance music. Very popular in Santa Teresa are the reggae nights, music that is so perfectly in tune with the tropical lifestyle.


PACKAGES & PRICES
---
ONLY ACCOMMODATION - from 280 $ per Week / Person
---
 
 
Nov 1 - April 31 
      
May 1 - Oct 31 
with kitchen
A/C 
2 people 
    $ 110
 
     $ 90
 
3 people
    $ 125
 
     $ 105
 
4 people
    $ 140
 
     $ 120
 
 
 
 
 
without kitchen
A/C
2 people
    $ 100
 
     $ 80
 
3 people
    $ 115
 
     $ 95
 
4 people
    $ 130
 
     $ 110
---
ONLY SURFING

---
Surfcourse ( 2 hours) + Surfequpiment 
+ Coaching
       50 $