ABOUT THE SURF CAMP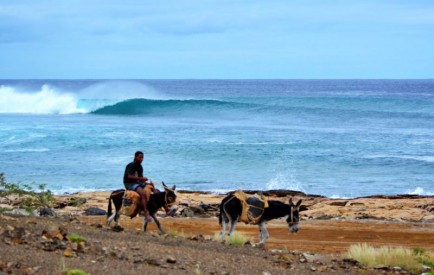 ---
LOCATION AND SURF CONDITIONS
---
The hostel is located 5 minutes walking from the beach and the Sal Surfcamp & School location. So you can easily reach it.
ACCOMMODATION AND CATERING
---
ACCOMMODATION TYPES
---
In the heart of Santa Maria village, this brand new hostel offers a local, clean and friendly lodge. You can choose between a a double and a triple room within the hostel or you can rent an apartment. All of the rooms consist of a private bathroom.
SURF COURSE AND ACTIVITIES
---
SURF MATERIALS

---
The package prices include a wetsuit and a surfboard. If you want to surf by your own (after the regular surf lesson) you can rent both for 20€ (for a half day) respectively for 30€ (for a full day).
---
OTHER ACTIVITIES
---
- Yoga
- Snorkeling
- Diving
- Island Tours
MORE INFO, HOW TO GET THERE & FAQ
---
SURROUNDINGS / REGION
---
Characterization of surroundings/region

Santa Maria is a town in the south of the island of Sal, which belongs to the Cape Verde Islands. On its long, wide beaches, you can find a lot of resorts. Everywhere in the town you find open-air restaurants and bars. Here, you have often the possibility to enjoy live music. The weigh House in the old harbour is a reminder for the salt transshipment, for which the island was once very famous.   
Activities and facilities
- Turtle watching
- Buggy tours
- Segway tours
- Sightseeing
PACKAGES & PRICES
---
PACKAGE A  - from 245 € per Week / Person
---
This package includes:

- 6 night stay in hostel (only shared rooms)
- 5 surf sessions
- Discounts in activities, client choice: yoga, snorkeling, diving and island tours
- Discounts in local surf shop and kitesurf courses 
---
PACKAGE B  - from 325 € per Week / Person
---
This package includes:

- 6 night stay in hostel (only shared rooms)
- 10 surf sessions
- Discounts in activities, client choice: yoga, snorkeling, diving and island tours
- Discounts in local surf shop and kitesurf courses 
---
PACKAGE C  - from 365 € per Week / Person
---
This package includes:

- 6 night stay in private rooms at duplex apartment
- 5 surf sessions (single use)
- Discounts in activities, client choice: yoga, snorkeling, diving and island tours
- Discounts in local surf shop and kitesurf courses 
---
PACKAGE D  - from 435 € per Week / Person
---
This package includes:

- 6 night stay in private rooms at duplex apartment
- 10 surf sessions (single use)
- Discounts in activities, client choice: yoga, snorkeling, diving and island tours
- Discounts in local surf shop and kitesurf courses 
---
PACKAGE E  - from 275 € per Week / Person
---
This package includes:

- 6 night stay in private rooms at duplex apartment
- 5 surf sessions (double use)
- Discounts in activities, client choice: yoga, snorkeling, diving and island tours
- Discounts in local surf shop and kitesurf courses 
---
PACKAGE F  - from 345 € per Week / Person
---
This package includes:

- 6 night stay in private rooms at duplex apartment
- 10 surf sessions (double use)
- Discounts in activities, client choice: yoga, snorkeling, diving and island tours
- Discounts in local surf shop and kitesurf courses