ABOUT THE SURF CAMP
---
LOCATION AND SURF CONDITIONS
---
Imsouane is a dream destination for surfing. Its orientation offers different types of waves, working with all swell directions. But it is first and foremost its bay, sheltering the longest wave of Morocco, that made Imsouane famous.
There is a surf spot for every level in Imsouane. Its topography offer 4 distinct surf spots:
- The amazing bay with an endless right-hander wave. Starting at the harbor's jetty, it can break on 500 meters on its best days.
- The cathedral's right-hander wave, that can get powerful with big swells, is ideal for thrill seekers.
- The right and left of the Oued: beachbreak that sometimes connects with the end of the Cathedral wave.
- The reef left-hander wave: shallow and technical on big swells, it stays ideal when the waves are small to train in more shallow conditions.
The ocean floor is mostly made of sand, only the reef wave breaks on rocks. The reef and cathedral spots offer more technical waves, attracting intermediate surfers and higher.
ACCOMMODATION AND CATERING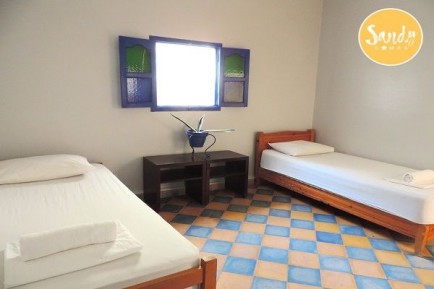 ---
ACCOMMODATION TYPES
---
We know how important is a good accommodation to make your stay unforgettable. It is with this goal that everything at Sandycamps has been thought for you to spend comfortable, relaxing and enjoyable holidays. We are settled in a peaceful hostel of Imsouane, in a lush oasis where birds are plenty, surrounded by the mountains and the ocean.
You're invited to fully enjoy the beautiful inside garden, pool, hammam and the bar-restaurant. Our rooms and collective spaces are comfortable and cosy, decorated in a style that combines moroccan tradition and modernity, making you feel instantaneously at home. You'll have the opportunity to relax by the pool after a surf or yoga session, recharge batteries at the hammam, as well as sunbathe on one of our sunny terraces.  
SHARED BEDROOMS
A Shared Bedroom has a double bed or 2-5 single beds, toilet and shower separated from the room with a curtain and a garden view. This is perfect budget option for a couple, group of friends or solo traveler. 
DOUBLE DELUXE ROOMS
A Double Deluxe Bedroom is located in the most quiet and sunny part of the camp, just around the pool. There is a large double bed, a private bathroom, a lounge area with a TV and a little fridge.
All rooms have: 
 bed linen, toilet and shower, towels 
There is a single supplement of 20€/night to privatize a double room.
---
CATERING
---
BREAKFAST
Every morning, treat yourself with our delicious and healthy breakfast made of fruits, fresh bread, jam, honey and cheese, yoghurts, a glass of orange juice, warm milk, coffee and tea. Served in our restaurant, it will fill you up with the best energy to start the day.  
LUNCH
Lunches are generally taken at the camp. After an apetizer made of a fresh vegetable salad, Sandycamps will delight you with delicious national dishes (vegeterian options upon request) like chicken, beef or fish tajines with vegetables, or traditional couscous.

DINNER
Our chef will cook you a feast every evening to make sure you finish the day in the best conditions with a large choice of local and international dishes. For desert, you will have a selection of Moroccan pastries, yoghurts or fresh seasonal fruits, with the sound of the waves as background or the live music of our hostel performing several evenings per week.  
SURF COURSE AND ACTIVITIES
---
SURF COURSE DETAILS
---
Our surf lessons are provided by qualified professional instructors, guaranteeing you the best quality of teaching, in a relaxed and fun atmosphere for an amazing surfing experience. Our lessons are scheduled according to the tides, wave conditions and level of the participants. You will mainly practice during our surf lessons, and learn some theory. We try to maximize the time you will spend surfing to foster a faster progression and offer you more pleasure. The surf lessons are on two half-day basis with two hours of surf lessons in the morning and supervised surfing in the afternoon.
We included in every surf lesson:
- Observation and understanding of the surf spot and weather conditions (wave height, tide, currents...)
- A reminder of security and priority rules
- A warm-up session with stretching
- Hands-on demonstrations by the instructor 
- And of course a lot of surfing with a maximum of time spent in the water
---
SURF MATERIALS
---
The rent of the surf equipment (boards and wetsuits) is included during the surf lessons.
---
OTHER ACTIVITIES
---
UNION OF THE BODY AND SPIRIT
Our yoga retreat classes are adapted to everyone. No previous experience is needed to participate.
If you practice yoga on a regular basis, our classes will allow you to improve your knowledge and skills. For those who never tried yoga before, this is the perfect opportunity for you to discover a new rhythm, beneficial for the body and mind.
Our yoga classes are taught by passionate and inspiring instructors, accredited either by the Yoga Alliance or the International Yoga Federation. They are eager to share with you their passion for yoga during our collective classes in the mornings and evenings.
Unwind and forget the strains of daily life with our yoga classes, and immerse yourself in this millennial practice to restore the harmony between yourself and your environment.
The morning classes will sculp your body, build your muscle strenght and increase your tonus. In the evening, you will relax and meditate as the sun goes down, stretch and relieve your muscles.
COMBINE SURF AND YOGA
The surf and yoga are much more than just activities or sports. These are lifestyles that complement each other perfectly, practiced by millions of adepts around the world.
The combination of surf and yoga will allow you to improve your flexibility, balance, breathing, tonus, sculpt your body and increase your stamina, as well as disconnecting your mind from the outside world thanks to meditation and relaxation.
Surfing reduces your stress, develops the strength improves the quality of your sleep and tonus, and improves your quality of life in general.

EXCURSION
- Visit Essaouira (35€/pers)
Every Wednesday is organized an excursion to Essaouira. On this day, there are no yoga and no surf sessions. This day can fall on another day of the week, like Tuesday or Thursday, according to the surf and weather forecast. Essaouira is one of the most beautiful Atlantic coastal towns, built on a peninsula swept by trade winds. Essaouira is authentic and bewitching. Centuries of colonization have shaped its architecture, unveiling Portugese, Berber and French influences that grant an unmatched character to this city once called Mogador. Wander in the street labyrinth of its Medina, listed as UNESCO World Heritage, and discover a world of artists, art galleries, riads and many craft shops surrounded by fortifications. Essaouira is famous for its laid back atmosphere and its long, sandy beach, but also contrasts with large parts of the city dating back to the 16th century. A total change of scenery. On the way to Essaouira, you will have the opportunity to stop at a cooperative founded and managed by Berber women of this region, a region famous in all Morocco for its argan products.


MORE INFO, HOW TO GET THERE & FAQ
To facilitate your arrival in Imsouane, we recommend you to fly to Agadir or Essaouira. Agadir and Essaouira are serviced by many airline companies from most European cities. Once you have arrived, you can either take, by your own means, a taxi to Imsouane (price must be negotiated directly with the taxi driver), or arrange your transfer with us while booking your stay.
We can organise one way or round trip transfers from the airports or cities of Agadir or Essaouira.
- 1 person, one way = 50€ / round trip = 80€
- 2 persons, one way = 40€/pers / round trip = 60€/pers
- 3 persons and over, one way = 30€/pers / round trip = 50€/pers
Also transfers from and to Marrakesh Menara Airport (RAK) are available and the price for one way transfer is 120 EUR per taxi (1-2 people)/170€ (3 people)/200€ (4-6 people).
PACKAGES & PRICES
---
PACKAGE A  - FREESURFER - from 329 € per Week / Person
---
This package includes:

7 Nights accommodation
6 Days Surfboard Rental
2 Free Yoga Sessions
Tasty breakfasts, lunches and dinners
High quality surf equipment
Free WiFi
Selected rooms with satellite tv
All Rooms with shower and toilets
Free use of all Sandycamps equipment such as slackline, table tennis, board games, skateboards, and more
Free access to the pool
Live music several nights per week
Our help to arrange day trips
Our staff at your service

Prices: - in a Shared Bedroom: 329 € per person/week
            - in a Double Deluxe Bedroom: 399 € per person/week

Single Room Supplement 20 € per person/night
---
PACKAGE B  - SURFADDICT - from 399 € per Week / Person
---
This package includes:

7 Nights accommodation
Tasty breakfasts, lunches and dinners
4 hours of surf lessons per day with a qualified instructor 
High quality surf equipment
Free use of the surf equipment such as surfboards and wetsuits during lessons
Free WiFi
Selected rooms with satellite tv
All rooms with shower and toilets
Free use of all Sandycamps equipment such as slackline, table tennis, board games, skateboards, and more...
Free access to the pool
Live music several nights per week
Our help to arrange day trips
Our staff at your service

NOTE: No lessons on Wednesdays, this is a resting day and the opportunity to join the day trip

Prices: - in a Shared Bedroom: 399 € per person/ week
            - in a Double Deluxe Room: 448 € per person/ week

Single Room Supplement 20 € per person/day
---
PACKAGE C -SANDYPACK - from 448 € per Week / Person
---
This package includes:

7 Nights accommodation
Tasty breakfasts, lunches and dinners
4 hours of surf lessons per day with a qualified instructor 
2 hours of yoga lessons per day with a qualified instructor
High quality surf equipment
Free WiFi
Free use of the surf equipment such as surfboards and wetsuits during lessons
Selected rooms with satellite tv
All rooms with shower and toilets
Free use of all Sandycamps equipment such as slackline, table tennis, board games, skateboards, and more...
Free access to the pool
Live music several nights per week
Our help to arrange day trips
Our staff at your service
NOTE: No lessons on Wednesdays, this is a resting day and the opportunity to join the day trip

Prices: - in a Shared Bedroom: 448 € per person/week
            - in a Double Deluxe Redroom: 490 € per person/week

Single Room Supplement 20 € per person/day