ABOUT THE SURF CAMP
---
LOCATION AND SURF CONDITIONS
---
Surf & Yoga House is centrally located in a nice and quiet area of Taghazout Bay, Tamraght. The surfcamp offers high-standard accommodation at affordable rates. Solid Surf & Yoga House is located just 1 km from the famous surf spots Banana Point, Devils Rock and Crocro Beach. Situated just a stroll away from world-class breaks, our surf house is an ideal place for surfers of all levels of experience.
---
CAMP CHARACTER
---
Our camp is always very busy and very lifely. We are not a overly party camp but we do have our cozy evenings on our heated terrace with a camp fire. The age is between 23 and 28 years old average of mixed nationalities. Our staff speaks in total 6 languages: Dutch – German – English – French – Swedish – Arab.
ACCOMMODATION AND CATERING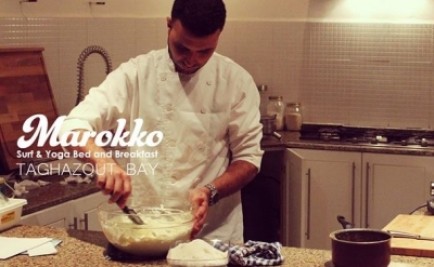 ---
ACCOMMODATION TYPES
---
Our recently renovated Surf & Yoga House offers 6 high-standard en-suite bedrooms and 2 shared bedrooms. All rooms contain an en-suite bathroom, fresh towels, fridge, Wi-Fi and stylish furniture. Additionally, the deluxe and superior rooms are equipped with a flat-screen TV with movies and a safe. Our house is made up of 2 shared rooms, 2 standard double (or triple) rooms, 2 deluxe double (or triple) rooms and 2 superior double rooms. So no matter what your budget is our rooms will suit your requirements!
The house has a large shared living room where you can meet and socialize with the other guests. In this area you can play pool, watch a movie in the outdoor cinema or take a swim in our swimming pool of 8 x 4 metres.
On the other side of the house, on ground level, you will find our large lounge with a BBQ area and open kitchen. This unique set up will make you feel right at home. Breakfast, lunch and dinner will be served in this area. You can watch our chef cook up the most delicious traditional meals either inside or outside in our grand outdoor Boretti kitchen. This lounge is the perfect place to hang out after your surf session and share your Moroccan adventures while drinking a cold beer (BYO), a soda or a fresh juice.
---
CATERING
---
Daily we offer breakfast and lunch. Dinner is served 5 times a week and on Saturday we offer a Moroccan BBQ. In total there are 6 dinners available. Please note that the BBQ is not included in our "one package fits all" deal.
We offer vegetarian options, as well as gluten free (if available) and soy products (lactose intolerant people). All of our vegetables are biologically grown and bought at local markets to support local businesses.
Breakfast
Daily between 08.00 and 10.00 AM we serve a freshly prepared breakfast, using only local products. Our breakfast buffet consists of 4 different juices, coffee and tea, milk, cereal, salad, vegetables, tuna, meat, jams, butter, sweets and more.
Lunch
Every day you will be given a lunchbox. You can make your own lunch from a range of fresh products. Fill up your lunchbox with your own creation of salads, omelettes or sandwiches. In addition, a savoury snack is included. Your lunchbox will be stored in a coolbox that we will bring to the beach.
Dinner
Six times a week we offer a 3-course dinner. From Sunday to Thursday we have themed dinners. The themes vary from Moroccan to Asian, Italian to American and once a week we go back to our roots with a Dutch themed dinner. On Friday we don't offer dinner but on Saturday we have our famous Moroccan BBQ. The Moroccan BBQ is not included in the 5-day dinner package and has to be paid on location.
SURF COURSE AND ACTIVITIES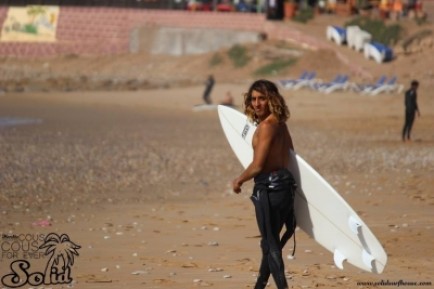 ---
SURF COURSE DETAILS
---
Our surfschool in Morocco offers minimum two surf sessions or one big one a day (roughly 6 hours a day). During the first surf session our instructors will explain surf theory and will join you in the water for a 2-hour surf lesson. After the first session you will have time to relax and have lunch before you paddle back out to practice what you have learned during your next guided and free surf session. Our surf instructors will be guiding and assisting all day and help you pick the right soft-top surfboard for your level to ensure a safe and pleasant surf experience.
We start new surf lessons on a daily basis so it doesn't matter when you arrive. The guests that have already done their first lesson will be placed in the group that already made some progress. If you want to refresh your memory or feel uncertain in any way you can join the absolute beginner class multiple times.
We have five surf instructors that will take care of our surf students. We teach in a 1 teacher to 5 student ratio and are the only surfschool around to do so.  In this way we guarantee high standard lessons and offer maximum safety and fun for our student.
---
SURF MATERIALS
---
We have about 45 Surf boards and wetsuits in stock and only have 25 people a week. This means you will have a lot of choice in boards – For intermediates and advanced there are fish – shortboards – mini mals available – the beginners are always surfing on one of the softtop surfboards.
MORE INFO, HOW TO GET THERE & FAQ
---
JOURNEY
---
After you have booked with us we will send an invoice and an airport arrival sheet. Once you have provided us with your arrival details our driver will pick you up at the information center of the airport in Agadir.
PACKAGES & PRICES
The concept of solid surf house is that we work with a "one package fits all' system. We offer a all inclusive formula package that includes the room for week prices.
Standard inclusions on every location are always:
-Accommodation / Room
-Breakfast
-Airport Pick up / Drop off
-Surf lessons
-Yoga classes
-Board Rental / wetsuit rental
We are the only surfcamp that offers a "one package fits all" deal at very competitive rates. We want you to get the most out of your stay in Morocco, that is why we offer a package that includes everything you need! This package can be booked for 5 up to 21 nights.
Each location we own works with this "one package fits all" package system. We also try to maintain the prices and package inclusion on each location the same. However there are some minor differences. These differences in inclusions are customised for each location individual. We are making sure that the package we offer for each location fits the needs best so you would enjoy your stay in the most best comfortable way.
See our "one package fits all" for Morocco right below.
---
ONE PACKAGE FITS ALL - from 399€ per Week / Person
---
All our room prices are included with our "one package fits all" package.
This package includes:
- 7 Days stay
- Breakfast
- Lunch
- Ensuite bathroom
- Towels service
- Wifi
- Flat-screen TV + movies
- Pool table
- Fridge
- Safe
- Large outdoor pool
- Terrace Heaters
- Daily Cleaned Rooms
- 24/7 Staff Assistance
- Daily Surf Safari
- Daily Surf Guiding
- Board & Wetsuit
Free Extra Included:
- Dinner
- Daily Surf Lessons
- Daily Yoga
- Airport transfer
Paid Add on:
- BBQ: €10,- p.p
- Surf Insurance: €25,- p.p.p.w.
Shared Room                                 €399,-
Standard Double/Triple  Room    €429,-
Apartment                                      €429,-
Deluxe Room                                  €479,-
Superior Room                               €499,-
Crows Nest                                     €499,-


---
SURF GUIDING - from 399€ per Week / Person
---
This package includes:
- Breakfast (vegetarian – gluten & lactose free available)
- Lunch (vegetarian – gluten & lactose free available)
- Dinner 5 x (excluded friday; vegetarian – gluten & lactose free available)
- All rooms with private bathrooms - Towels service (not for the beach) - Wifi - Pool table - Large outdoor swimming pool - Terrace heaters & Blankets - Daily cleaned rooms - 24/7 Surf house team onsite - Arrival on any day and time
- Dusk till Dawn Sessions (2-3 session) - Outer reef session - North and South Coast - Free Board & Wetsuit Rental
Free Extra Included:
- Daily Yoga (excepted sunday)
- Weekly surf video analysing evening - Weekly surf & wave theory evening - Daily scooter with boardrack
Paid Add on:

- BBQ: €10,- p.p
- MASSAGE SERVICE: € 7,50 per Hour - BAR & RESTAURANT - Surf Insurance: €25,- p.p.p.w.
Shared Room                                 €349,-
Standard Double/Triple  Room    €379,-
Apartment                                      €379,-
Deluxe Room                                  €429,-
Superior Room                               €449,-
Crows Nest                                     €449,-