ABOUT THE SURF CAMP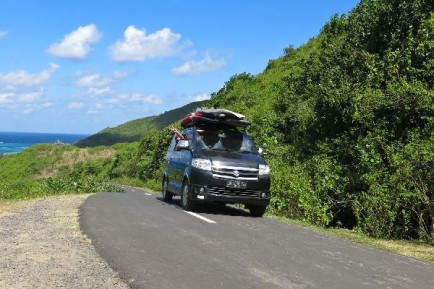 ---
LOCATION AND SURF CONDITIONS
---
Between March and November most of our surf lessons will be in the Kuta-Legian beach area whilst during December, January and February we will often need to travel to the eastern side of Bali (Nusa Dua-Sanur side) to find the best learning conditions. Most of our Kuta Surf lessons during these months will be at Serangan (between Sanur and Nusa Dua).
---
CAMP CHARACTER
---
Family friendly, Children lessons
Private or Group lessons
Beginners, Intermediate, Advanced courses
ACCOMMODATION AND CATERING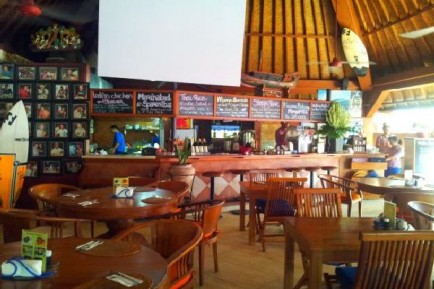 ---
ACCOMMODATION TYPES
---
Un's Hotel has large comfortable rooms with a big outside balcony, well kept gardens swimming pool and the well known Balcony Restaurant where you'll have your breakfast as pat of your package. Un's is well known and frequented by many of worlds professional surfers, partly due to the family involvement in Un's of Tanjung Rizal, a legend of Indonesian surfing.
Select from Twin Share in each room (that is, 2 to a room) or book a room for yourself.
SURF COURSE AND ACTIVITIES
---
SURF COURSE DETAILS
---
We offer Surf Lessons in Bali every day, chosen according to tides and forecast best learning conditions.
Our lessons are 2.5 hours. Our instructors will conduct the lesson according to your ability and experience. We will get you standing up in no time and most of all, having fun.
Group lessons are suitable for those that have no surfing experience or done little surfing. Kids lessons for 6+ year olds – 15 years. Family lessons for four family members.
If you are an intermediate surfer wanting to develop take your skills to the next level, then this is the lesson for you. We will place you with one of our senior instructors who will select the best waves (reef or beach break) and provide expert advice on all aspects of your surfing. Video review also available
---
SURF MATERIALS
---
Surf lessons include
Experienced Instructor
Surfboard, leash, rash vest, surf hat, booties (if required)
Cold drink
Towel
Transport to the most suitable surf location on the day
Hotel Pick up/drop off in Tuban, Kuta, Legian, Seminyak, Kerobokan, Jimbaran


Things you should bring
Sunscreen
Swimming gear (board shorts etc)
Sandals
Change of clothes
Note regarding Kids & Family lessons: if there are more than one children under 10 years of age you may need to pay an additional US$15 for a second Instructor OR if a supervising parent is present, we may be able waive the need for a second instructor. Please contact us if you wish to discuss. 
Safety is paramount, so the lesson will be adjusted according to age of participants and surf conditions
---
OTHER ACTIVITIES
---
Additional Supplements 
Yoga Add US$10/class (approximately Rp130,000) 
Note: Yoga108 Bali is in Seminyak, about 10 minutes away from your Hotel. The cost in a car or motorcycle taxi or is about US$3 each way. You would be responsible for that cost.
24 hour board rental Add US$12/day (Approximately Rp160,000/day)
Motorbike hire Add US$10/day (Approximately Rp135,000/day)

If you require any of the supplements, please let us know what you need in the "notes" section of the checkout so that we can arrange for you.
MORE INFO, HOW TO GET THERE & FAQ
---
 SURF CONDITIONS/ SURROUNDINGS
---
Bali is our playground, we know where and when to go.
  Understanding the local conditions and the ability to find the right waves requires many years of experience.   Good surf needs all the ingredients to work together: swell (including the swell size, swell direction and wave period), tide and wind direction. Whilst we cannot guarantee surf, our surf guides have the knowledge to give you the best chance to succeed and have the most fun. On most days in Bali we will find some good waves somewhere.
---
 JOURNEY
---
 Hotel Pick up/drop off free from Airport, Tuban, Kuta, Legian, Seminyak and Jimbaran. If you are outside these areas when starting your package, a surcharge will apply.

Kerobokan & Canggu area
Add US$7 one way / US$14 return
Nusa Dua, Bukit, Benoa & Sanur area
Add US$8 one way / US$16 return
Ubud
Add US$20 one way / US$40 return
PACKAGES & PRICES
---
PACKAGE A  - from 465 $ per Week / Person
---
This package includes:
6 Nights Accommodation
7 x 2.5 hour Surf Lessons
Breakfast days 2-7
Hotel Pick up/drop off from Airport, Tuban, Kuta, Legian, Seminyak, Jimbaran
US$465 (Single)
US$333/person (Twin Share)
---
PACKAGE B  - from 686 $ per Week / Person
---
This package includes:
6 Nights Accommodation
6.5 days Car & Guide
Breakfast days 2-7
Hotel Pick up/drop off from Airport, Tuban, Kuta, Legian, Seminyak, Jimbaran 
1 person US$686 Single
2 persons US$480/person (Twin Share)
3 persons US$415/person (Twin Share)
4 persons US$360/person (Twin Share)