ABOUT THE SURF CAMP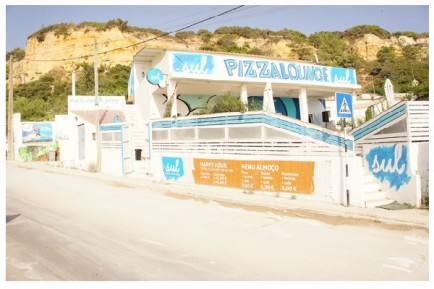 ---
LOCATION AND SURF CONDITIONS
---
Located right on the beachfront of Fonte da Telha, Sul Surf Eat & Sleep Hostel allows the guests to dive in the sea which is only 10 feet away.
Our school has all the conditions for teaching how to surf, or, if you prefer, to rent us the material and enjoy the waves your way.


ACCOMMODATION AND CATERING
---
ACCOMMODATION TYPES
---
Sort:
Hostel

Location:
With sea view

Room Types:
Double Room with Private Bathroom
Double Room with Shared Bathroom
Triple Room with Shared Bathroom
6-Bed Dorm with Shared Bathroom

Extras:
Kitchen access is free as well as the tea 24h/7d, the barbecue area and also the living room with TV, DVD and playstation.
---
CATERING
---
Self-supply (free access to the kitchen), breakfast, breakfast + barbecue.
Restaurants are close to the hostel.



SURF COURSE AND ACTIVITIES
---
SURF COURSE DETAILS
---
We also have material available for Stand Up Paddle lessons and Bodyboard.
The Surf School offers daily lessons lasting 2 hours, adequate equipment to the level of each student, sports insurance and specialist teachers.
---
OTHER ACTIVITIES
---
Guide / Surf Trips - with our SurfVan we move to meet other beaches like Peniche and Nazaré, as we visit Lisbon, Sintra, Cascais or Arrábida's Natural Park.

Barbecues - with the sea so close, we have the best fish to make a BBQ by the sea.
Bike hire - we have bikes available for rent.
Paragliding - Fonte da Telha is one of the best places for the practice of paragliding, with a slipway located at Arriba Fóssil. Just ask how you can see the earth from the air!
Golf - The Aroeira Golf is just 1km away which allows you relax while playing and give some strokes in the 18 holes.



MORE INFO, HOW TO GET THERE & FAQ
---
SURF CONDITIONS
---
Costa da Caparica offers excellent conditions for learning how to surf. You can find waves suitable for all surfing levels, from beginners to experts.
PACKAGES & PRICES
---
PACKAGE A - 1 Week Surfing with private Bathroom - from 245,-€ / Week
---

This package includes:


- Double Room with private Bathroom
- 6 hours Surfing Lessons (Theory and Practice) 
- Breakfast
- Surfing Material
---
PACKAGE B - 1 Week Surfing - from 210,-€ / Week
---

This package includes:
- Double Room with shared Bathroom
- 6 Surfing Lessons (theory and practice)
- Breakfast
- Surfing Material
---
PACKAGE C - Intensive Surfing - from 126,-€ / Week
---
This package includes:
- 6-Bed Dorm with shared Bathroom
- 5 Days 2 Surfing Lessons a Day
- Breakfast
- Barbecue 
- Guided City Trips to Lisbon
- Transportation to Supermarkets