ABOUT THE SURF CAMP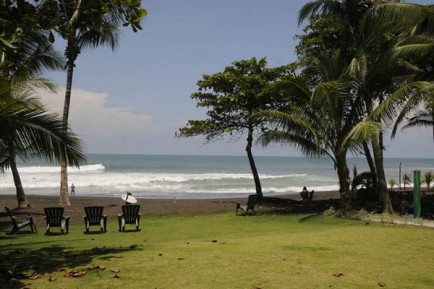 ---
CAMP CHARACTER
---
Surf Inn Hermosa offers the perfect paradise to get away from it all. The pressures and priorities of city life define the daily experience of many; but existing only to achieve goals and satisfy material needs is not enough. There has to be room in life for mystery, reflection and adventure. Escape, getting away from it all is the necessary alternative to modern existence. None of us wants to waste the few days or weeks we have on an experience that fails to live up to expectations.
ACCOMMODATION AND CATERING
---
ACCOMMODATION TYPES
---
 Hermosa Beach Studio Apartments – Just Steps To The Beach…
We offer 4 Studio Apartment Rentals: Two on the first floor and two on the second floor. All are located just steps to the beach and the main surf break in Hermosa Beach (near Jaco Beach), Costa Rica. Each unit sleeps 1-3 persons and features a queen bed, a bunk bed above it, an individual bed and a sofa.
Each Studio Apartment has the following Amenities:
Router Hookup -Wireless Internet in room! Cable TV Air Conditioning Clean bathrooms with Hot Water. Kitchenette. Two burner cook top, basic cookware & utensils. Mini refrigerator, microwave and coffee maker Beach Access / Break Proximity: These Studio Apartments in Playa Hermosa units are just steps from the beach, access takes under 30 seconds on a private sidewalk that runs along the side of our hotel. There is a consistent surfing break directly in front of the hotel, accessible without crossing any roads or major highways.
Beach Front Vacation Rentals


We offer two bedroom / 2 bath beach front vacation rentals 3KM South of Jaco Beach on Hermosa Beach in the Central Pacific zone of Costa Rica. There is one 1st story rental and one 2nd story rental as shown in the photo. Each unit comes with a front row seat to some of the best surfing in Costa Rica.  Located directly in front of the main surf break, it is easy to sit on the veranda of the unit or the front lawn and watch your family or friends surfing.
Capacity:
 Each vacation rental can sleep 2 to 6 people.  The bedrooms feature a queen bed with a bunk bed above it; and there are two sofas in the living room.   The kitchens are spacious and equipped with everything you need to cook in. Our Beach Front Vacation Rentals offer the following amenities: Internet Router Hookup and Wireless Internet! Three Air Conditioners – One in the Living Room and One in Each Bedroom Solar Generated Hot Water Cable Television 2 full bathrooms complete with glass block showers & marble counters. Ocean front kitchens and living room areas. Kitchen furnished with stainless steel appliances, refrigerator, microwave & gas cook top with an electric oven; and equipped with cookware, cooking utensils and dinnerware There is a small pool nestled between the oceanfront units and the studios The 2nd floor unit has a private balcony.
---
CATERING
---
We provide Breakfast and Dinner per day plus smoothies and snacks. Meals are planned around the YOGA / SURFING / FITNESS / ACTIVITY schedule to ensure you have energy all day long. We eat very healthy and can cater to more specific dietary needs given advance notice. We serve a majority of the meals in an exclusive dining area upstairs on the 3rd floor.


SURF COURSE AND ACTIVITIES
---
SURF COURSE DETAILS
---
This is your chance to start surfing! Surf lessons are one of the most popular activities, and are available for children and adults. Our warm, gentle waves are appropriate for even a young beginner. Our instructors are all highly trained and provide all the necessary instruction, equipment and transportation.

Surfing Tours
With its mountain backdrop, incredible wildlife, beautiful seashore and consistent waves, Playa Hermosa and its surrounding breaks have become known as a true surfers paradise. There are all sorts of breaks the Central Pacific region and Surf Inn Hermosa offers the perfect travel base for accessing all of it. There are waves to challenge even the most advanced surfers to fun waves like Oeste and Jaco for the beginners and intermediate surfers. This region has over 20 named breaks within an hour drive of our hotel. From reefs, river mouths and many different beaches, surfers of all talent levels can enjoy the swells in Costa Rica year round. We also have a network of small hotels we work with at many of the top surfing breaks throughout the country including Playa Santa Teresa, Nosara (Guiones) and Pavones! Just ask and we will be happy to help you plan the next leg of your trip. We offer guides for both day trips and all inclusive surf trip packages!


---
SURF MATERIALS
---
From pickup to drop off we take care of making sure you don't have to worry about anything else other than having fun. The Central Pacific region of Costa Rica is unique in the world in that it has a huge variety of waves and out door activities to offer. Our guides will make sure you get to experience the very best the region has to offer.
---
OTHER ACTIVITIES
---
Rainforest Aerial Team -
A dense tropical rainforest, a tumbling 40-foot waterfall, giant rainforest trees and panoramic views of the Pacific Ocean are all part of the ride at the 'Central Pacific Rainforest Aerial Tram', one of Costa Rica's best adventure tour destinations
Canopy Zip Line Tours – The Canopy Zip Line Tour is popular eco-adventure tour not to be missed. There are several options in the area and all provide an unbeatable view zipping over the canopy of the tropical rainforest. There is a zip line tour located in Playa Hermosa within walking distance from the hotel or there are several other choices located just outside of Jaco. (Safe transportation can be arranged.)
Manuel Antonio National Park Tour – Manuel Antonio National Park is Costa Rica's most famous national park and one of its most visited. It comprises a small, forested area, heavily populated by monkeys, sloths and raccoons, and three exceptionally beautiful white sand beaches. It is one of the few remaining areas in the world where squirrel monkeys are found. Trails wind through the forest, which is dominated by bastard cedar and balsa and mangrove swamps. This Tour is not to be missed.
Scuba Diving Tour – Scuba diving is a great way to discover the wonders of the Central Pacific Coast. Scuba diving and snorkeling tours are arranged according to season and visibility. The tour visits local dives offshore or out to Tortuga Island. Diving on the Pacific Coast of Costa Rica is spectacular and different in the aspect that you are diving amongst 100 foot volcanic rock formations and thousands of fish. All tours include diving gear, soft drinks, fruits and unforgettable memories.
Jet Ski Tour – Renting jet skis is a simple way to take a guided tour off the coast of Herradura Bay just 15 minutes north of Surf Inn Hermosa. Check out the area from the water, see marine life, and enjoy the sun. Take a stop to snorkel and swim along the way. Rent them or go with a guide, the decision is up to you.
Villa Vanilla Spice Farm Tour – Villa Vanilla Spice Plantation is a sustainable organic spice farm in Costa Rica. They are certified organic and bio dynamic and grow a variety of spices and essential oil plants, including vanilla, cocoa, and ceylon (true) cinnamon. This is a very interesting and unforgettable tour that is highly recommended.
Stand Up Paddle Boarding – SUP This form of surfing provides a strong core workout and is a great way to perfect your surfing skills and do a little sight seeing in the area. SUP Tours are arranged in Herradura Bay, just 15 minutes North of Surf Inn Hermosa. On a calm, clear day; there is no better way to spend the time in the water.
Yoga Classes – There are several yoga studios in the area offering a variety of yoga classes and instructions. Whether it be a studio located conveniently downtown in Jaco, or one in the rainforest, on a cliff side or one in front of the ocean; there are several to choose from. Each studio offers a unique setting in which to get your practices done. Transportation can be arranged.
Spa and Massage – Costa Rica offers some of the best spa experiences at some of the most reasonable prices. There are several spas in the area featuring massage treatments, body wraps, facials, manicures and pedicures. All of them use incredible products that will leave you feeling relaxed and revitalized. Transportation can be arranged. If you would like to have a massage arranged on the beach or in the privacy of your room we can easily arrange it.
Tennis – There are several different tennis courts in the area that can be reserved for you to play a game of tennis. Professional private instructors are on call and can be arranged.
Golf – There is an 18 hole Par 72 golf course located 15 minutes north of Surf Inn Hermosa. The course is nestled into the tropical rainforest along the Pacific Coast. Playing this course is an ecological experience as well as a spectacular day of golf. Rentals and lessons can be arranged.
MORE INFO, HOW TO GET THERE & FAQ
---
SURF CONDITIONS
---
Breaks directly at the main spot and at nearby spots
In general the waves are powerful beach breaks and having a smaller board allows you to get under the waves easier. In general people are riding boards in the 5 or 6 range with a preference for rounded squash tails or pin/thumbtail designs as many of the local breaks are powerful waves. There are also many local area shops all with used boards that are still in good condition. Ask us and we will help suggest which boards to bring or help you find the board you are looking for when you get here. We also usually have a few boards for sale in the quiver upstairs, just ask to see them upon arrival.
---
JOURNEY
---
Ways to get to the camp

There are two airports located in Costa Rica:  San Jose International Airport (SJO) is located about 90 Minutes from Surf Inn Hermosa.  The major airlines serving San Jose airport are:  Air Canada, Delta Airlines, Spirit Airlines, American Airlines, Iberia, United, Condor, JetBlue and US Airways.  Liberia Costa Rica Airport (LIR) is located about 5 hours from Surf Inn Hermosa.  The major airlines serving Liberia Airport are:  AirBerlin, Air Canada, America Airlines, Copa Airlines, Delta Airlines, Frontier Airlines, JetBlue, Nature Air, SANSA, Taca, United, US Airways, and West Jet.  Transportation to and from both airports can easily be arranged — All we need is your flight itinerary and a driver will come pick you up for an arranged fee.  If you do not want transportation arranged and you plan to drive:  Below you will find driving directions:
From the San Jose Airport (Juan Santa Maria) exit, turn right and go under the overpass. Turn right and go over the overpass to Alajuela. Do not go to Alajuela, but head north on highway 1 towards San Ramon. Travel approximately 8 miles (14 kilometers) along this highway, looking for a sign on the right that says "Marriott". When you see this sign, exit the highway towards the right. The road will go uphill towards an overpass, you take a left and drive over the bridge.

Important details

The "New Road" – Autopista del SolAfter you pass the bridge, you will see a gas station and mini-super called Media Luna. You make a LEFT at a large blacktop intersection less than 5 minutes down this road.You will go downhill through a small area called "La Garita" and in just a few minutes you will arrive at the new highway.Getting on the new highway is actually kind of tricky, you drive up the overpass or drive under the overpass and take the next two lefts.

The "Old Route" – Through Atenas** This way is marked in detail on our google map, shown at top of page ** Go over the overpass and follow the road thru the mountains. You will first pass through Atenas. There is a turn to watch out for in a town called San Mateo. You enter the town, but the 2 way part splits for a second as your lane veers to the right. At the next road, you make a left and drive by the city park which should be on your right hand side. Stay on the road as you begin to enter Orotina. Keep going, a few blocks later you will see a sign for Playa Jaco, follow the ramp to the right to merge with the highway.


PACKAGES & PRICES
---
ACCOMODATION - from 100 $ € per night / Person
---
Room Type
 
Floor Plan
 
Standard Rates
 
High
Season
 
# Available
 
Max. Capacity
Condo – 1st Floor
 
2 Bed / 2 Bath
 
$200 / night
 
$225 / night
 
1 unit
 
6 per unit
Condo – 2nd Floor
 
2 Bed / 2 Bath
 
$1,750/weekly
 
$2,100/weekly
 
1 unit
 
6 per unit
Room Type
 
Floor Plan
 
Standard Rates
 
High
Season
 
# Available
 
Max. Capacity
Studio Apartment

 
1 Bed / 1 Bath
 
$100 / night
 
$120 / night
 
4 units
 
3 per unit
---
PACKAGES from 1.295.- $ per Week / Person

---
All Packages Include:

- Customized Daily Activity Schedule

We provide a detailed plan so you know when you will be surfing and participating in all the fun activities we have planned for you!
-
Accommodations: 

You will be staying with us at Surf Inn Hermosa and you have your choice of either a shared studio or a private studio that are located steps to the beach and 
All units feature comfortable beds, powerful air conditioning, hot water, strong water pressure, cable tv, INTERNET / WIFI and a kitchen setup AND LOCATION –they are ideally situated in the Playa Hermosa -so on your free time:  you can walk down to the beach and fit in extra surf sessions, walk to one of the neighboring restaurants or take a taxi into town (Jaco) to take in whatever you may choose.
-
Meals:
We provide Breakfast and Dinner per day plus smoothies and snacks. Meals are planned around the YOGA / SURFING / FITNESS / ACTIVITY schedule to ensure you have energy all day long. We eat very healthy and can cater to more specific dietary needs given advance notice. We serve a majority of the meals in an exclusive dining area upstairs on the 3rd floor.
-
Airport Transfers
to and from San Jose "Juan Santamaria" Airport (SJO) are included for packages of 6 or more nights. Transfers are possible from Liberia (LIR) for an additional fee.  All we need is your flight itinerary!
Packages usually run 7 days / 6 nights from Saturday to Saturday. Alternative schedules and additional days may be possible upon request, subject to availability.

7 days / 6 nights package pricing:
$1,595
for private accommodations
$1,295 
per person (shared accomodations, minimum 2 people)
Ask about group discounts!
---
PACKAGE A - HARDCORE SURF TRIP

---
SURF. EAT. SLEEP
For avid surfers who want to maximize their time in the water. We set a healthy schedule and provide ample meals to refuel after each of the surf sessions. Our guides have the local knowledge to get you on the best waves possible during your trip.
Daily Activities:
2 guided surf trips per day.


---
PACKAGE B - LEARN TO SURF

---
PADDLE, PADDLE, PADDLE
For those new to surfing and who want to Learn To Surf! We provide instructors who will teach the basics of surfing, from getting into the lineup to catching your first waves!
Daily Activities:
1 surf lesson per day.
* Includes board.


---
PACKAGE C - SURFING AND FITNESS

---
ACTIVE OUTDOOR LIFESTYLE

For those who want an Active Fitness Vacation full of surfing, fun outdoor activities and healthy food. If you want to stay in shape while on vacation, this is the package for you!
Daily Activities:
1 surf session per day and at least one additional Yoga / Fitness activity per day.