ABOUT THE SURF CAMP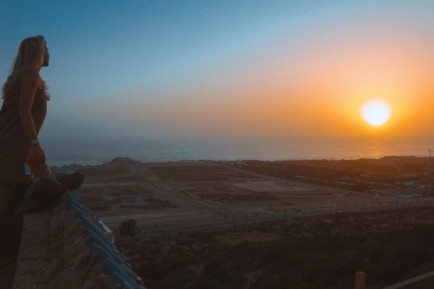 ---
LOCATION AND SURF CONDITIONS
---
Waves keep rolling in while the sun is setting. Just 5 minutes from our surfhotel you find surfspot Banana beach. And there are up to 40 different surfspots arround the arrea! Life if easy here. The layed back and relaxed vibes in this towns is what it makes it so attractive for surfers and hippy's. 
I'm sure you did never see fishersvillages like Taghazout before, It is all about surfing here! When it is getting colder in Europe, then the sun is brighter then ever in Morocco. In winter time the temprature doesn't drop under 20 degrees. You will also like the watertemprature in wintertime that is around 17degrees. You can wear your 3:2 wetsuit! 
While the summer offers a small swell for beginners and intermediates, the winter brings a strong swell to Morocco from the Atlantic ocean.
The Moroccan surfers lifestyle is a great way of living,
and we are happy to show you all the best parts of it!
---
CAMP CHARACTER
---
Our small camp is located in the relaxing and quiet neighbourhood. The accommodation has relaxing and homely vibes, perfect for surfers and yogi's. The accommodation is Moroccan decorated with European luxury.
---
CAMP OPERATOR
---
Surf Paradise Morocco is a surfcamp in Tamraght Morocco. In the beautiful surfhouse on the hill of Tamraght we host surfers, yogi's and travellers from over the world. Professionality and quality and passion are our keywords. 
Surf classes combined with a perfect place to eat, drink, relax and enjoy the amazing ocean and coastline views. We have a seating inside and outside on the terraces overlooking the ocean. We can arrange lunches or dinners for small groups or large events.
Suzanne and Zouhairs passion for Morocco, surfing and travelling has brought us to start this project. Surfing is our love and we want to share it's deep passion with the rest of the world. Many people are still unfamiliar with this beautiful country. Morocco therefore isn't very touristic yet. This inspires us even more to let you het a taste of the beautiful moroccan culture with all it's beauty. hospitality and rawness.
ACCOMMODATION AND CATERING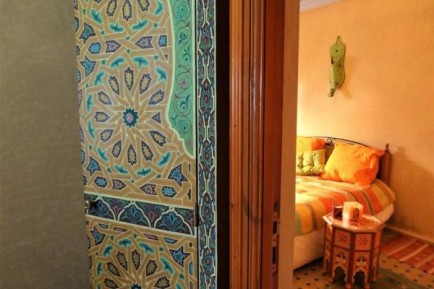 ---
ACCOMMODATION TYPES
---
Are you searching for the perfect place to stay in Taghazout or Tamraght? We offer you many different types of rooms and possibilities! The surfhouse in Tamraght next to the beach is the perfect start for your holiday. With the luxious en relaxed ambience in the surfhouse you will experience the perfect surfholiday, with more than just the basics!
In our luxury European accommodation we provide private and shared rooms. 
---
CATERING
---
Let's get this straight right from the start – Moroccan food is simply delicious – perfect for our vegetarians and meat-eaters alike. The breads here are baked fresh daily, and the dinners are slow, multi-course relaxing affairs with candlelight and magic.
If you don't eat this or that – no worries – we are happy to accommodate any of your food preference.
SURF COURSE AND ACTIVITIES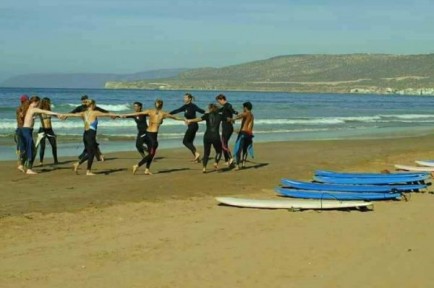 ---
SURF COURSE DETAILS
---
Surfing from Sunrise till sunset… 
Surf Paradise Morocco is offering daily surfclasses along the coastline of Morocco. This is the perfect way to learn how to surf and to discover all the beautiful beaches! Our planning is all depending on the tides of the ocean and the conditions of the waves.

Beginner lessons
Morocco is a Paradise for beginning surfers. Did you ever catch a wave before? Our ISA certified surfinstructors will go with you into the ocean to learn you in easy steps the basics of surfing. It is save, it is fun, and everybody can become a surfer! Every surflesson  there is time for techniques and practicing. And, don't forget,:the best surfer out there is the one who has the most fun!

Advanced coaching
You have experience with surfing. Maybe you didn't surf for a while and you want to make a new start. With our special advanced surfcoaching program we work on your skills so you can take better waves, make paddeling more easy and have more boardcontrol. We surf on spots that are perfect for your level, so we will visit spots like "Anchor Point", "Killer Point" or "Anza".

Surfguiding
Are you an advanced and experienced surfer? This is the perfect way to explore to moroccan coastline and surf as much as possible on world class surfbreaks! You don't have to waste any time by searching good surfspots or surf bad waves. Our experienced local surf guide will bring you to the place where the surf is working the best at that time. We will help you to surf as much as possible and search the best waves for your abilities.
---
SURF MATERIALS
---
 Surfboards, Wetsuits, longboards, shortboards, softboards.

What do I have to bring:
– Swimsuit,
– Beach towel,
– Sunscreen  (30+),
– Sunglasses,
– Flip flops,
– Beach bag
– Camera/ Gpro
– Something warm to wear at night and after


---
OTHER ACTIVITIES
---
A holiday in Morocco isn't complete without a visit to the local Hamam. Enjoy the relaxing treatments and traditions.

Other activities:
- Expedition Paradise Valley
- Sandsurfing
- Small Sahara
- Camelride
- Souks of Agadir
- Quad tour

Excursions can be booked up front or upon arrival. We advise you to book upon arrival so you still have the choice to either go for a excursion or go for a day of surfing.


MORE INFO, HOW TO GET THERE & FAQ
---
 SURF CONDITIONS
---
Breaks directly at the main spot and at nearby spots


With over 330 days of sunshine a year you can visit Tamraght all year long. In the wintertime (Dec-Feb) there are some strong swells for the advanced surfers, you have the change to surf the big famous waves of Morocco! In summertime you there are small or medium waves, this is more suitable for beginners.
In the winter time there are tempratures around 15-20 degrees and the water temprature is around the 15 degrees. The rain is very rare in this area so you'll have great weather trough the whole year!
In the area you will find beginner, intermediate and advanced surfspots as well as beachbreaks and reefbreaks.


---
 OTHER INFORMATION
---
What about Insurance?
Participants are required to have travel insurance for travelling to Morocco you need to complete a travel insurance with world coverage! These obligations, which we set as a travel organizer, serveexclusively for the protection of the participant (due to high medical, S.O.S. or transportation costs). Inform yourself with your insurance company.
It is your responsibility to obtain adequate travel insurance before your trip. Most of the travel Insurance don't cover any damage on surfboards, fins or wetsuits. Surf Paradise Morocco is offering a Surf Insurance that covers any damage or loss to our equipment (surf boards & leashes) while surfing. Surf Paradise Morocco accepts no responsibility for loss, theft, damage or injury to persons or property during their stay.

How can I pay in Morocco ?
In Morocco they pay with Dirhams. 1 euro is around 10 dirhams. In most of the countries its difficult to get Moroccan Dirhams. We recommend changing money once here or using your ATM card. You will find exchange facilities and ATMs in the airport to get money out. You can also find ATMs in Agadir or Awrir. Surf Paradise Morocco don't accept travellers cheques! For more information about paying your booking check: Booking

How should I dress?
Morocco is a Muslim country and modesty is respected. On the beach you can wear bikini's and shorts, but you can't be nude. For girls: On the streets wearing a range of clothing it's best to err on the side of modesty. For men: we recommend to cover their upper body in public area. Morocco is an arid climate, much like California. The day times are warm and the evenings can get quite cool, especially in the winter.  Homes and buildings are built in such a way that they keep cool in summer and (kind of) stay warm in winter.  So while it may be 100F outside, if you're inside a home or building it can be quite cool. Bring also clothes that keep you warm!
What about alcoholic drinks in a muslim country?

Tamraght is a dry town. This means that no store will sell alcohol here, but that does not mean that you can't get alcohol anywhere. Alcohol is available in Agadir, in some restaurants, cafe's and you can buy it in the shop it is nice to enjoy a drink after a good day surfing. You can also buy duty free before departing in the airport.
PACKAGES & PRICES
---
Complete surfpackage  - from 390 € per Week / Person
---
This package includes:
1 week in the surfhouse
6 surfdays (lesson, coaching or guiding) Surf equipment, Transport to the best surfspots, Daily delicious (beach) lunch, 5x dinner, Agadir airport transfer with boardbag, WiFi, Daily healthy breakfast, 24/7 Staff Assistance, Clean towels , bedsheets and Daily delicious (beach) lunch.
---
Surf & Yoga  - from 339 € per Week / Person
---
This package includes:
1 week in the surfhouse
4 surfdays (lesson, coaching or guiding) Surf equipment ,4 yogalessons Daily delicious (beach) lunch, Free Agadir airport transfer on Tuesday & Friday, WiFi, Daily healthy breakfast, 24/7 Staff Assistance, Clean towels and bedsheets.
---
Adventure package  - from 439 € per Week / Person
---
This package includes:
1 week in the surfhouse
2 surfdays (lesson, coaching or guiding) Surf equipment, Paradise Valley expedition, Quadtrip Trip to the small sahara Souks of Agadir, Daily delicious (beach) lunch, Free Agadir airport transfer on Tuesday & Friday, WiFi, Daily healthy breakfast, 24/7 Staff Assistance, Clean towels and bedsheets.
---
Accommodation only  - from 90 € per Week / Person
---
This package includes:
1 week in the surfhouse
WiFi, 24/7 Staff Assistance, Clean towels and bedsheets.